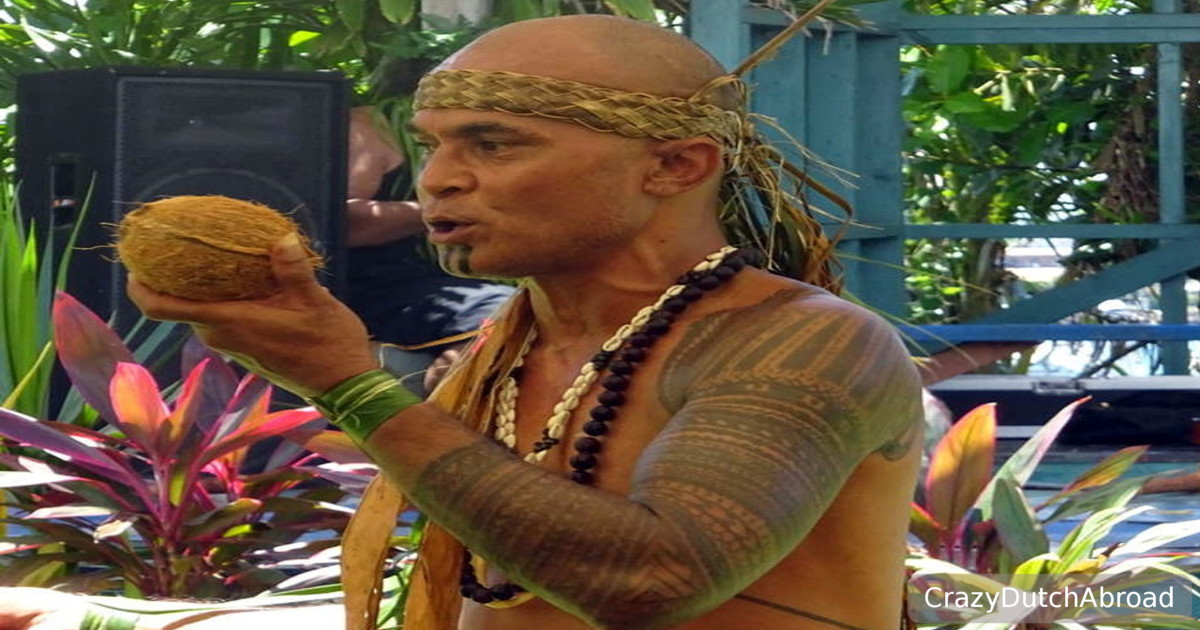 Tattoos and coconut lessons in Samoa!
Trip to Apia, Upolu island in Samoa!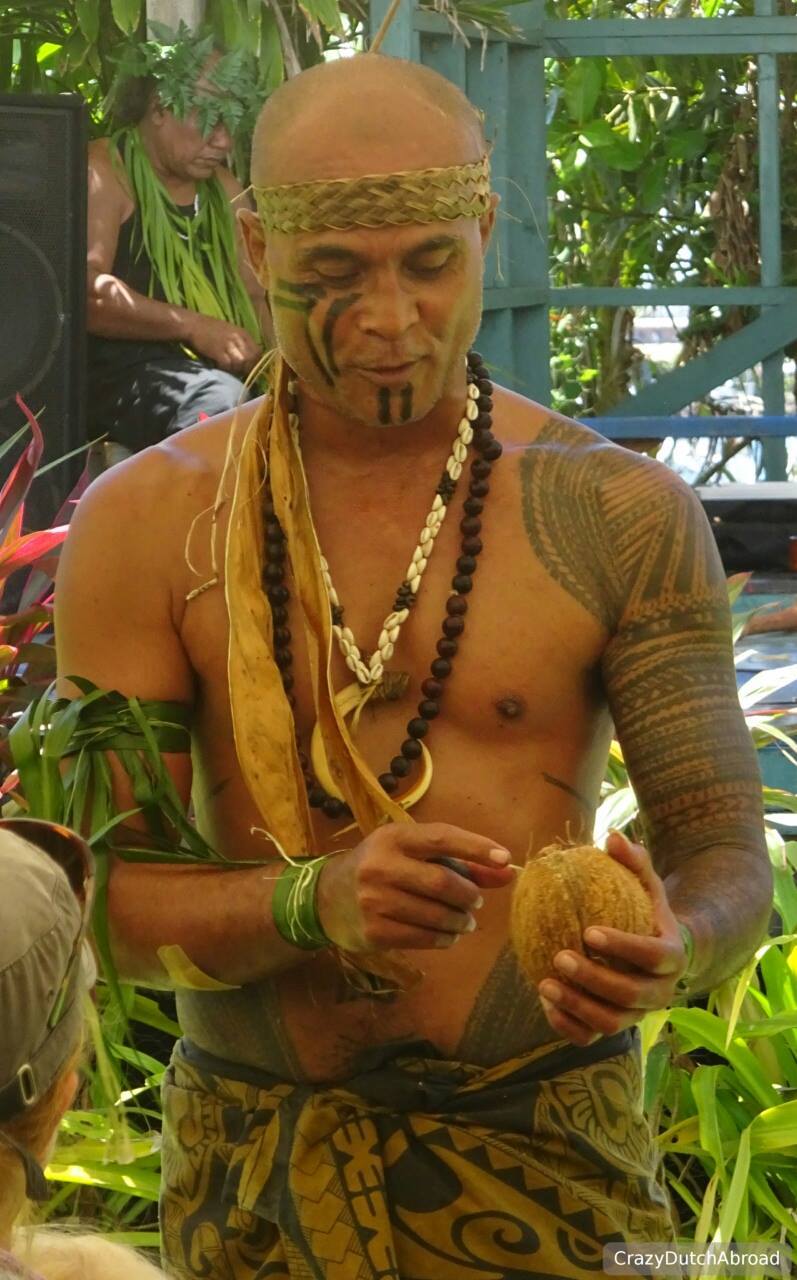 With a hot and tropical climate, stunning beaches and a colorful rich culture Samoa is a piece of paradise in the South Pacific! The Samoans love their culture and would love to share their knowledge about all the uses of the palm tree as their Tree of Life! Smiles everywhere and you simply can not pass-by another person in the street without waving, especially in the small villages. They care, they love it that you are visiting and they are so proud of their country! Streets are clean, gardens are kept tight and you will not find anything other than biodegradable bags in the supermarkets!

Many locals (men and women) wear a lavalava, a sarong with Samoan tribals printed on it. If you look up the history of tattoos, you will end up in Samao. Tattoos (tatua in Samoan) originated here and they have a deep meaning. It is a way of expressing their strong connection with their culture. You will find many people wearing 'sleeves' and 'shorts' of black ink. Especially the 'shorts' are different from what you see in other places in the world. Woman have a Malu print, something that looks like dot tights that goes down to the knees. Men have more lines and a lot more ink - it takes several days of painful tapping ink in the skin with a sharp item, a tooth or turtle shell in the old days. Once the process has started there is no turning back because an unfinished tattoo brings shame upon the whole family for decades.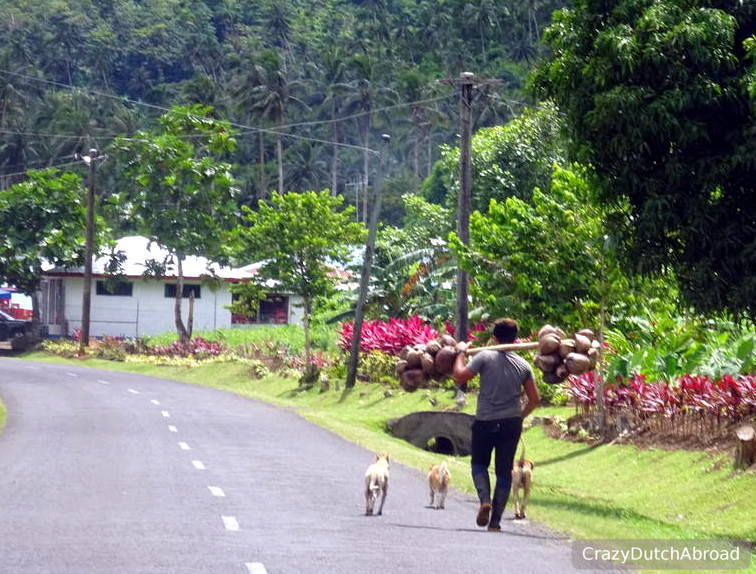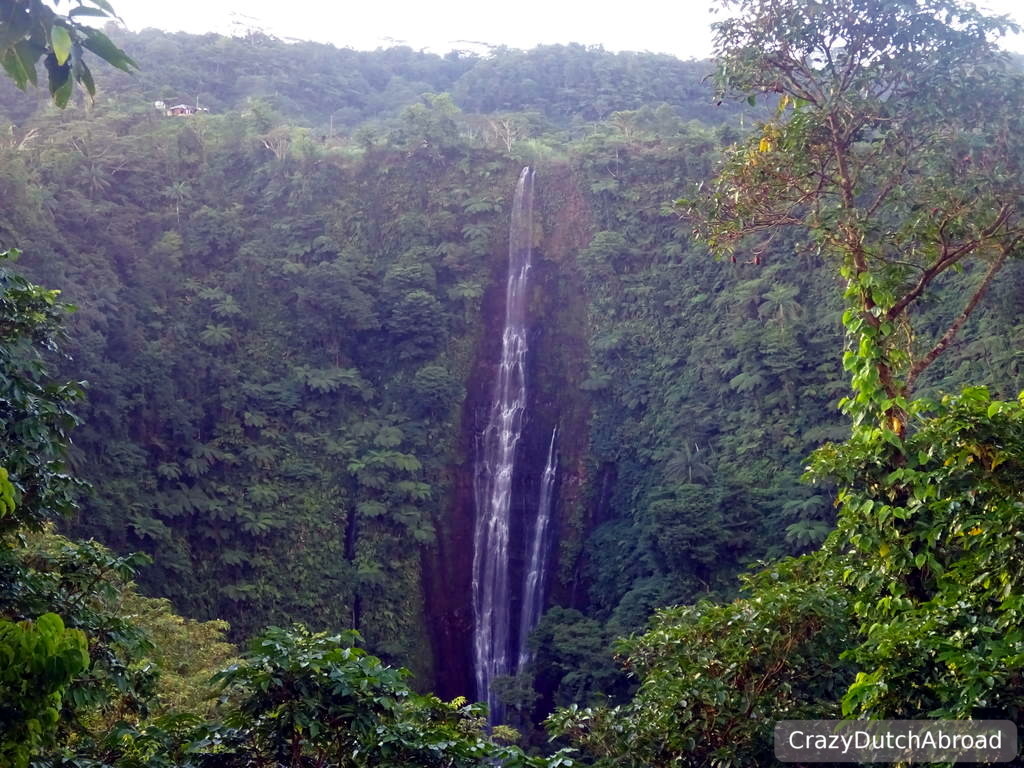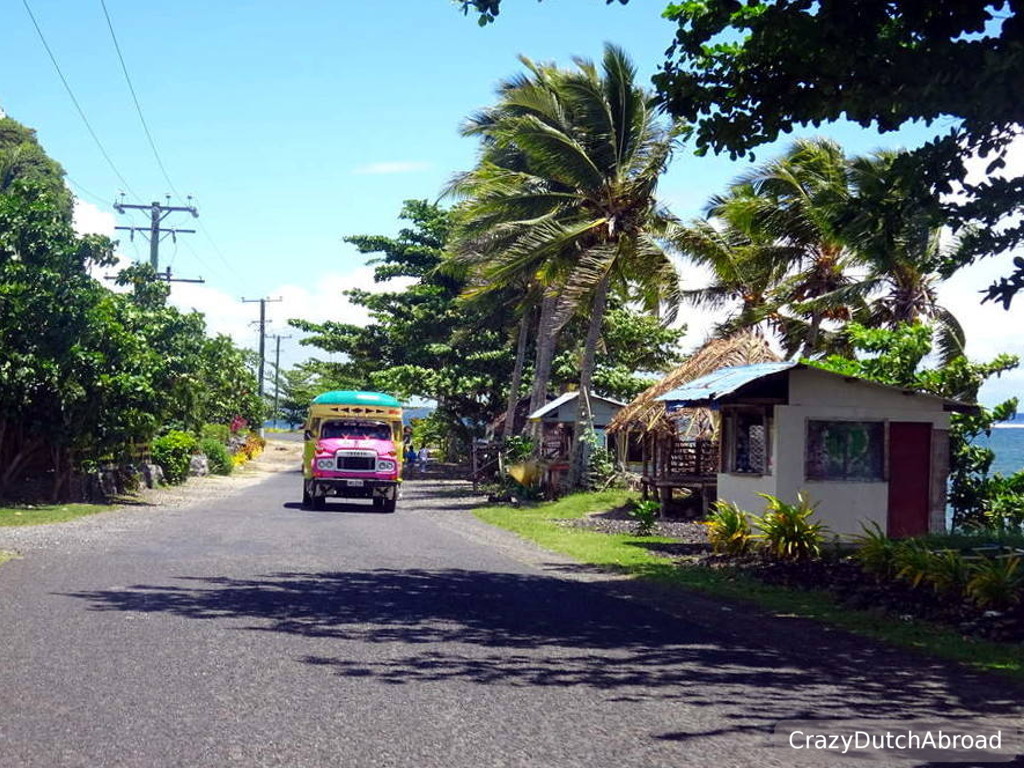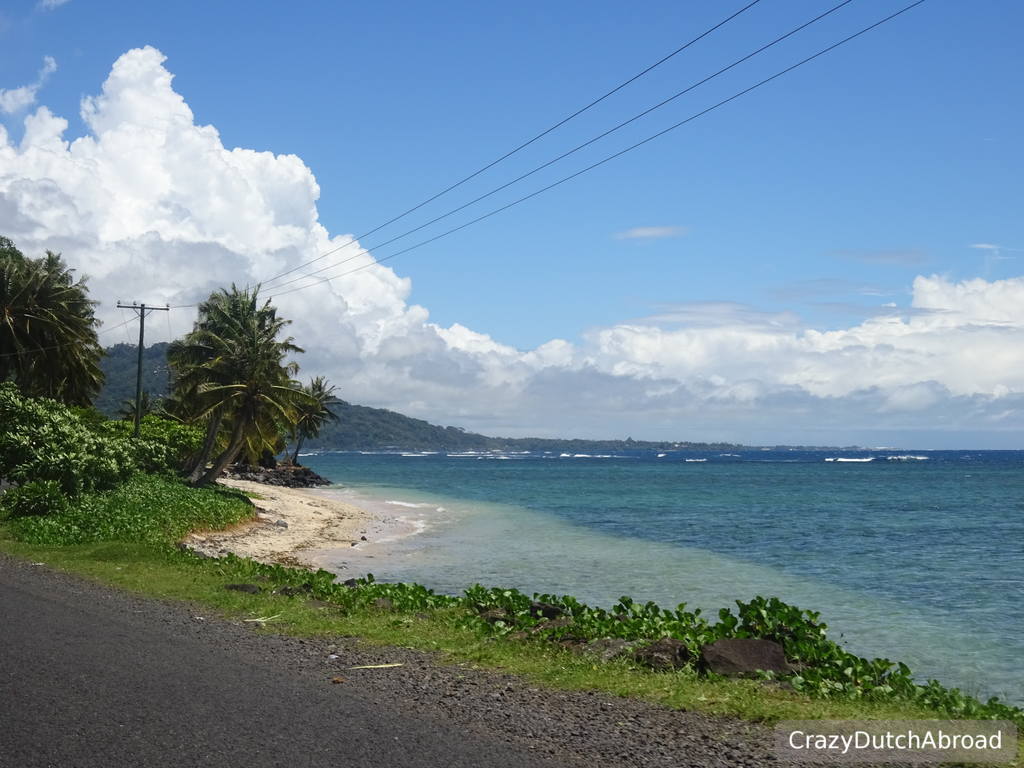 Things to love about Upolu Samoa!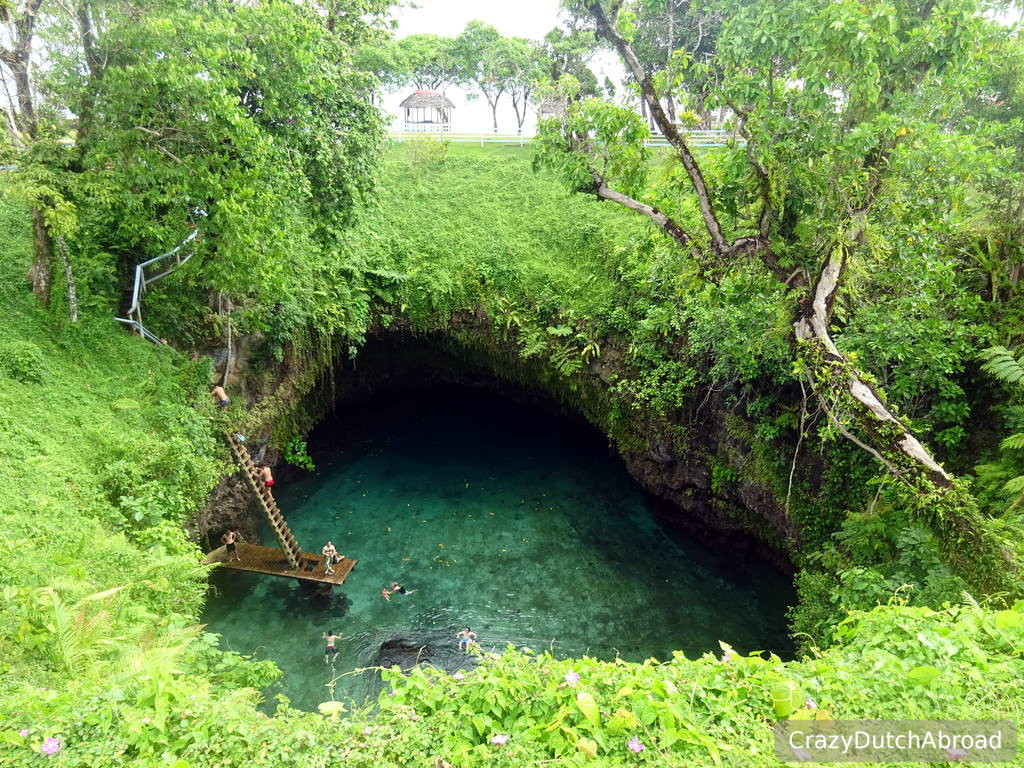 The churches
Whether you are Christian or not, the amount of churches is impressive. It looks like there is a church for every family around the island. We completely lost track counting. The Immaculate Conception of Mary Cathedral in Apia, opposite the Tourist Information Center, is definitely worth a visit. All churches are beautifully decorated, often fresh and bright painted and they color the skyline from a distance.

Some are open daily for praying and visitors, other than the Sunday services for which you will get many invitations, including family lunch afterwards. Sundays are different in Samoa, streets are empty, shops and restaurants are closed and public transportation is hard to find. People like to sit indoors.
To Sua Ocean Trench
On the South-East coast of Upolu island lays the natural highlight of Samoa: The To Sua Ocean Trench! It is a blue lagoon in a 30 meters deep cave shaft next to the ocean. There are stone steps down the first part of the cave, the last part is a challenging ladder - hold on tight! As soon as you hit the platform at the end of the ladder you can enjoy a jump in the refreshing clear blue water. Very beautiful! You pay an entrance fee of 10 USD to enter the garden with pick-nick areas, beaches and swim in the trench.
Samoa Cultural Village
The Samoa Cultural Village is a MUST DO to learn about the history of this country and the strong believes. There are interactive sessions on Tuesday, Wednesday and Thursday morning and they are great! Slowly everything will be explained and shown with so much enthusiasm you will be eager to listen for hours. There is a traditional dance show, with big knifes (more like swords) as well, traditional tattooing (live), coconut lessons and a lot more! They will even treat you with a delicious local lunch! It is free and you can walk in and out as you wish, it is open-air anyway.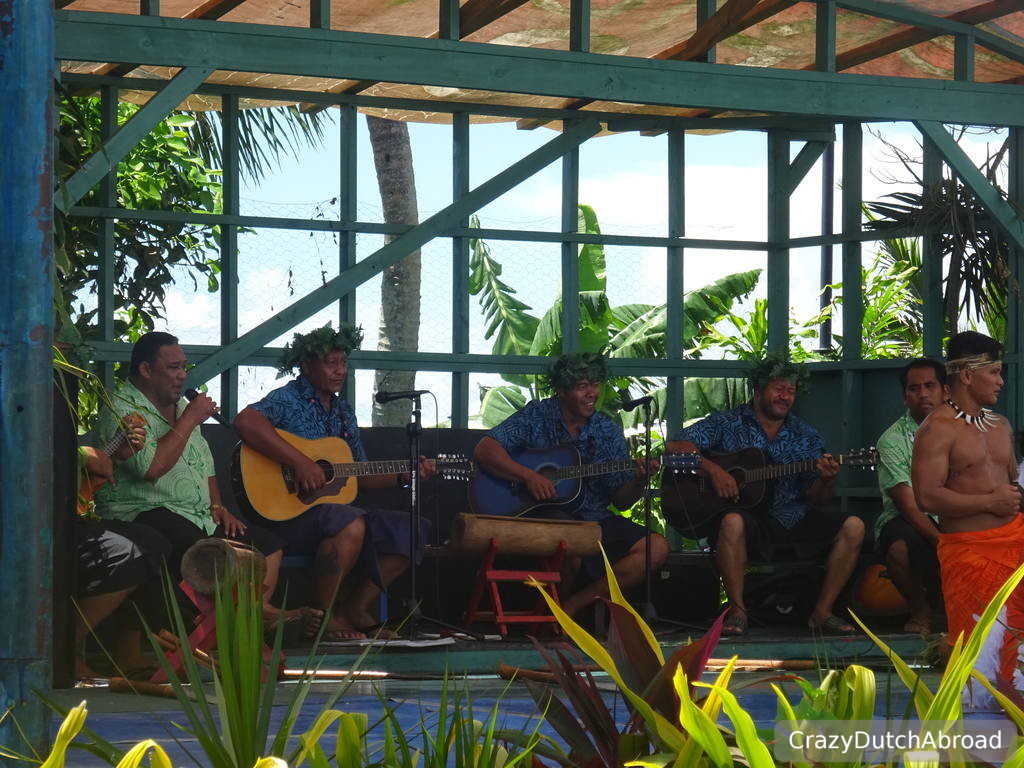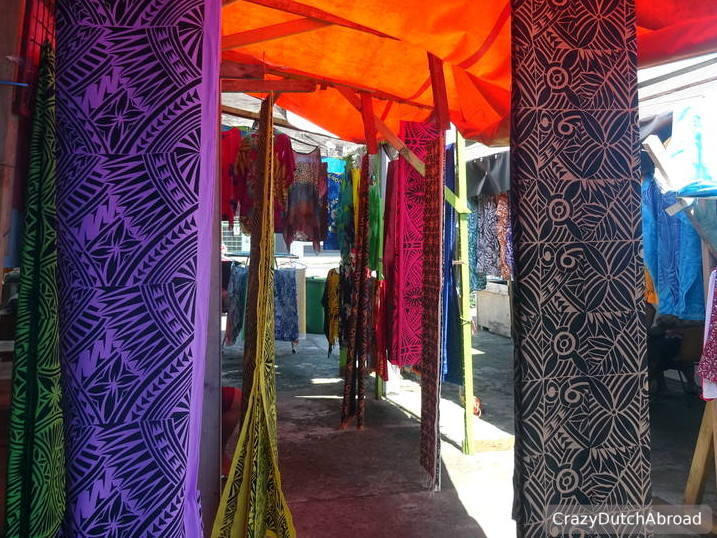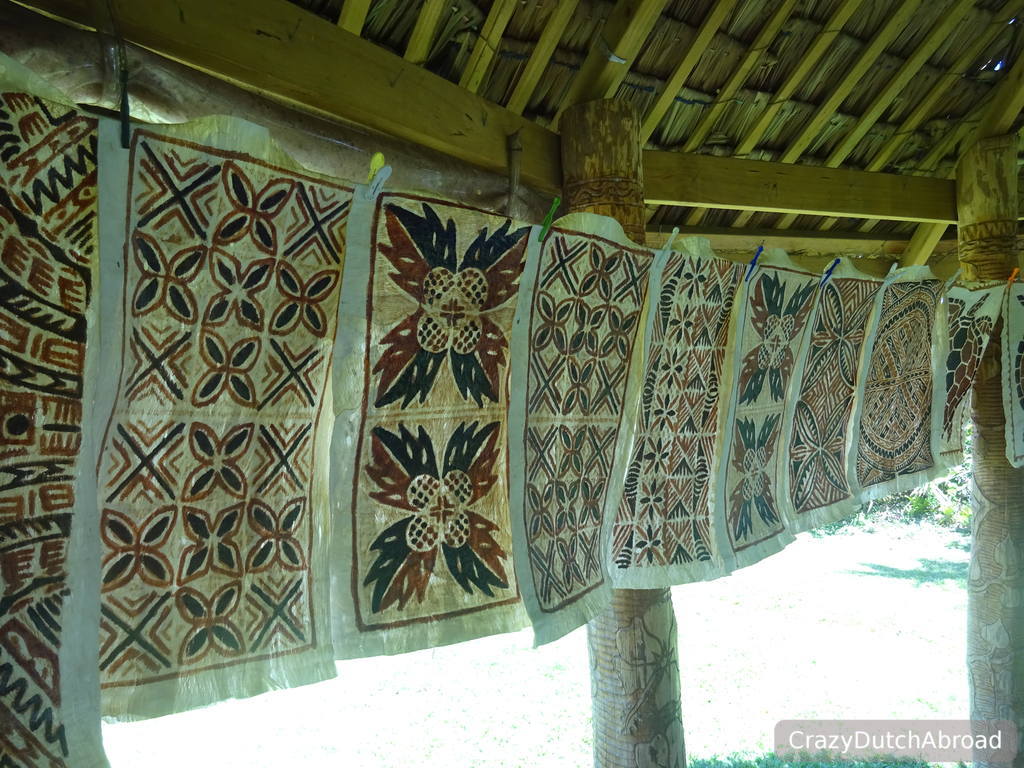 Cultural village
Roadtrip around the island on a scooter
You can rent scooters from MotoSamoa on various places on Upolu, check and make a reservation online. The helmets are more about avoiding fines, do not expect any protection. It is just lovely to drive the East coast and more inland over hills and curly roads. There is a great viewpoint of the Papapapaitai waterfall if you drive through the center of the island.

Driving around is easy, there is not a lot of traffic, but be careful with the dogs (read more below). Other than dogs you will find many pigs on the road, especially the young piglets can suddenly cross the street if mama is on the other side. Horses and cows are slower movers, as well as the people on the street - give them space. :)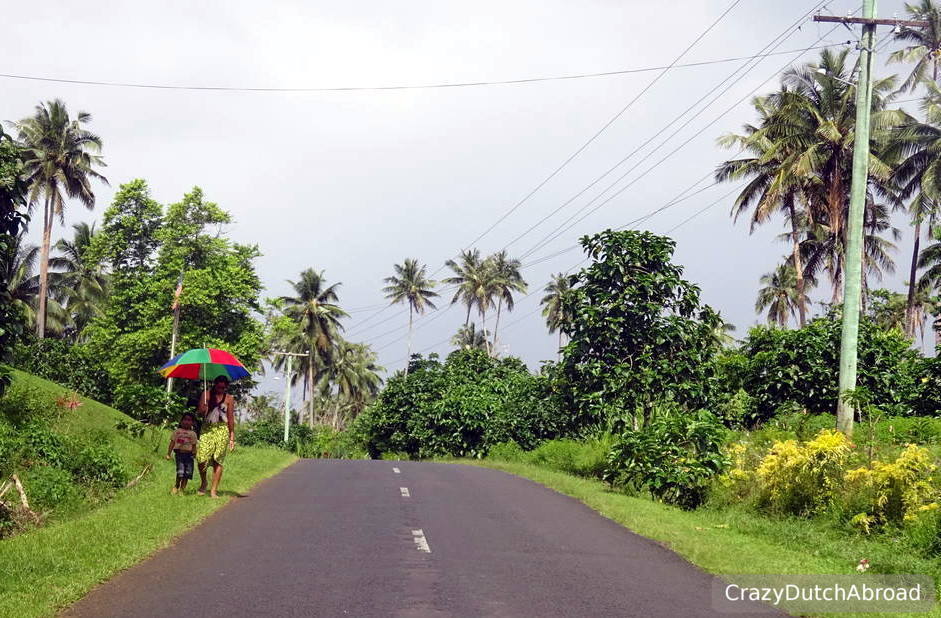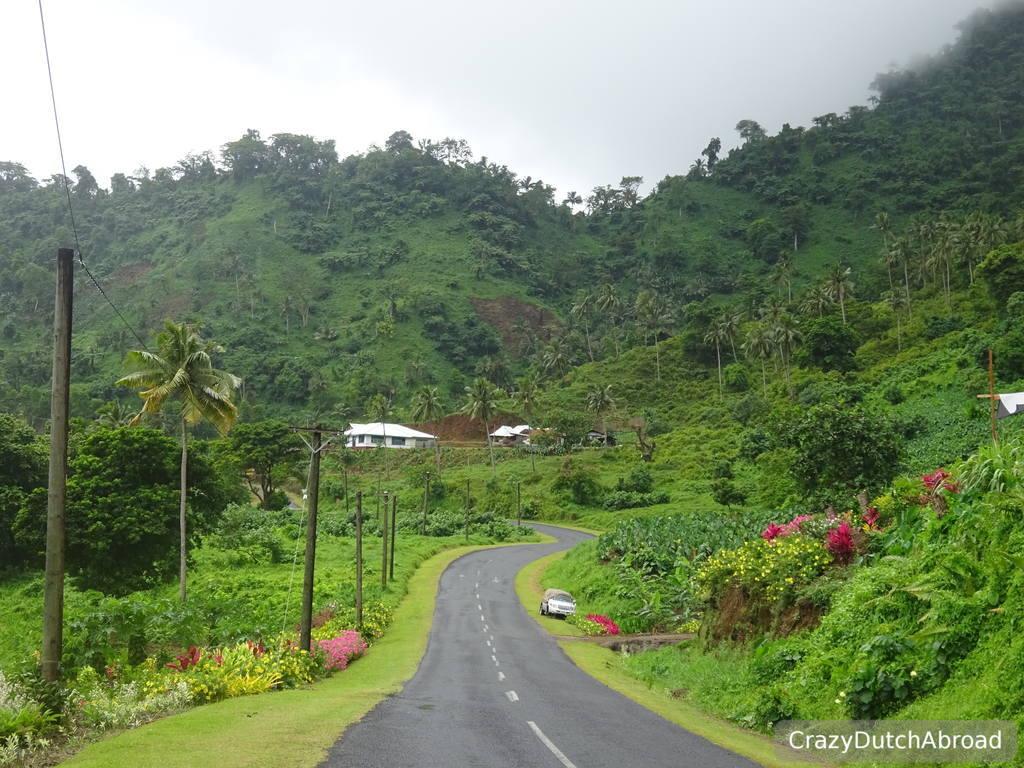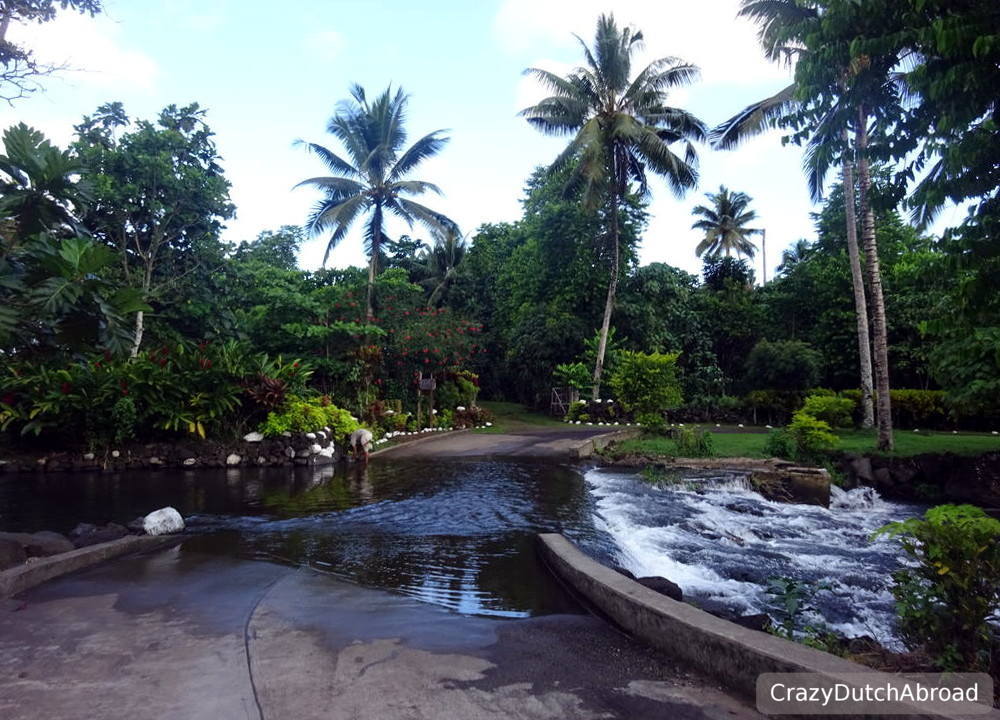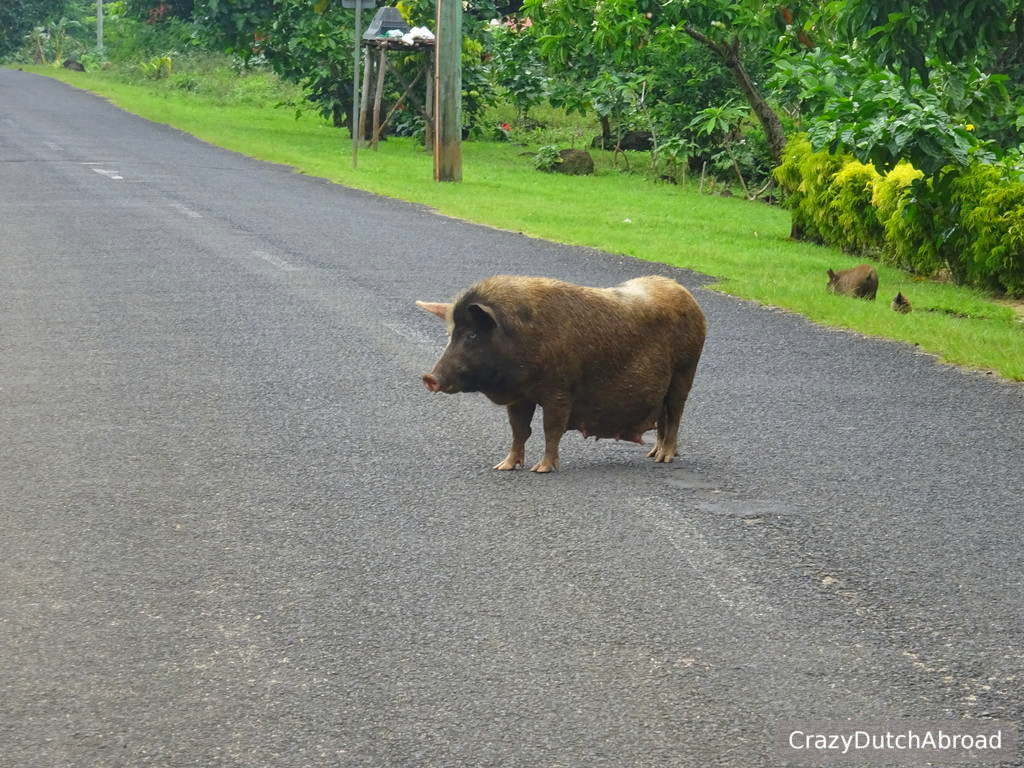 Roadtrip around Upolu, Samoa!
Lalomanu Beach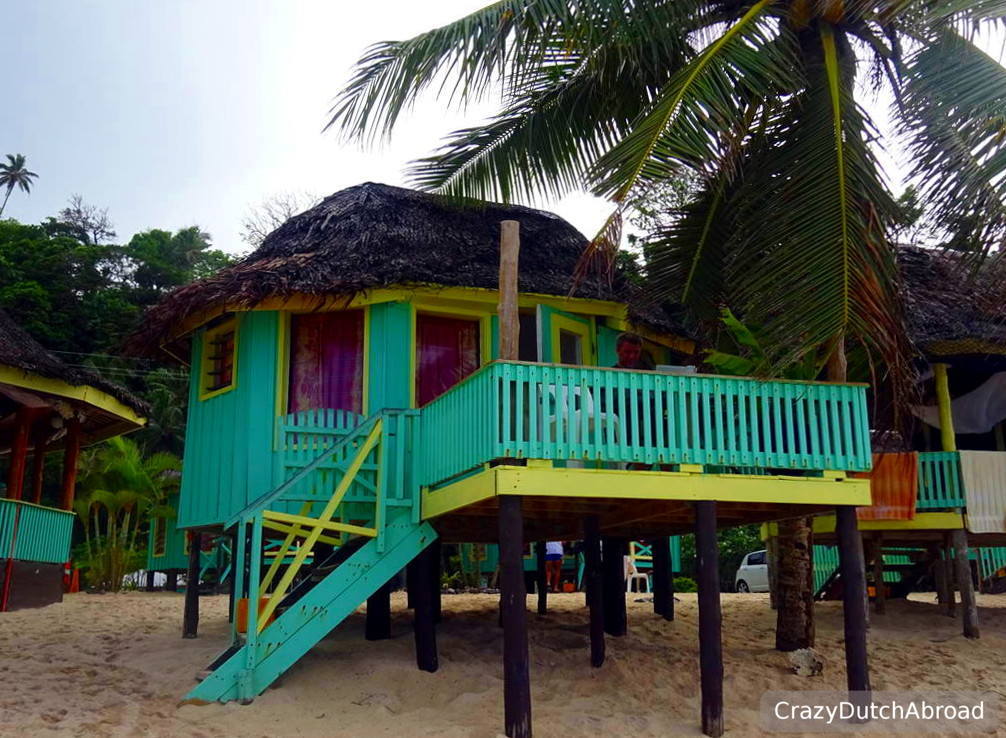 Stay at least one night in a fale ones you are in Samoa! The open air (more like a shelter) places create a cool area since the wind can blow right through. Many people live in fales in Samoa, it is quite strange to see the open-air houses with furniture, beds and all collected houseware. No walls, doors, no locks, no problem. Book a fale through the website of Samoa.travel.

There are several fale options for visitors at the beach fronts, open air and closed ones. Lalomanu Beach is the most famous one and it is beautiful. Taufua Beach Fales is supposed to be one of the best fale options on Upolu. We loved it even-though we had a lot of rain. Breakfast and diner is included, there are no restaurants around anyway, and it is really tasty. The only downside is that it is served quite late (not optional to choose when you want to eat!) and everybody is sharing along long tables - no romantic diner for two...
Siva Afi Fire & Knife Dance dinner show
If you are in Apia on a Tuesday night - go to the Siva Afi show to see world class fire dancing! From fire and knife dancing to coconut milk making and other traditions, all explained in a quick and entertaining manner. Go early to get a good spot and combine it with a local dinner. The local food is delicious and it since it is quite hard to find around the island you better take the chance. The show is held at Ooh La La Ice Cream Bar.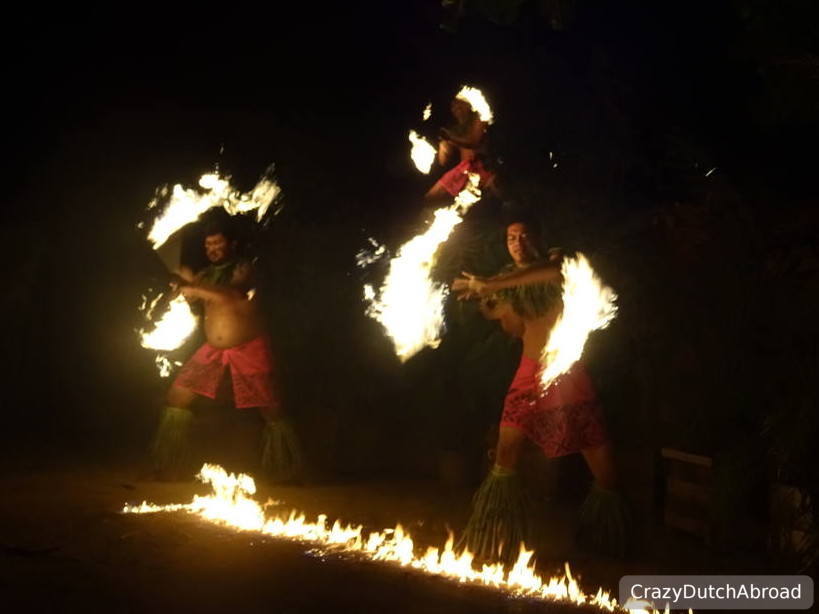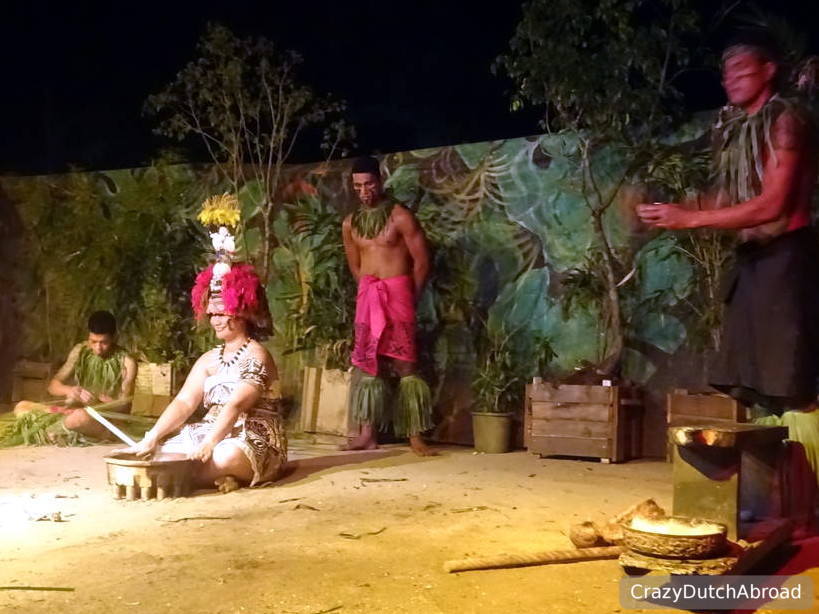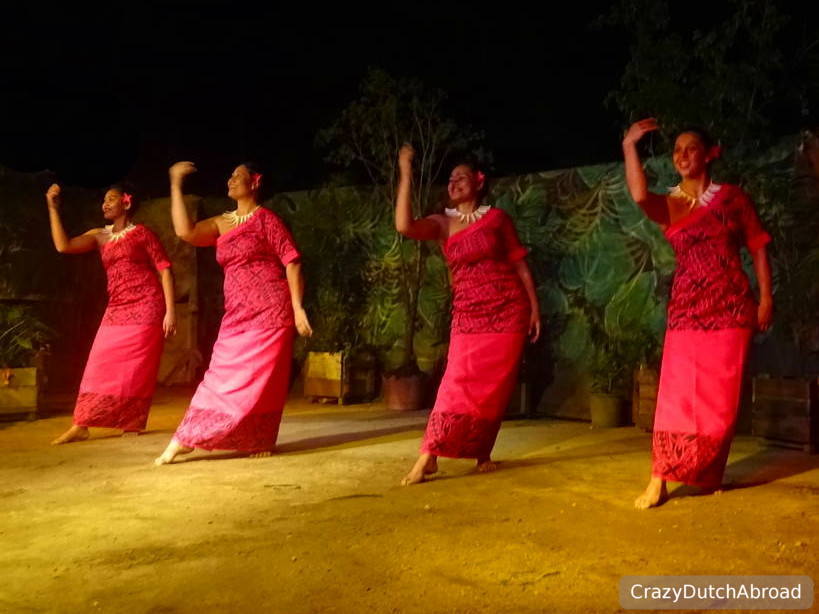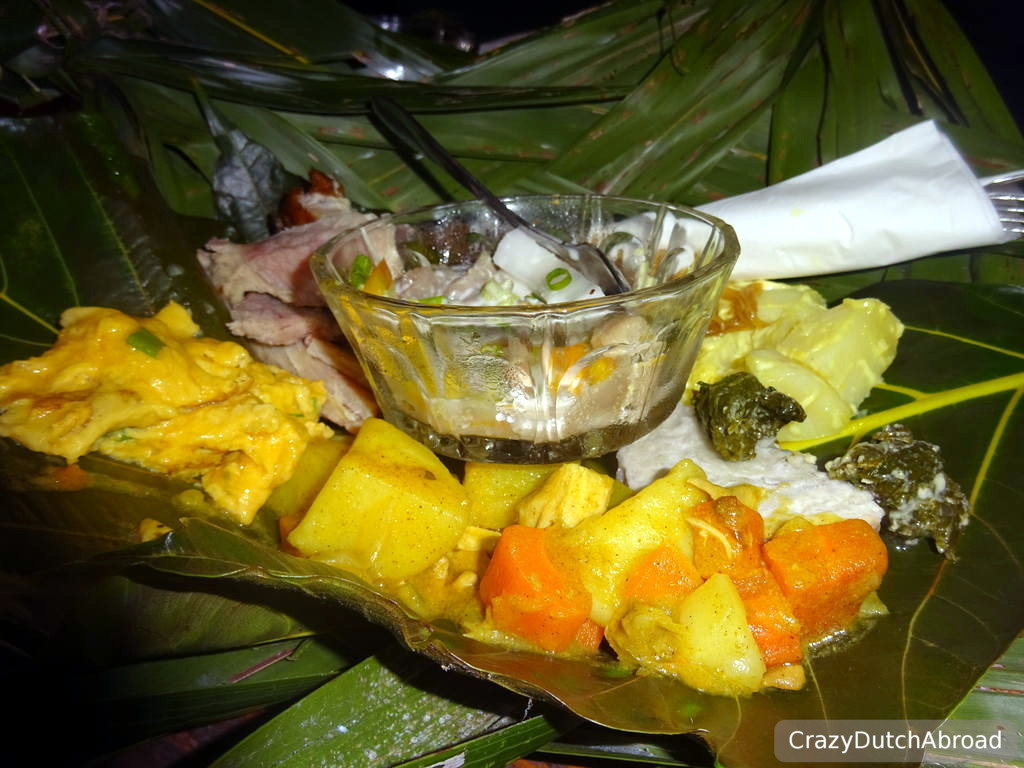 Lessons learned on Upolu Samoa!
Plan your weekend!
As mentioned above Sundays are special in Samoa. The locals will be mainly indoors and activities are down to minimal. Plan your Sunday ahead! Buy groceries and drinks or book trips beforehand. We arrived on Sunday night and it took us hours to find some breakfast in the morning. There is also an alcohol law during the weekend, so be prepared if you like a glass of wine! Some restaurants will open Sunday afternoon, Amanaki and Sails are good options (we found out later). Farmer Joe's Supermarket is open on Sundays and you might find a Chinese convenient store open as well, but it will not be easy!
Down Town Market
Nothing like a flea market but that is another name for this local and tourist market combined. From all kinds of souvenirs and clothes in hawler stalls to a (fast) food court and fruits and vegetables. Lovely to walk around and for gifts to take home.
Handeling dogs in the street
Be warned about the dogs! Especially from dusk to dawn the dogs can be really aggresive. Other than 'just' barking and running after you they will try to bite! Believe me, we are used to a lot and not scared easily and love dogs, do not take this light! When you pass-by on a scooter make the big shhhhhhhh sound and act like you will trow a rock at them - it really helps! Also you can outrun them is you open-up the gass, but make sure they are out of your way first!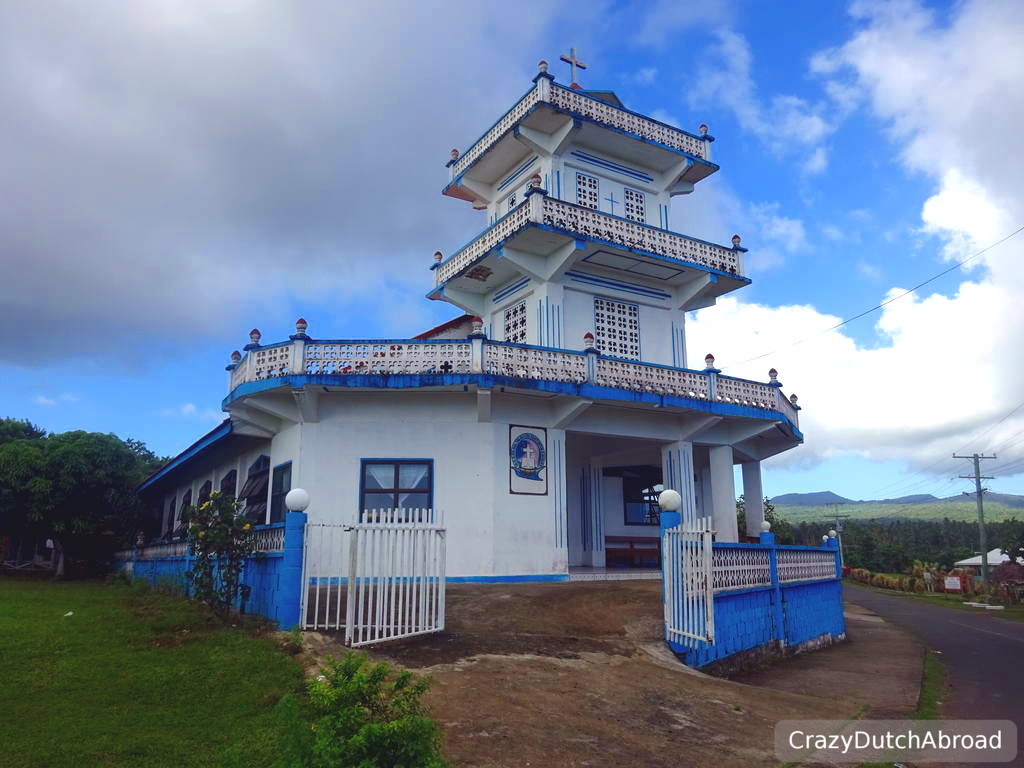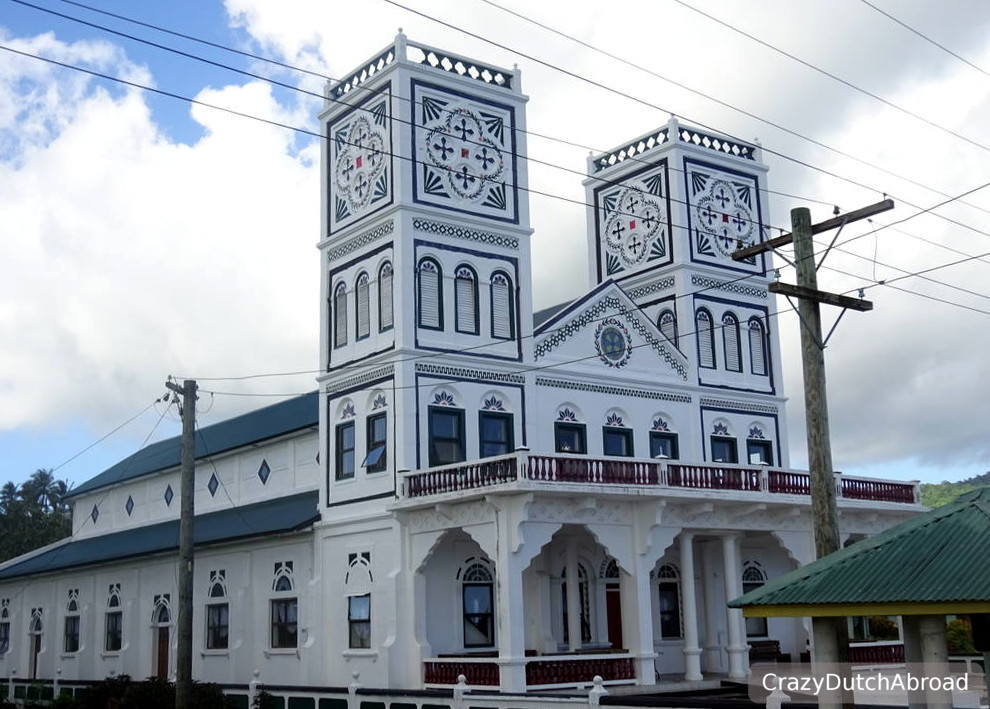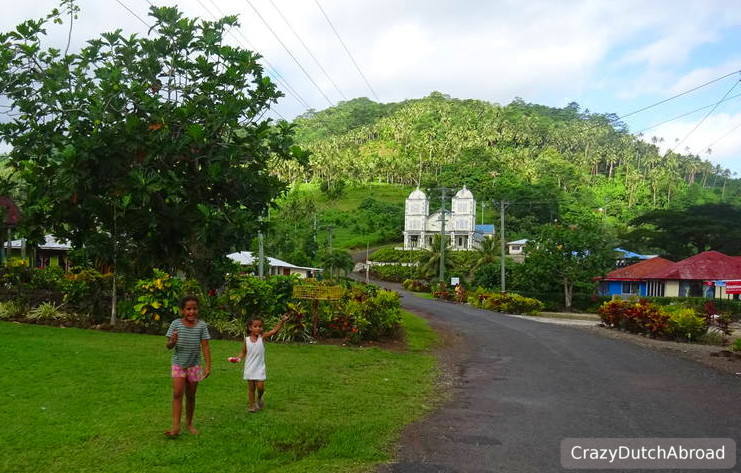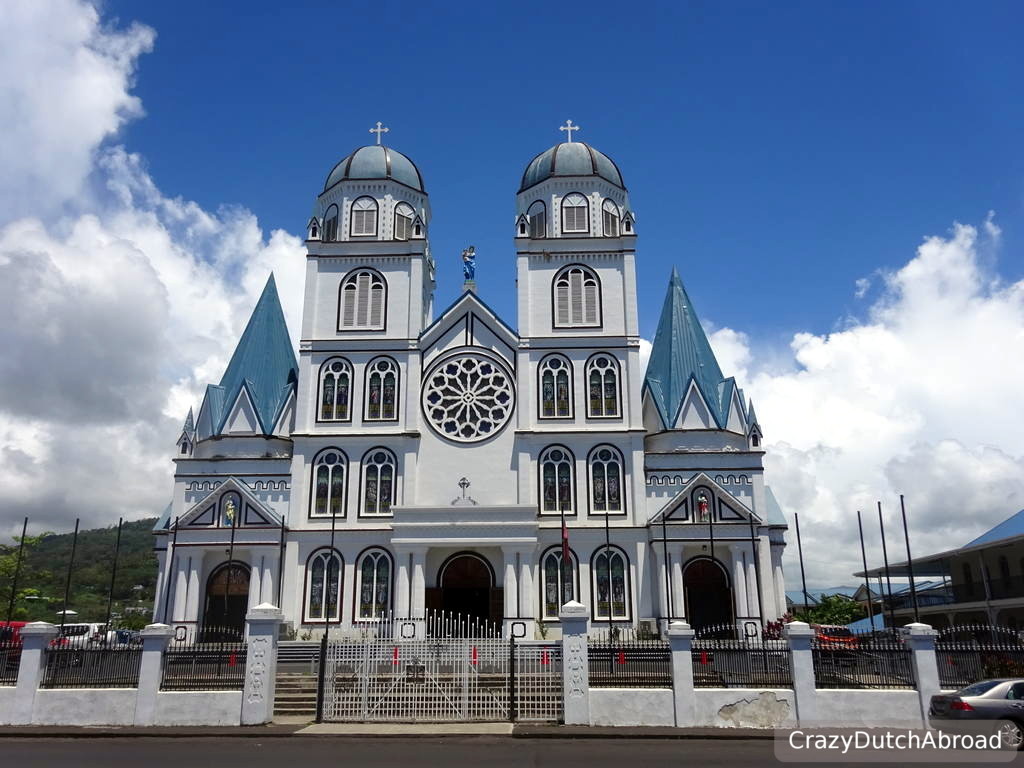 Things we skipped but you might love!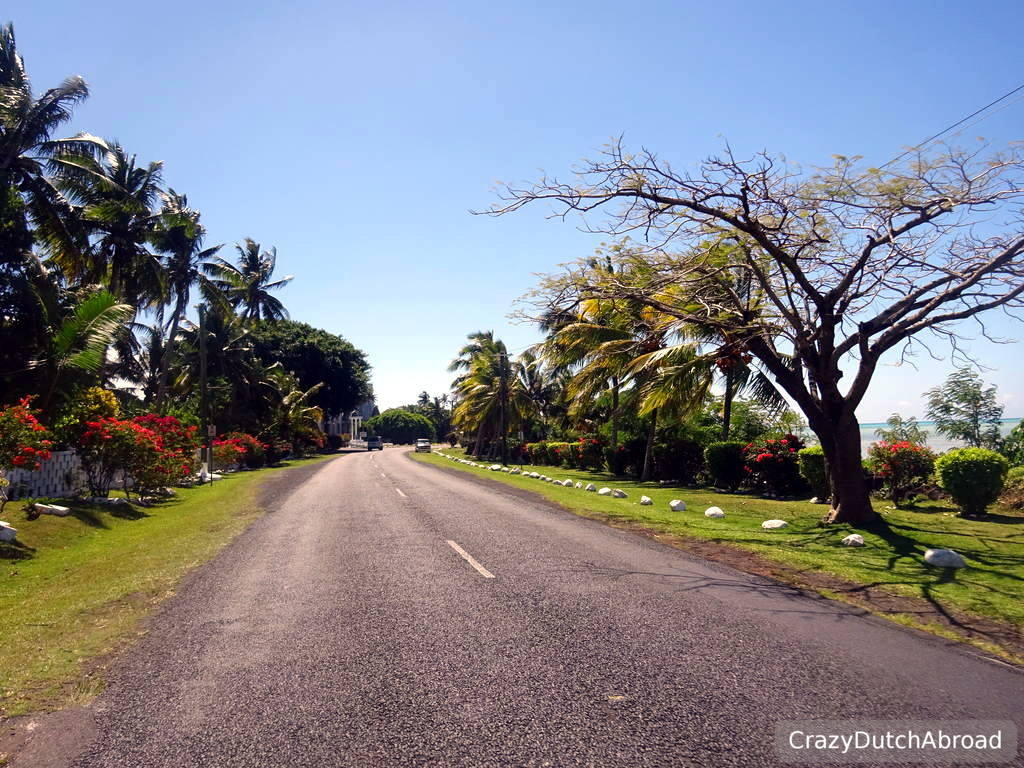 Robert Louis Stevenson Museum
We gathered so much information at the Cultural Village we decided to skip the museum and do outdoor things.
Palolo Deep Marine Reserve
Close to Apia you will find the Palolo Deep Marine Reserve. We have been SCUBA diving around Apia, so we skipped snorkeling here.
Giant Clams Sanctuary
If you have not seen giant clams visit the Sanctuary on the other side of Upolu island. Bring your own snorkel gear! Entrance fee applies.
Papaseea Sliding Rock
Just not that interested in sliding off a rock. Must be great with a group of friends or young children.
The facts!
Visited: September 2016
Bars & Restaurants
| | |
| --- | --- |
| Strip with bars | There is no strip, all is spread out over Apia. |
| Spots we loved | Home Cafe, Paddles Restaurant, The Edge, Sails and SUZU (Japanese restaurant) |
| Beer in a bar | 7 WST |
| Glass of wine in a bar | 8 WST |
| Club Sandwich/Pizza Margarita | 8 WST |
| Cup of coffee | 5 WST |
| Meal | Western restaurants have mains starting at 40 WST |
| Restaurants open | Varies a lot, some close during the afternoon and most close around 9PM and on Sundays |
| Number of restaurants and bars in top-area | All over Apia town there are about 15 restaurants |
| Quality of local food | Very good but it is hard find (other than the deep fried stuff at the market)! |
Transportation
| | |
| --- | --- |
| Scooter rental | 60 WST / day (From MotoSamoa, 21 WST for your local driver license (available in the shop) |
| Local transport | There are busses that drive around but taxis are affordable. |
| Taxi | Plenty around, pricing works with areas: 5 WST from the Vaitele to the market and then 7 WST from the market to the coast, so your trip where you go from home to the coast is 12 WST (even if you do not pass the market) |
| Uber | Not available |
| Boat | To get to Savaii there is a big ferry (Lady!) running almost every 2 hours. There are two companies, take the MV Lady Samoa to have an air-conditioned seating area and a little coffee shop. The small one goes slower and there is not enough place to sit for everybody, not even shade. Visit Samoa shipping for the schedule. |
Sleeping
| | |
| --- | --- |
| Apartment | Sesilia Riverside Apartments , about 40 USD in Vaitele, highly recommended! |
| Resort | Try a beach fale! They cost around 200 WST for 2 persons per night but worth it for the experience! |
| Hotel score price-quality | High prices for basic accommodation |
Internet access
| | |
| --- | --- |
| Local SIM card | Digicel, they block WhatsApp calls and VPN's unfortunately. Skype works for calling |
| UMTS | It works pretty good for a remote island Country, price is about 10USD for 1 Gb. |
| WIFI Hot spot | Nowhere to be found, UMTS is cheaper than a DSL line so the only thing restaurants offer is very expensive paid internet |
Other essentials
| | |
| --- | --- |
| Beaches | Lalomanu is beautiful. Most beaches are on the south of the island. |
| Supermarket | Farmer Joe's Supermarket is huge and open on Sundays. |
| American Samoa | If you take a flight to American Samoa you fly back in time, celebrate your Birthday twice! It was to expensive for us but you can fly with Talofa Airways return for about 380 WST. Accomodation is the hardest part. Cheapest option is staying with a local family. Email the National Park of American Samoa for the Homestay Program list. |
Like a local!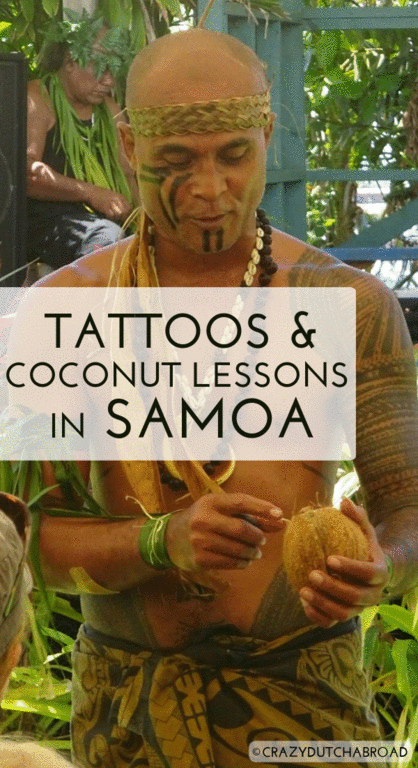 Burn the coconut shells so mosquitos disapear! Simple, natural and effective - but a lot of smoke! :)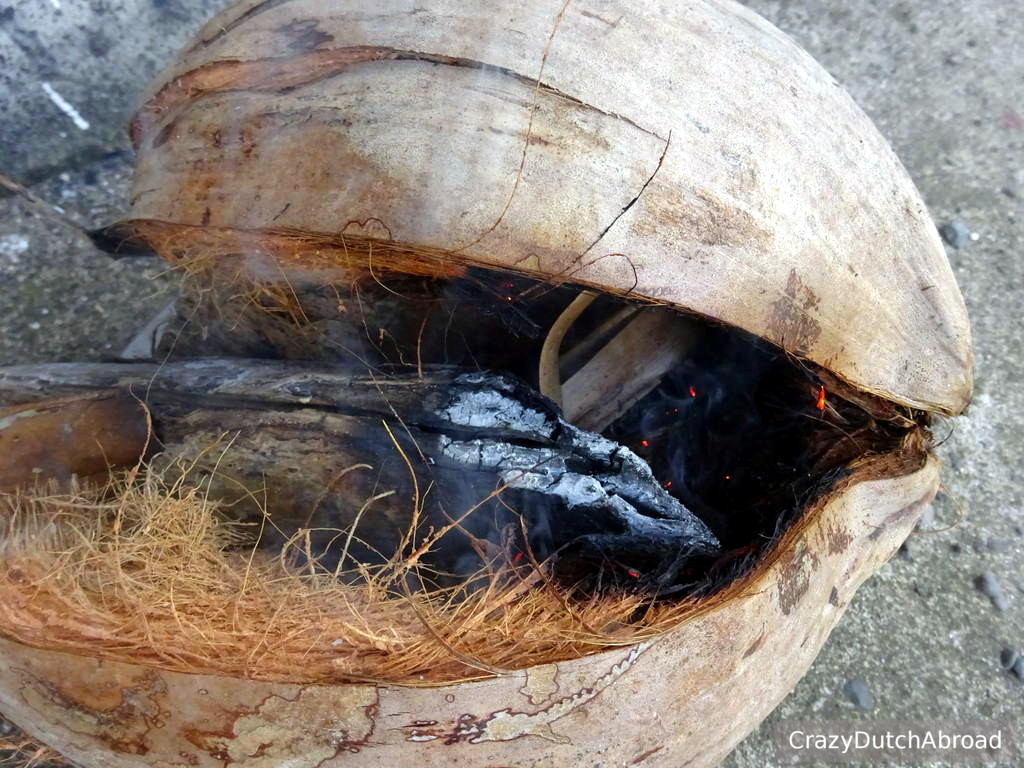 Burning the outer coconut shell to keep the mosquitos away!
If you enjoyed this post, please share it with your friends
Marlies
Crazy Dutch Abroad
Let's travel the world in a crazy way!
Share this page: