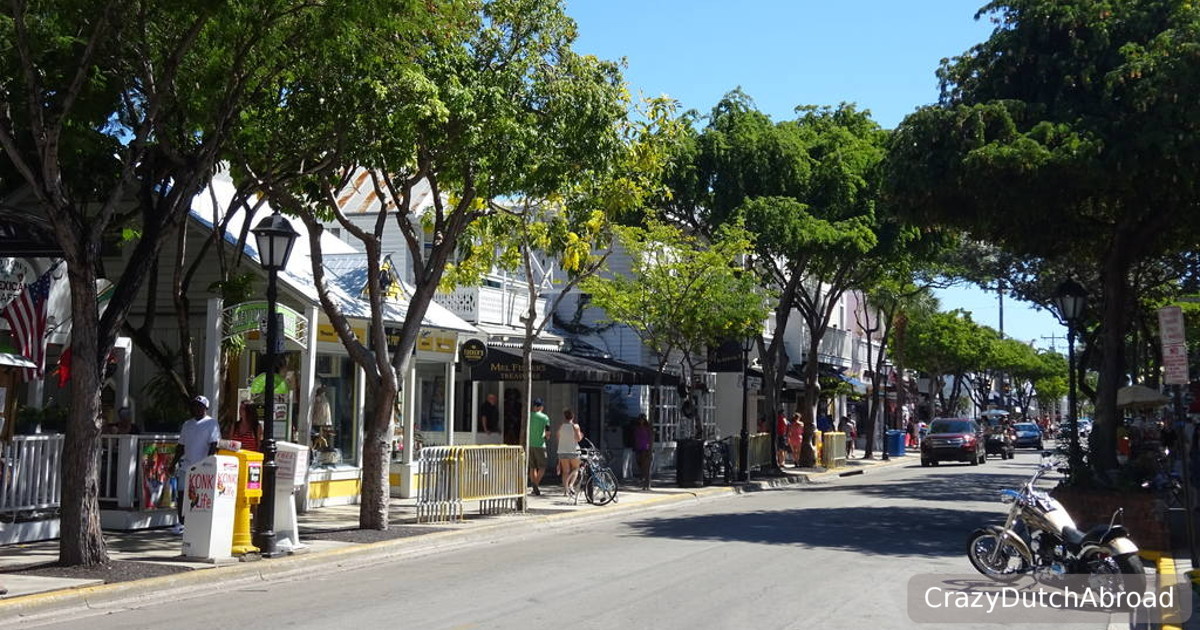 Holiday hot spot: The Florida Keys!
Florida Keys is a beloved holiday destination surrounded by the Gulf of Mexico and the Atlantic Ocean. Caribbean vibes are and colors are around as well as American comfort and pampering! Water sports are all around as well as hundreds of yacht marinas and dive centers. It is a dive walhalla for wrecks and most people agree on finding the best reefs of the entire USA around here! The Florida Keys or Keys are basically islands. They are connected by the U.S. 1 (overseas highway) with more than 40 bridges with fishing piers and scenic look-outs.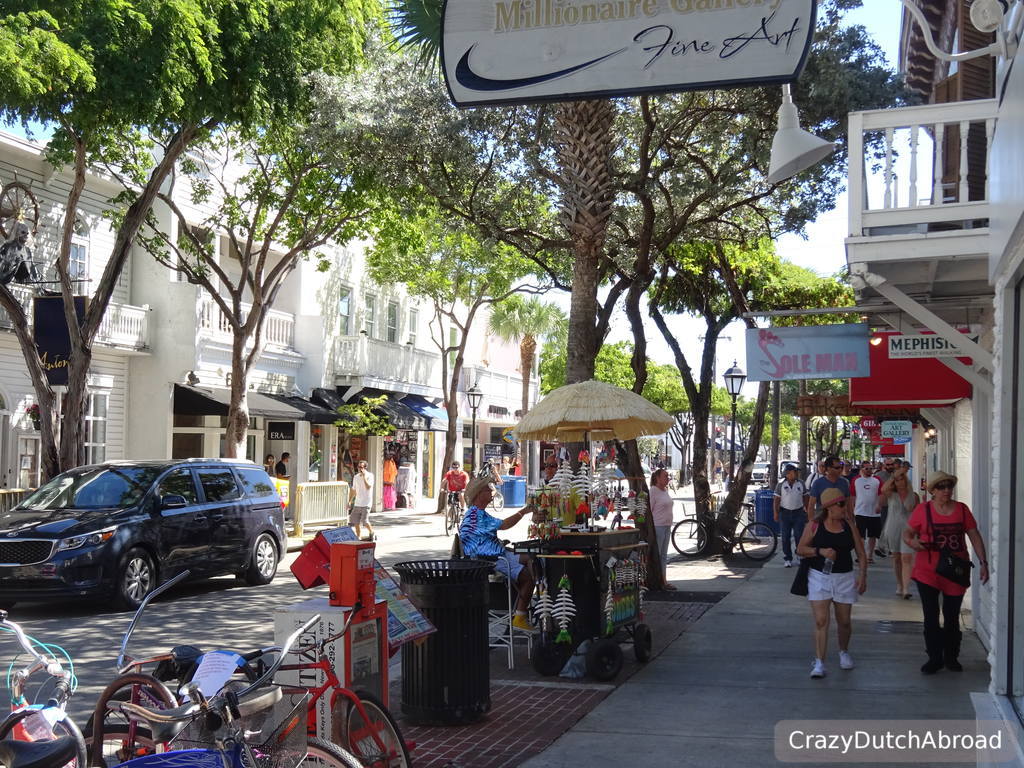 Key Largo is the first Key you reach from the mainland, Key West is at the very end. In Key West you will find the Southern Most Point of the USA from where you can see Cuba (150 KM), although the statue is not at the actual tip (See Google Maps). Key Largo is the largest Key where you can find the cheapest options for accommodation. There are more than 1500 islands forming the Florida Keys.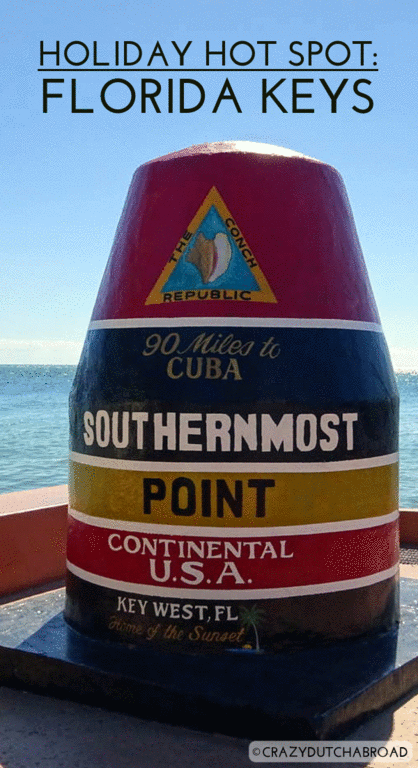 Every Key seems to have its unique character and popular water sport. SCUBA diving and snorkeling run the biggest show, followed by fishing but you can find para sailing, jet skis, sunset cruises, dolphin watches and helicopter tours all around. Museums, natural sanctuaries (from deer to butterflies) and tons of clothing and Key-souvenir shops. There are several beer brewing companies and pirate-style rum bars around, as well as hundreds of restaurants and even more fast food places. It is easy to spend a lot of time and money here! The weather is hot, no jacket needed, and American island life is here for you to explore.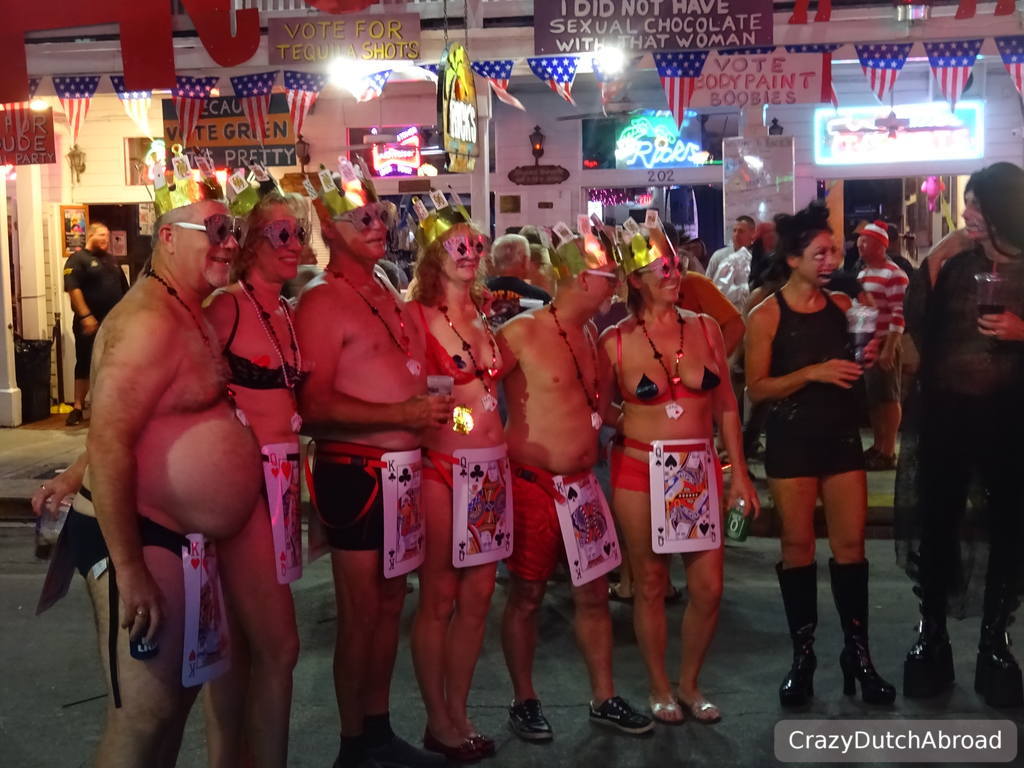 Things to love about the Florida Keys
Fantasy Fest
From 'Peter Pan's Adventures in Naughty Land' to a 'Pet Masquerade' - things get wild in the Florida Keys around Fantasy Fest. This annual festival lasts for more than a week with parades, indoor parties and street fairs with thousands of visitors. Although the theme of this year was Political Voodoo & Ballot Box Barbarians it seemed to be more about sexy outfits and extravaganza with an average age above 50... Baby boomers go wild!
Key Lime Pie & Conch fritter
Lime Pie might be something you are familiar with, something like a cheese cake with lime and a buttery biscuit base. The Key Lime Pie is a local favorite and everybody gives his recipe a personal twist. Especially in Key West you can get a key lime pie on a stick with chocolate, yammie. Conch fritter was something I had to Google. It is made from the sea snails inside the conch shells and it tastes a bit like deep fried calamari/squid.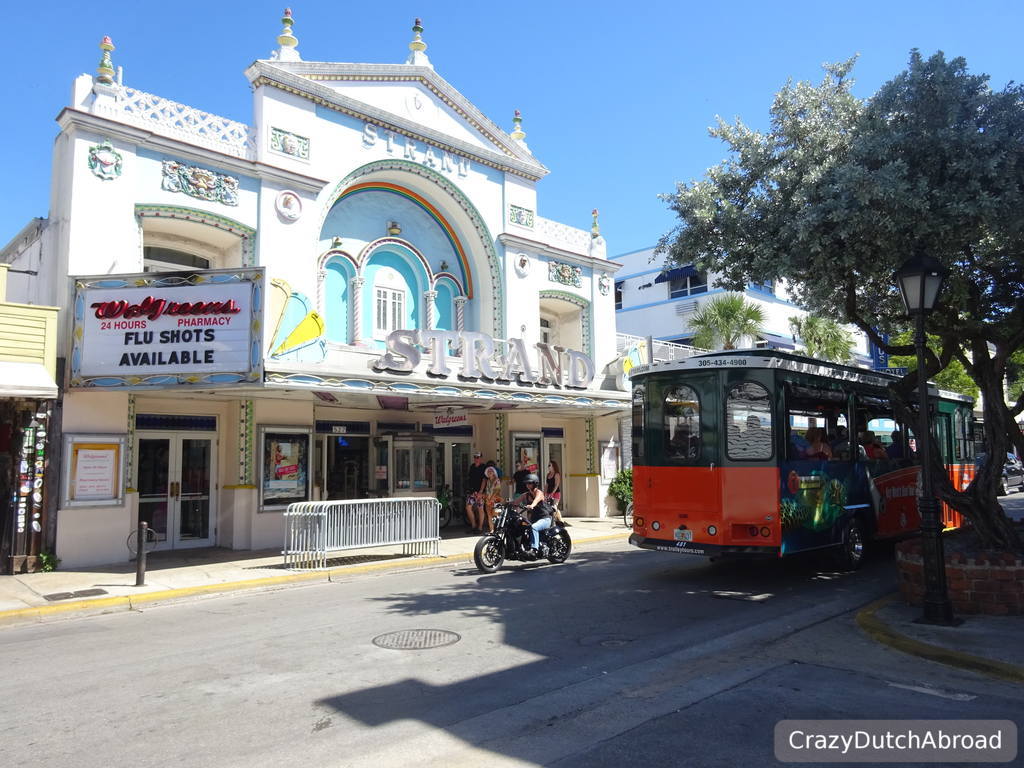 Turtle Hospital
Who does not like sea turtles? These slow moving round shaped dudes are often eating jellyfish (yeah!) but unfortunately also plastic by mistake. The Turtle Hospital on the Marathon Key rescues sea turtles and is a working hospital for turtle care, rehabilitation and release. For more information you can read the full post on my SCUBA blog Dive O'Clock
Lessons learned in the Florida Keys!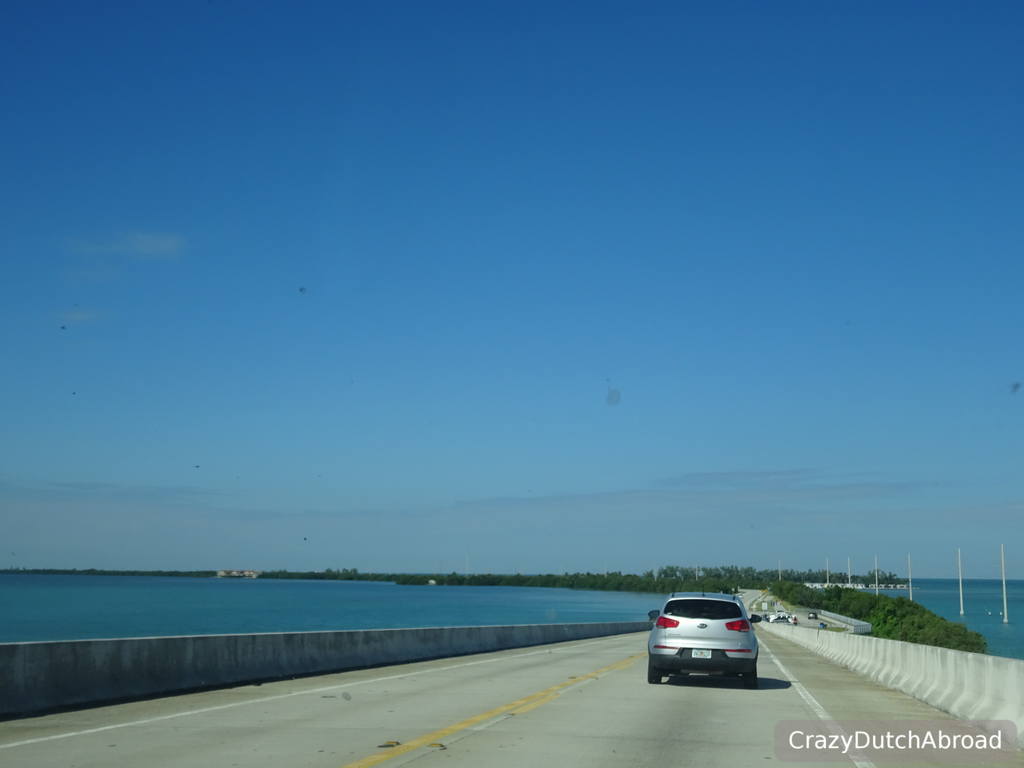 Do NOT underestimate the length of the Keys
We made this mistake! A little bit of Key-hopping easily takes hours of sealed road driving even though it is really beautiful. The whole trip from the 'mainland' to the the end of the road takes at least two and a half hours, it is 180 km long.
We thought we could save some money on accommodation by diving around Marathon Key around lunch and seeing sunset in Key West before driving back to our accommodation in Key Largo. We skipped Key West that day and drove all the way back the next.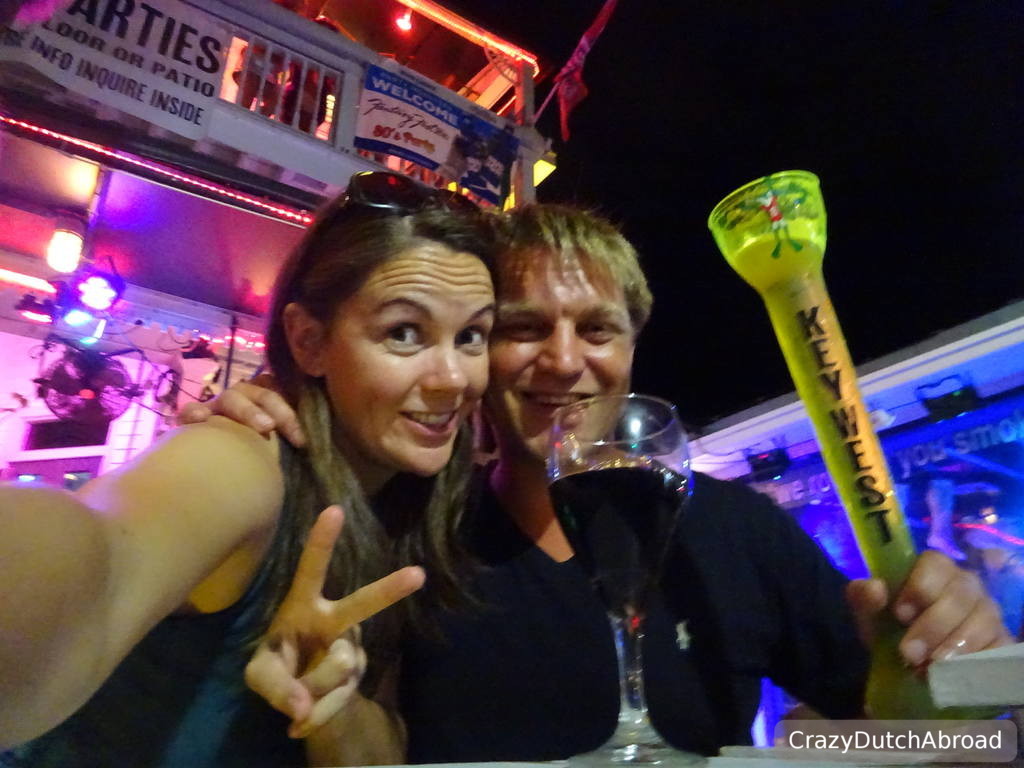 Things we skipped but you might love!
Ernest Hemingway House
You can visit the house of this great author during a guided tour. Although it must be one of the most interesting things around, we skipped this house visit (with many cats) because it did not seem really interesting - just one of the best options around.
Key West Butterfly and Nature Conservatory
Butterfly gardens and especially conservatories are great. We skipped the Key West Butterfly and Nature Conservatory to save money for other things, plus we have seen quite a few butterfly gardens in South-East Asia. (spoiled, yes!)
Dry Tortugas National Park
Explore a 19th century fort (Fort Jefferson) on Garden Key and snorkel in the clear water around it! We have many in Europe, with a greater history - although the waters are not so clear and warm.
The facts!
Visited: October 2016
Bars & Restaurants
| | |
| --- | --- |
| Strip with bars | There are so many great spots and strips of bars in Key West, we even did a pub crawl! (Duval, Green and Front st) |
| Spots we loved | Key Largo: Sharkey's Pub & Galley Restaurant. Islamorada: Bitton Bistro Cafe Key West: La Grignote (coffee) and Senor Frogs (bar) |
| Beer in a bar | 5 USD draft incl tip |
| Glass of wine in a bar | 5 USD |
| Club Sandwich/Pizza Margarita | 10 USD |
| Cup of coffee | 3 USD |
| Meal | 20 USD |
| Restaurants open | Most are open from breakfast to midnight, every day |
| Number of restaurants and bars in top-area | They are just everywhere along the U.S. 1, depending on what you call a restaurant (vs fast food) |
| Quality of local food | Good |
Transportation
| | |
| --- | --- |
| Scooter rental | Available! But you can rent a golf cart here as well! |
| Local transport | Tram, cycle taxis and |
| Taxi | They are around! |
| Uber | Did not seem to work around the Keys! |
| Boat | Various prices for leisure trips |
Sleeping
| | |
| --- | --- |
| Apartment | Westwinds Inn is where we found the cheapest option in Key West, for the stupid amount of $150! |
| Room | With AirBnB we found a room in Key Largo for $65 |
| Resort | Starting from $250 (Key West) per night up to very high-end |
| Hotel score price-quality | You pay a lot for a small room, but the weather is nice |
Internet access
| | |
| --- | --- |
| Local SIM card | We bought an Ultra me SIM card with 1GB for 45 USD including taxes |
| UMTS | Often better than WIFI and great for finding cheap parking spots online |
| WIFI Hot spot | WIFI is everywhere and it is free of charge, it is easy to get around without a local SIM |
Like a local!
Drinking alcohol in public is not allowed, but drinking from a can inside a paper back is...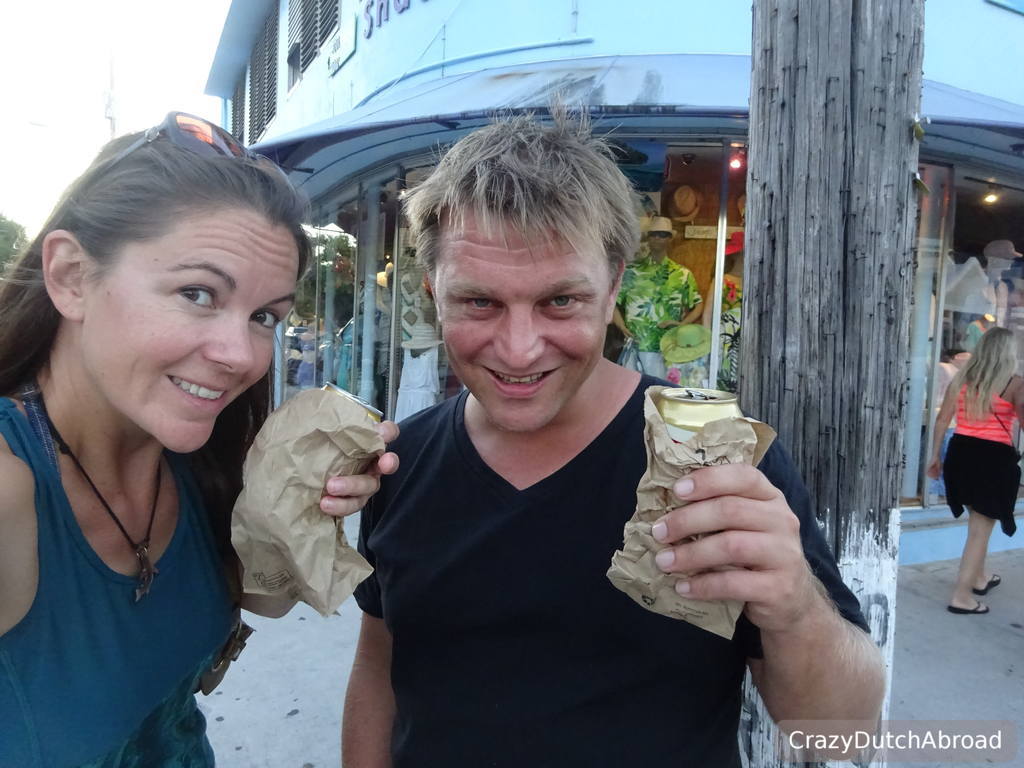 If you enjoyed this post, please share it with your friends
Marlies
Crazy Dutch Abroad
Share this page: