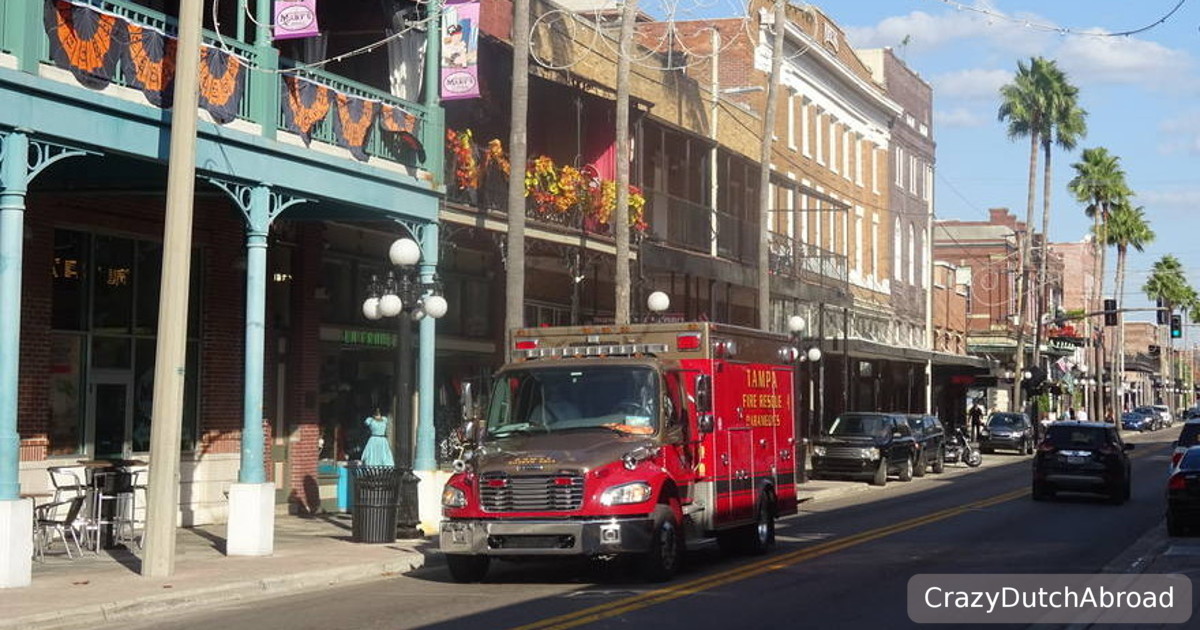 Two-days road trip from Miami to Tampa! (Florida West Coast)
Driving along the West Coast of Florida with scenic roads, bridges and beach towns!
The West Coast of Florida might be not as spectacular as the East Coast but driving along the Gulf of Mexico definitely has its gems. After visiting the Florida Keys and the gators in the Everglades it was time to hit the road to drive to Homosassa.

The Everglades National Park stretches all the way from the East to the West coast down at the Southern tip of Florida. When driving the first hours through the Everglades, along the Highway 41, there were many parking lots with little trails and boardwalks to spot wildlife. Most wildlife we spotted (mosty armadillos) was dead unfortunately. Apart from the roadkill, it is a lovely drive - but after an hour it all starts to look a bit the same...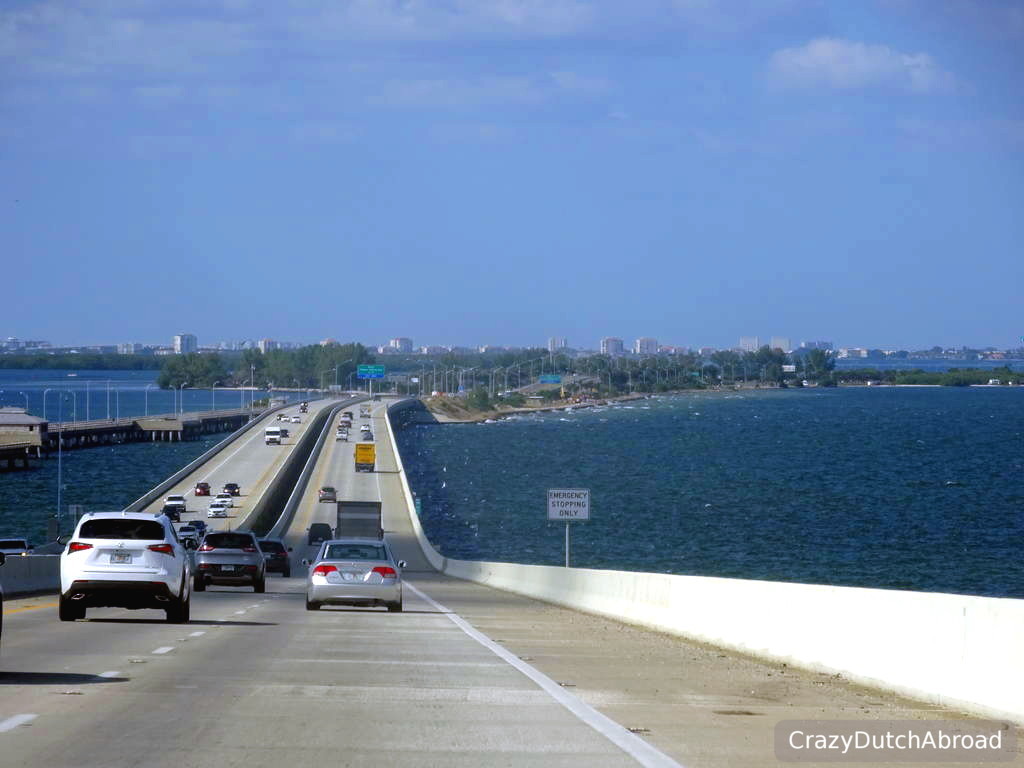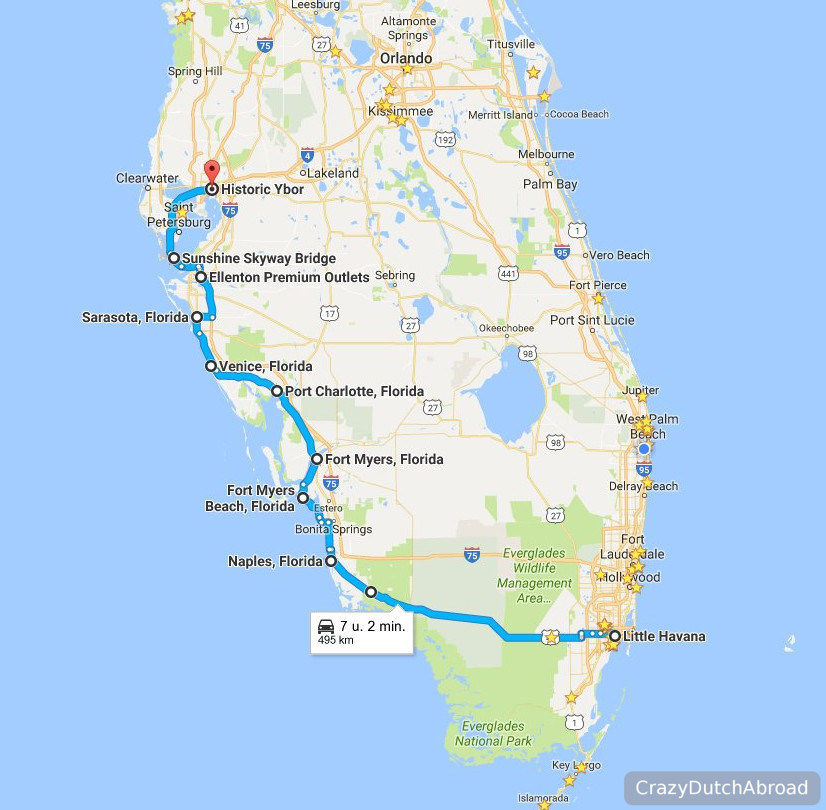 The second and largest part of this road trip is the coastline. You will cruise through upscale beach towns along scenic roads and over interesting bridges. Make sure to leave the 41 at Bonita Springs to get closer to the shore. Follow the 865 (Estero Boulevard) all the way to Fort Myers Beach. From Fort Myers Beach you cruise through Cape Coral along the 867, from Fort Myers you can go back on the 41.
The most scenic part of this trip is in between Port Charlotte and Sarasota (Fruitville Road). After this you get the Sunshine Skyway Bridge and pass St. Petersburg before entering the Tampa area.
Things to love when driving along the West Coast of Florida!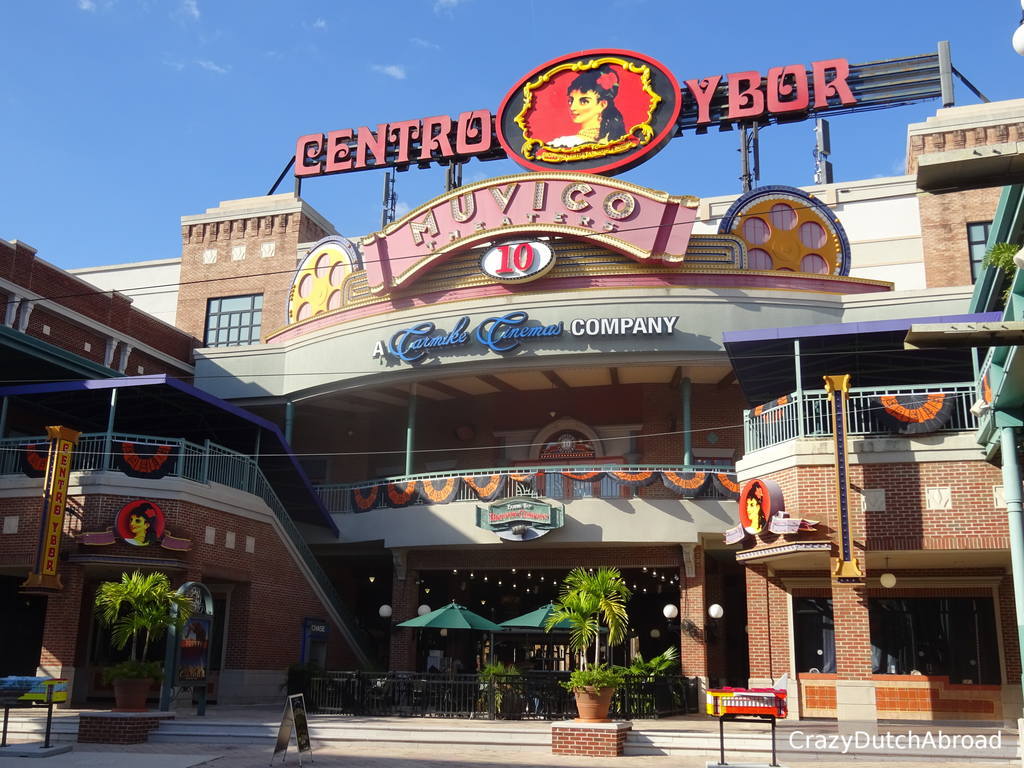 Fort Myers Beach
Park the car along Old San Carlos Boulevard and walk up Fort Myers Pier for great photo opportunities. The Pier side Grill and Famous Blowfish Bar is a nice waterfront spot with good happy hour offers.
Ellenton Premium Outlets
This outlet mall offers all kinds of big brand outlet stores. From Tommy Hilfiger to Nike and from Bose to Samsonite. Some great deals are found here for premium brands. You can even get a coupon booklet for more discounts and one receipt is valuable for another offer...Shop till you drop! Not touristy, but - of course - some other Dutch people.
Historic Ybor
With a history going back to the 1880s this area has Italian, Spanish and Cuban influences. From people rolling cigars in front of their shop to people reading newspaper in a French brasserie, the vibe is lively and colorful.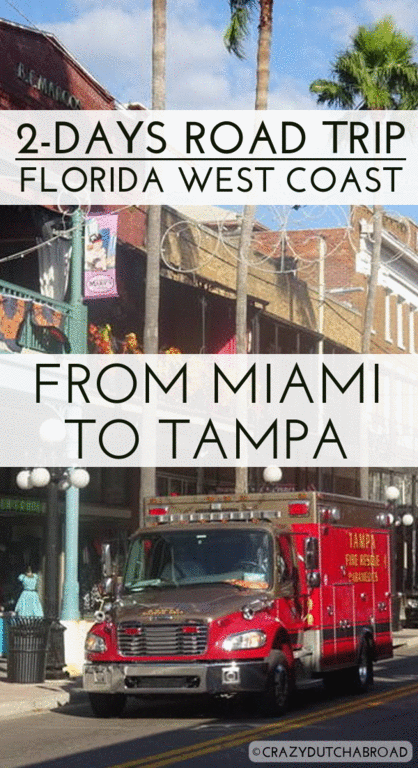 There are plenty of cozy bars and restaurants around as well as comedy theaters and make sure to visit Centro Ybor and the Tampa Bay Brewing Company.
Lessons learned along the West Coast of Florida!
Snowbirds
Most of these little beach towns seem to be taken over by elderly people, pensioned people might be a better description. We found out there is a migration going on in the States, people move to the Southern States during wintertime to escape the cold.

Towns like Naples and Fort Myers Beach seem to be more built for elderly and a bit upscale. You will find more unique boutique shops, mom and pop stores, a nice chain from all the franchises and fast food chain stores.
Things we skipped but you might love!
Long Boat Key
From Sarasota you can take the 789 and drive over several keys and bridges all the way up to Anna Maria Island. We skipped it to save some time and because we have been driving all the way to Key West in the South a few days before. We thought it would be a bit similar...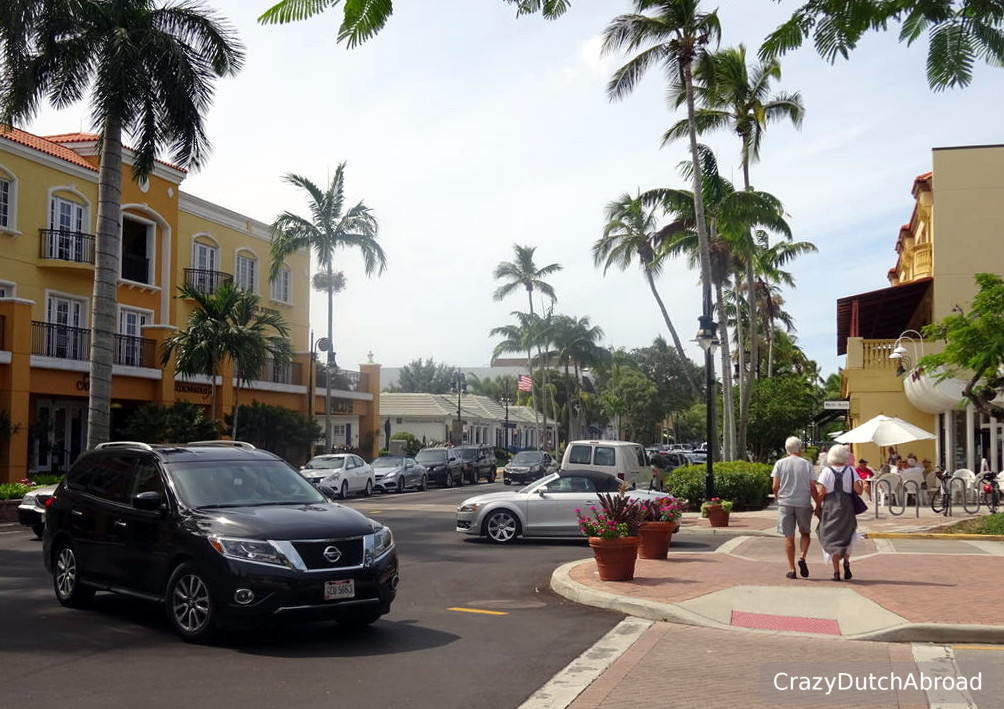 Hudson
We took another short-cut to save time so we skipped the coast road from Clear water to Homosassa. Hudson is supposed to be a lovely waterfront town as well.
Weedon Island Preserve
Here we wanted to spot living Armadillos (would have been nice for a change) but we did not wanted to take a long hike with all the luggage in the vehicle (including laptops). Staying overnight was not worth it for us, Homosassa seemed more appealing.
The facts!
Visited: October 2016
Bars & Restaurants
| | |
| --- | --- |
| Strip with bars | The best strip we found was at East 7Th Avenue in the Historic Ybor area of Tampa. |
| Spots we loved | Blowfish Bar (Fort Myers Beach) and Oleary's Tiki Bar & Grill (Sarasota) |
| Beer in a bar | 5 USD draft incl tip |
| Glass of wine in a bar | 5 USD |
| Club Sandwich/Pizza Margarita | 10 USD |
| Cup of coffee | 3 USD |
| Meal | 20 USD |
| Restaurants open | Most are open from breakfast to midnight, every day |
| Number of restaurants and bars in top-area | In Historic Ybor you will find 20+ nice places |
| Quality of local food | The area is too big to give an average |
Transportation
| | |
| --- | --- |
| Scooter rental | Not available, maybe an electronic cart in the supermarket |
| Local transport | Hard to find, even harder to plan a trip |
| Taxi | About 3x the price of an Uber and quite hard to find outside peak area.! |
| Uber | Probably everywhere |
| Boat | Not available for transport |
Sleeping
| | |
| --- | --- |
| Motel | Econo Lodge North Fort Myers for about 50$ including breakfast was cheapest we could find |
| Nice hotel | Fort Myers Beach offers rooms starting from 65$ |
| Resort | Starting from 100$ night up to very high-end |
| Hotel score price-quality | You pay a lot but you get a lot, spacious and convenient |
Internet access
| | |
| --- | --- |
| Local SIM card | We bought an Ultra me SIM card with 1GB for 45 USD including taxes |
| UMTS | Often better than WIFI and great for finding cheap parking spots online |
| WIFI Hot spot | WIFI is everywhere and it is free of charge, it is easy to get around without a local SIM |
Like a local!
Taking pictures from a bridge might not be as 'like a local' as it can be, but the Sunshine Skyway Bridge is a monument and attraction around here. You will find thousands of reviews about this amazing structure with great views and one of the worlds largest fishing piers. Reading reviews online is great, especially the lowest rated ones!

When you ask somebodies opinion face-to-face, which I do a lot, you get a vague response. When you check online - you get all the crap and over-the-top compliments. So, to act like a local, let me review a bridge online! "It is just a nice bridge! Not world-class architecture and not worth an hour detour if you have traveled a bit around (meaning outside the States)..." - and yes, I mean it!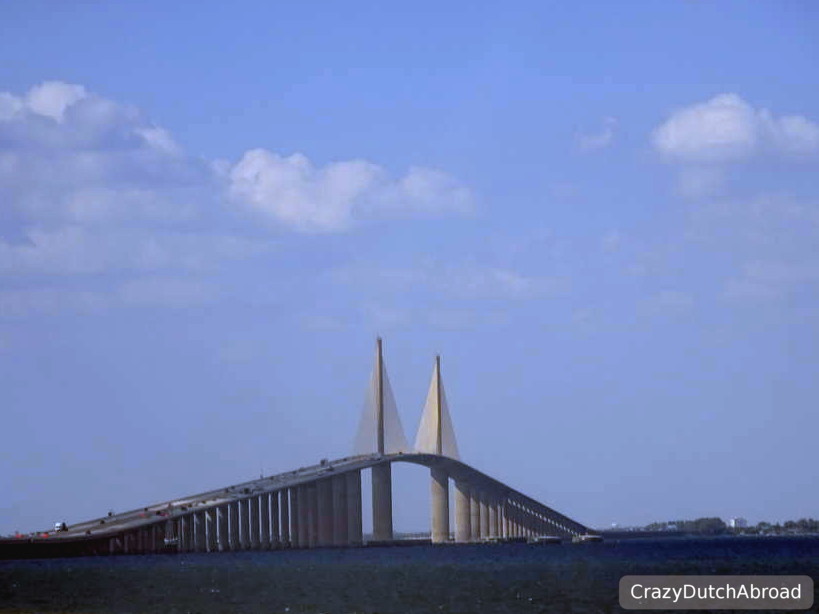 Sunshine Skyway Bridge
If you enjoyed this post, please share it with your friends
Marlies
Crazy Dutch Abroad
Let's travel the world in a crazy way!
Share this page: