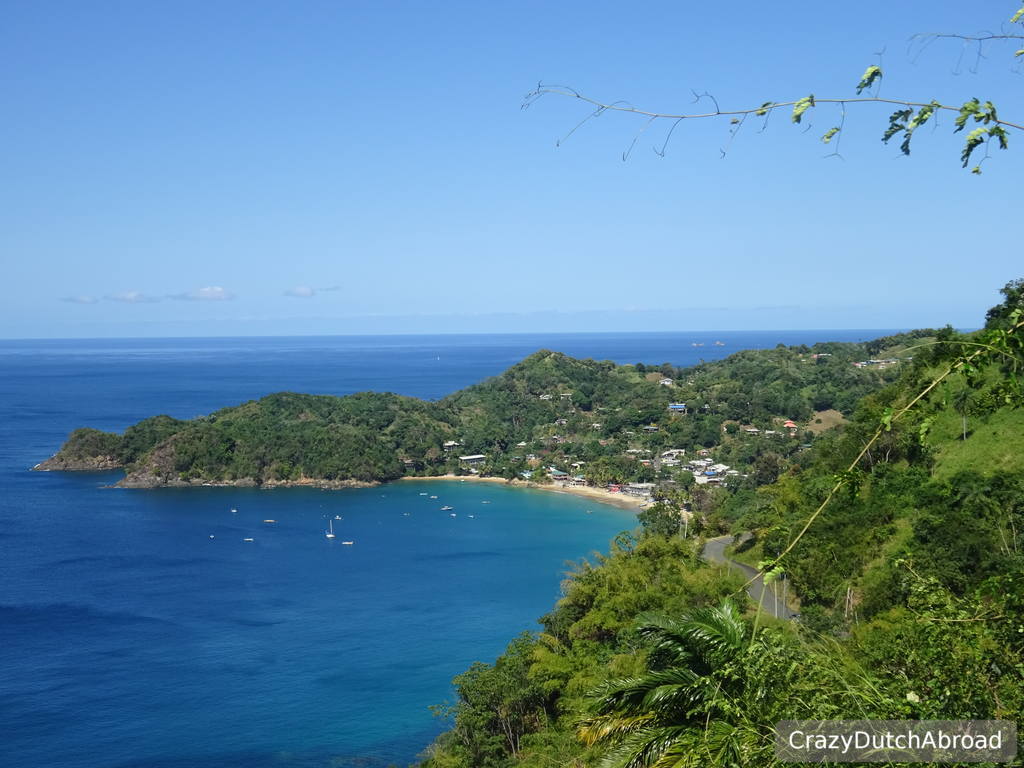 5 Things to love about Tobago!
Beautiful beaches, crystal clear waters and rough mountain rides through the rainforest! Watch pelicans catching fish during the day and fireflies dancing at night. On Tobago you can experience a Caribbean island without cruise ships and large souvenir markets, for now.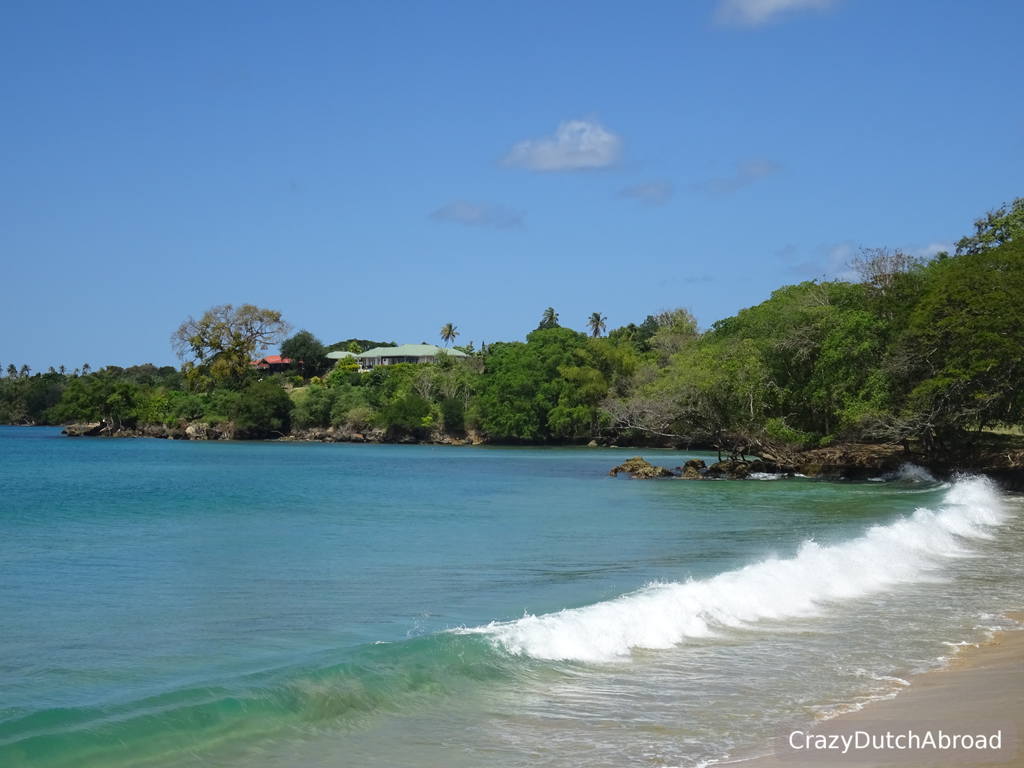 Can you see yourself swimming here?
Where
Trinidad
is all about Carnival, cultural heritage and bird watching, Tobago is all about tropical beaches and mountain views over secluded bays. Crown Point is the most popular town for tourism but is not that busy. There are not many foreigners around and you will have a hard time finding some souvenirs or a waterfront place for sunset drinks in town.
You love it or you hate it - we love it! Especially after
Bonaire
and
Curaçao
it was so nice to explore a part of the Caribbean without cruise ships and souvenir shops everywhere.
There are some bars, restaurants and hotels in secluded bays but most of the island is natural. You can have a nice walk along the beaches, try local food from one of the roti shops or hawker stalls or visit one of the waterfalls or other natural highlights of Tobago.
Things to love about Tobago
Road trip from Crown Point to Charlotteville
This road trip is just stunning! Make sure you plan it on a sunny day as the scenic views are spectecular. From Crown Point to Charlotteville there is a curly and steep mountain road all the way to the other side of the island, Charlotteville. It is less than 55 km long but you might be surprised it takes you at least 1,5 hours to get there. If you are not familiar with driving on the left or with the style of driving in Trinidad and Tobago you might even need two hours, without any stops.
Parlatuvier Bay
The Windward Road you take starts getting interesting after Scarborough, where you follow the coastline and start the magnificent mountain ride. Downhill, uphill, steep hairpin bends and many turns without an emergency stopping lane right next a cliff. Oncoming traffic will honk their horn when there is no way of passing each-other in one of the blind curves around the rocky mountains. Many houses in various Caribbean colors are build in the mountains or along the cliffs, some look like they are about to fall off.
North coast trip through the Tobago Main Ridge Forest Reserve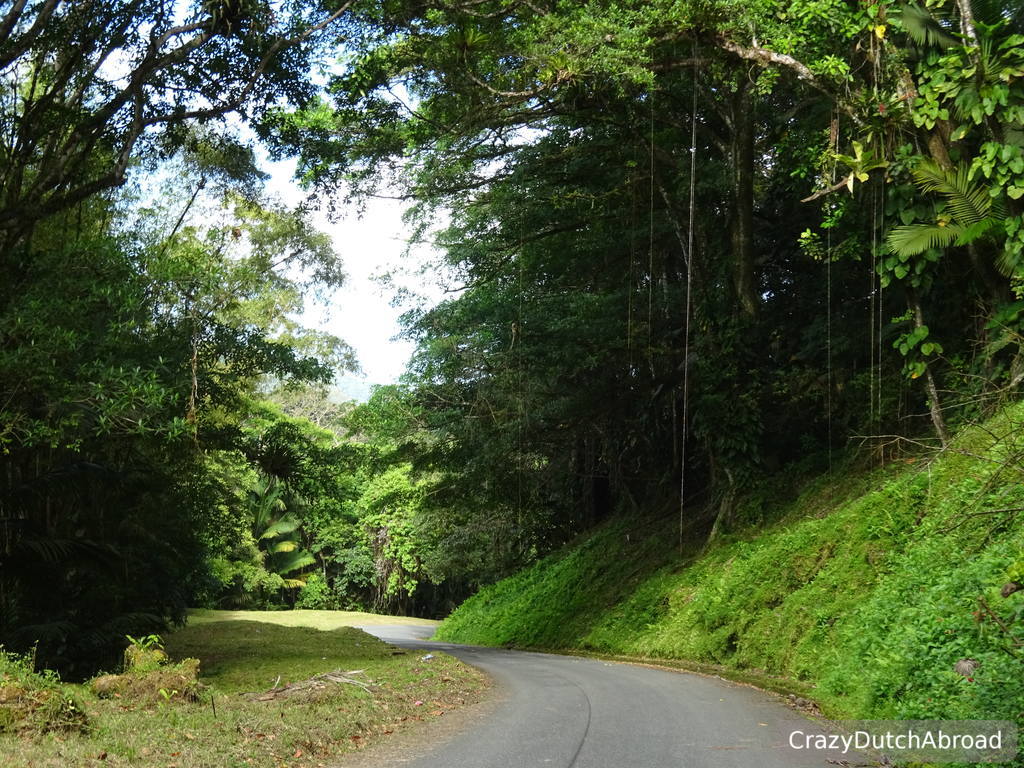 Main Ridge Forest Reserve
Another beautiful trip is cruising through the Tobago Main Ridge Forest Reserve. You can see an impressive variation of plants and trees as well as tropical birds and colorful flowers. From Crown Point to Roxborough it is about 60 KM long, one way, taking you probably two and a half hours without stops.
On this drive you pass by the beautiful bays and beaches of Buccoo, Castara, Englishman, Parlatuvier and Bloody Bay. Have a swim, drink a fresh coconut or just take pictures to impress your friends and family at home.
On the North side of the island there is NO gas station! Make sure to fuel up in Scarborough or Roxborough. We barely made it out of the rainforest before running out of gas.
Trying local food with stunning views!
We found three spots and you have to try them all! In Crown Point you should try the fish curry with coconut right at Bago's Beach Bar, on the road to Pigeon Point. Sit in the shade right at the waterfront and watch the pelicans catching fish. This is probably the only waterfront bar that is not part of a hotel in town.
On your drive to Speyside or Charlotteville, make sure to stop at King's Bay Cafe. It is located at the last bay before you hit Speyside and hard to miss as it is located right in a sharp turn. The lovely lady serves all kinds of local dishes and sweets, try something new!
Once you hit Speyside make sure to stop at Jemma's Seaview Kitchen located in a tree! It is also known around the island as the tree house restaurant and it is right at the beach. The whole menu is local and it comes in big portions! We ordered one set to share and took about half home for later. Make sure to try the pie!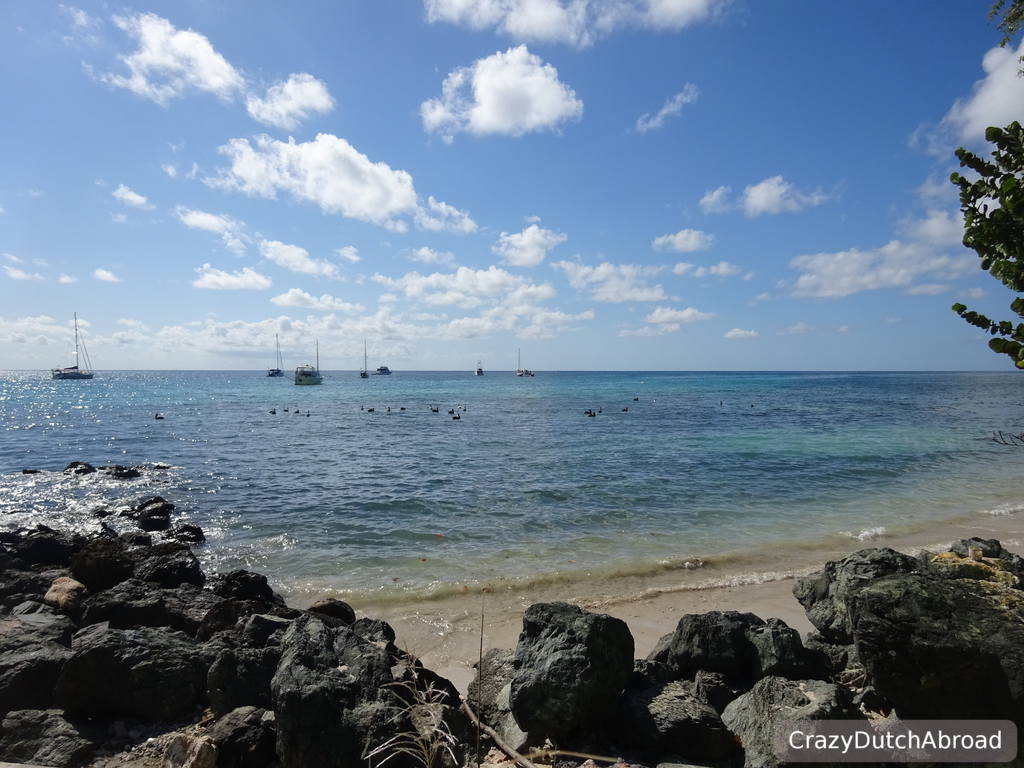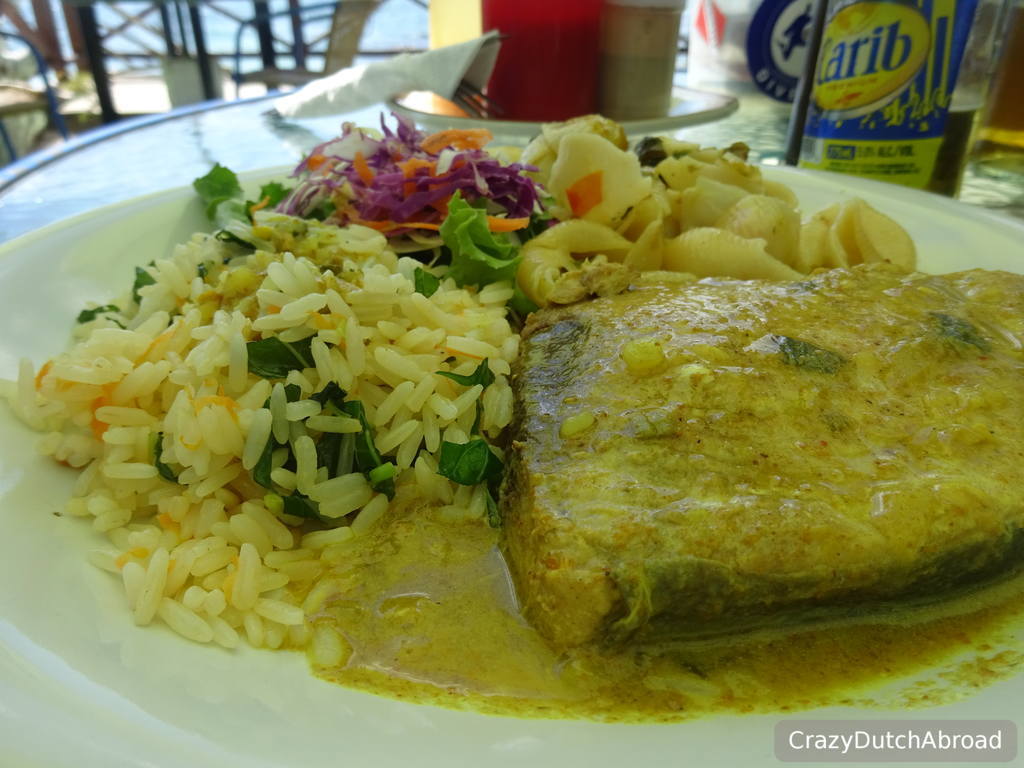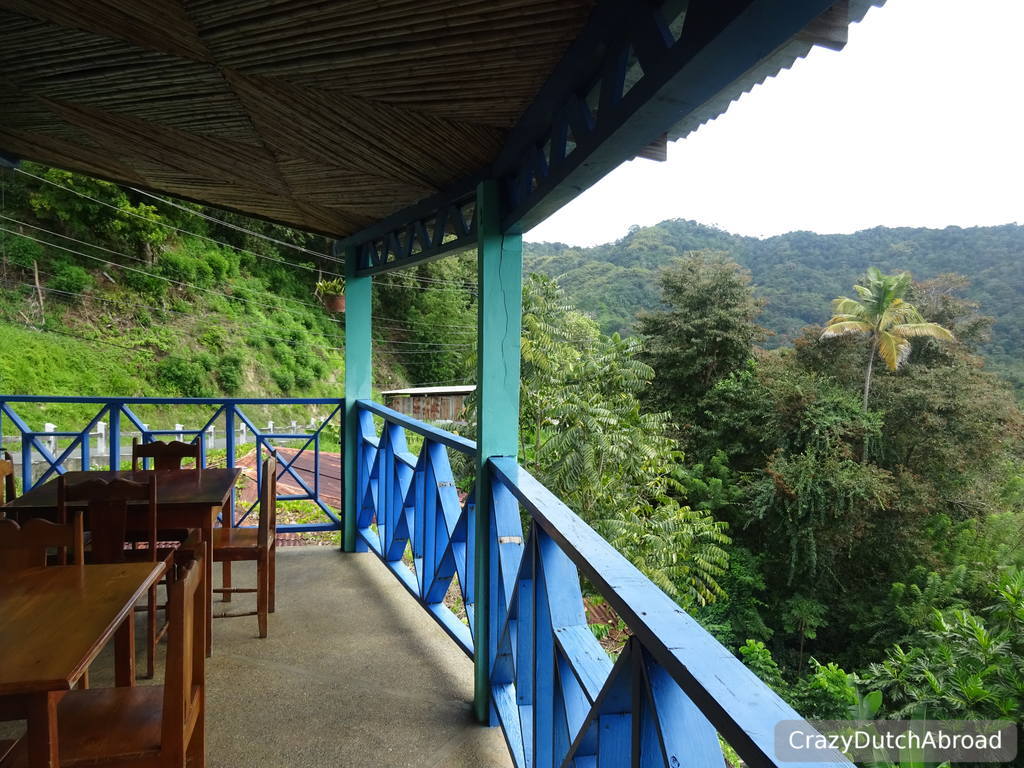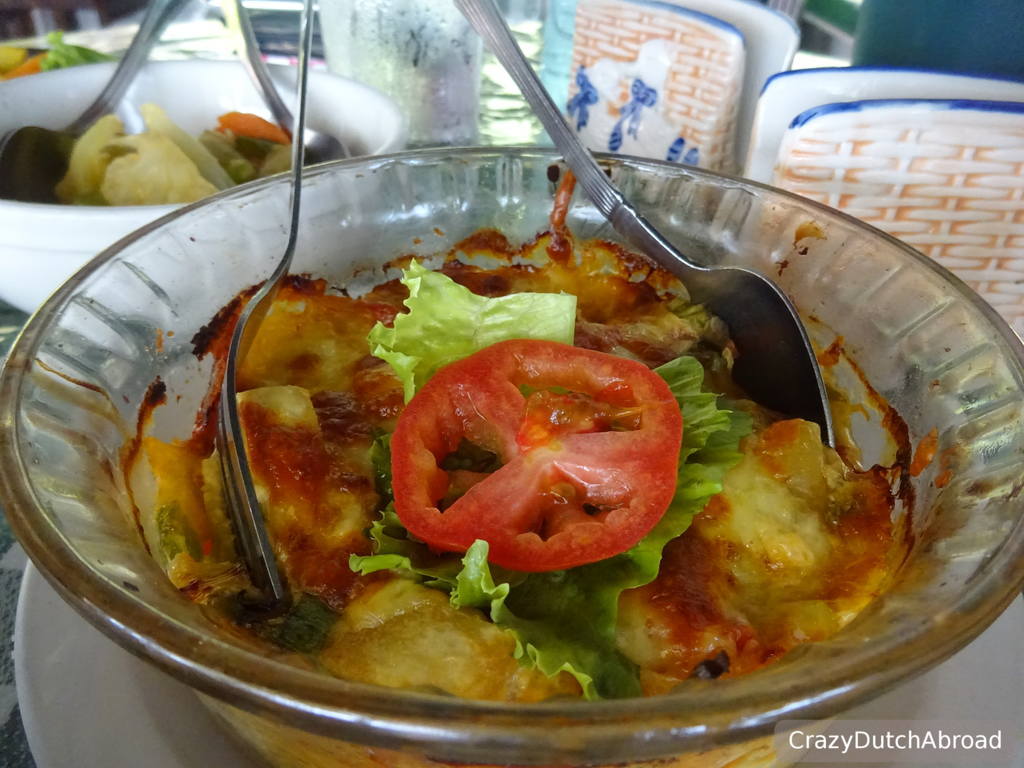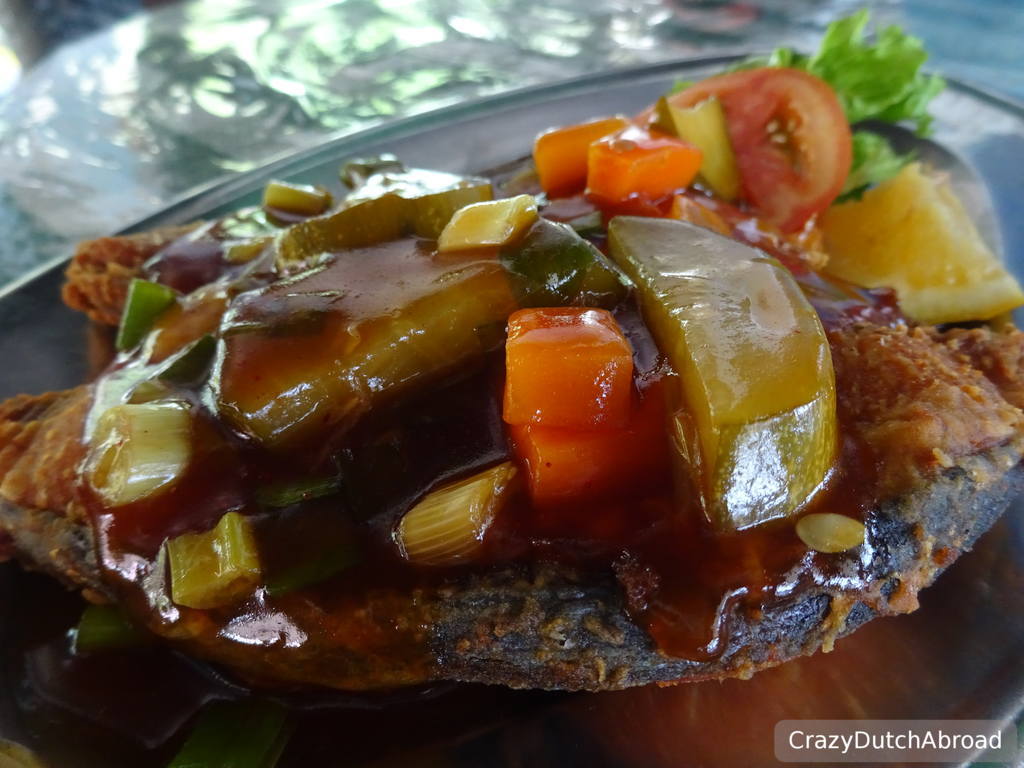 Bago's Beach Bar, King's Bay Cafe and Jemma's Seaview Kitchen
SCUBA diving!
After nature and culture we selected Trinidad and Tobago for SCUBA diving. You can (or should) only dive around Tobago as there is a large variety of marine life species and corals to explore. If you are new to SCUBA diving you should start your adventure on the
Crown Point
side where the water is clear and diving is easy. Experienced divers should definitely dive at the
Speyside
as the reefs are impressive and currents can be strong.
Lessons learned in Tobago
Get your dinner early on the ferry
There are two ferries running in between Trinidad and Tobago using the same ferry terminal. For $7,- US you can take the comfortable ferry (one way) from Port of Spain to Scarborough. The boat is fully air-conditioned with a bar and restaurant on board. Book your tickets online here:
https://ttitferry.com/booking/
About an hour before departure everybody could go on board. As soon as we entered we saw a waiting line at the restaurant. We thought this was because the boat would be full with people and they did not want to wait for hours after departure. But, about half an hour after departure, there was no more food! They did warm up some snacks for a second round but that was it! They could have earned at least double the money they did now, but that did not seem to be an option...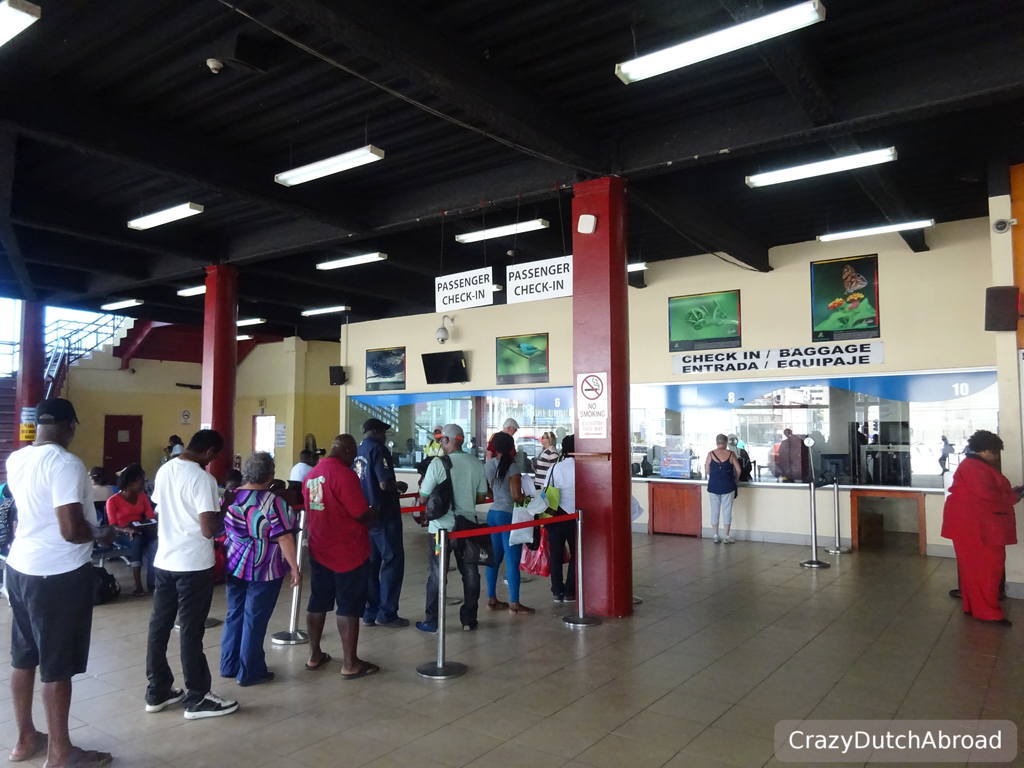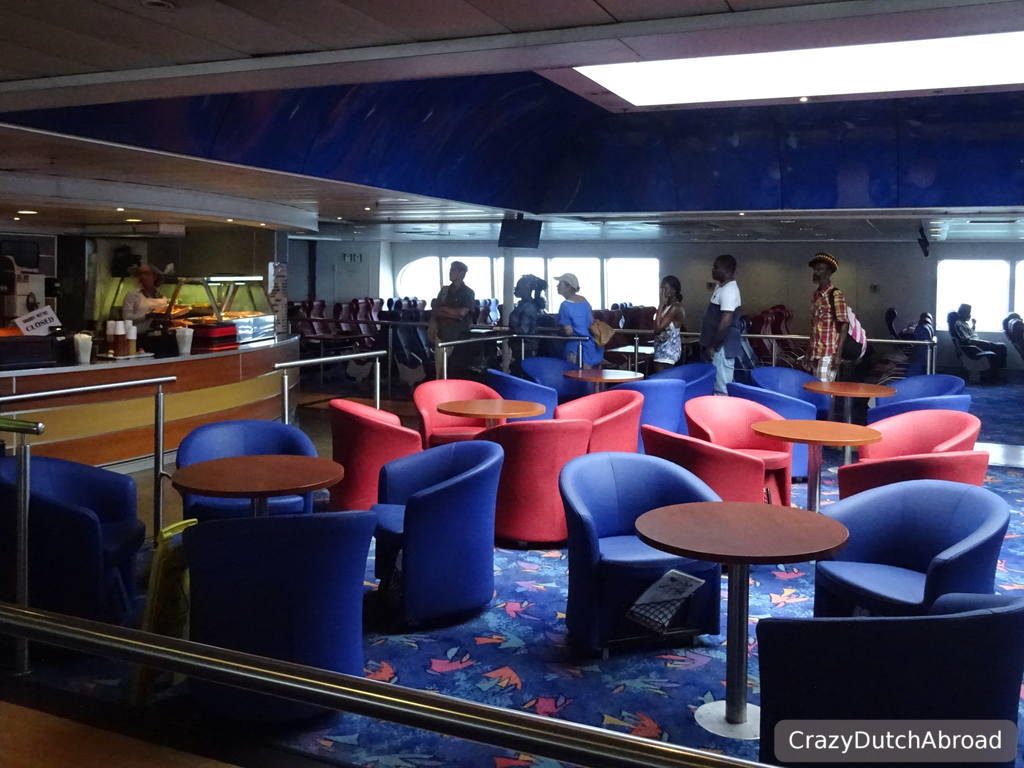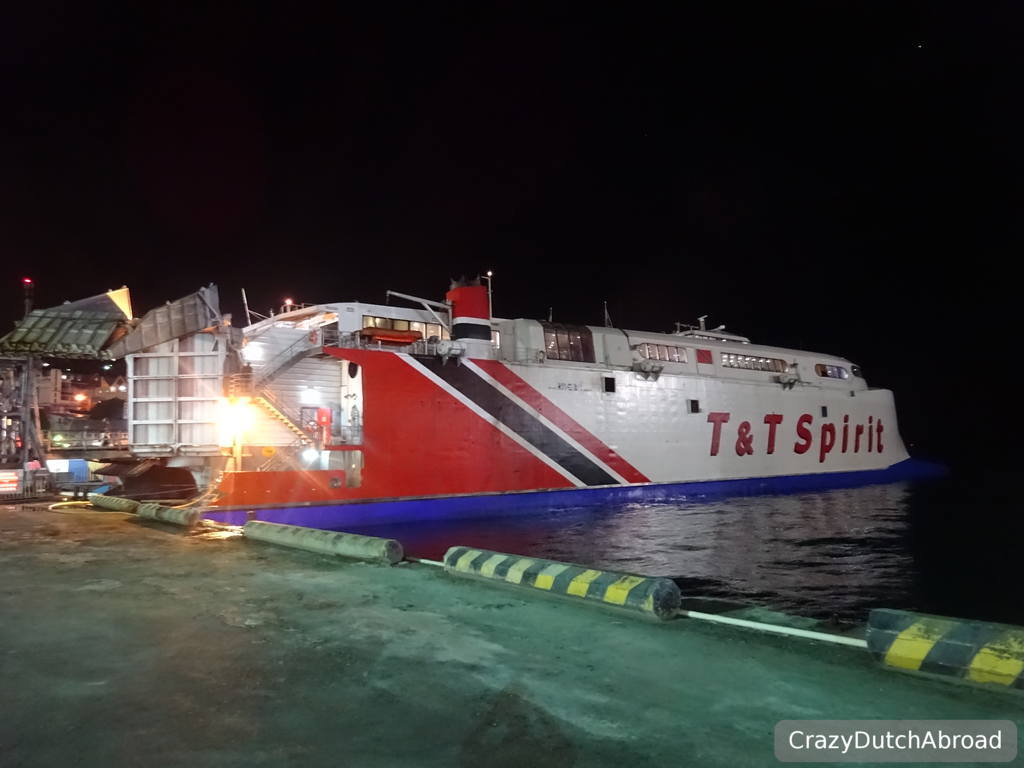 T&T Ferry to Tobago.
Pirate Bay is NOT reachable by car!
Pirate Bay in Charlotteville is one of the most beautiful bays of Tobago. The sand is white, the water is turquoise and surrounded by green jungle forest. After a lovely drive to Charlotteville the road seems to end halfway to Pirate Bay.
Of course we did not know and started driving while the road became smaller and smaller and the cliff steeper and steeper. Luckily there was a point where we could turn the car. There was another car following us on this adventure, it was quite a struggle to turn two cars around on the narrow area. You can walk (hiking) to the Pirate Bay or take a short boat ride with one of the local fishermen in Charlotteville.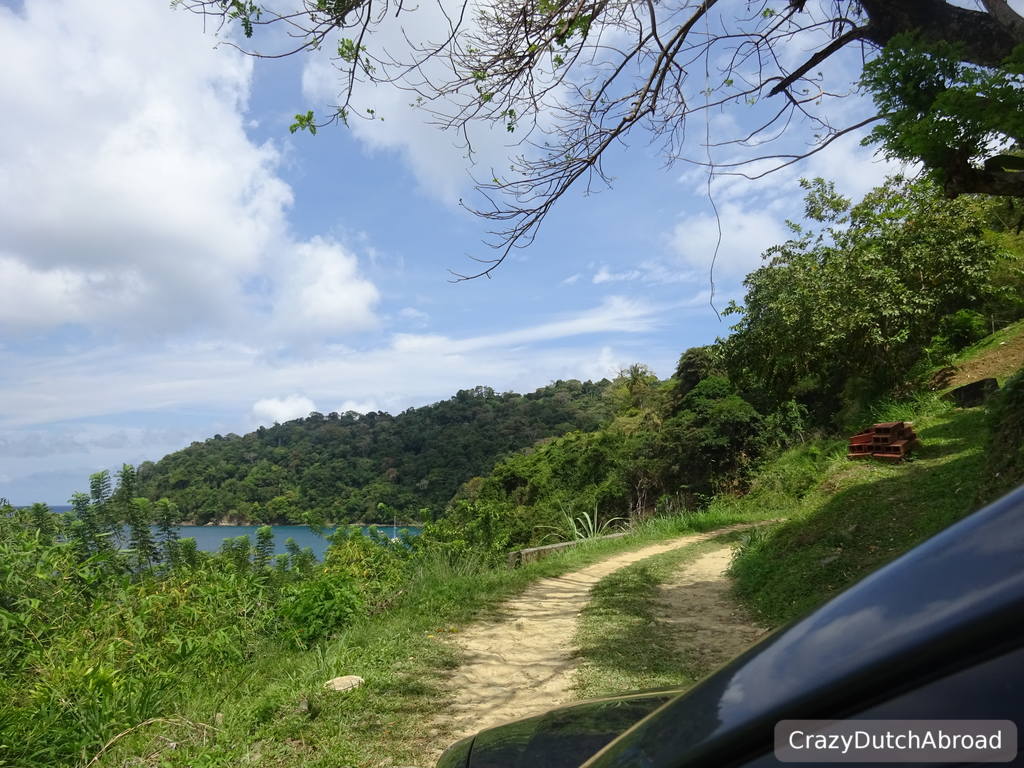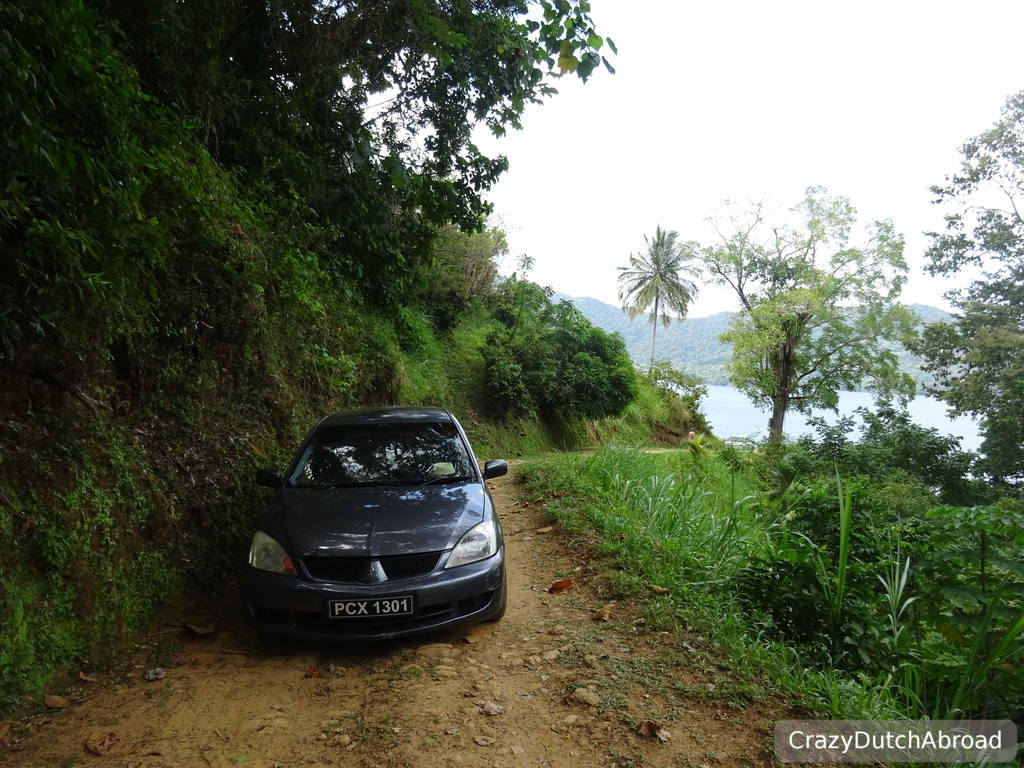 The easy part of the road to Pirate Bay, Charlotteville.
Right before Carnival Tobago is in low low season
The steel pans are gone to Trinidad for the competitions and restaurants are preparing for Ash Wednesday onward - Tobago is the place to be AFTER Carnival. There are many 'after' parties and special events for the party people that have celebrated
Carnival in Trinidad
to unwind and relax. We did it the other way around and had a great time without crowds in both Tobago and Trinidad.
Things we skipped but you might love!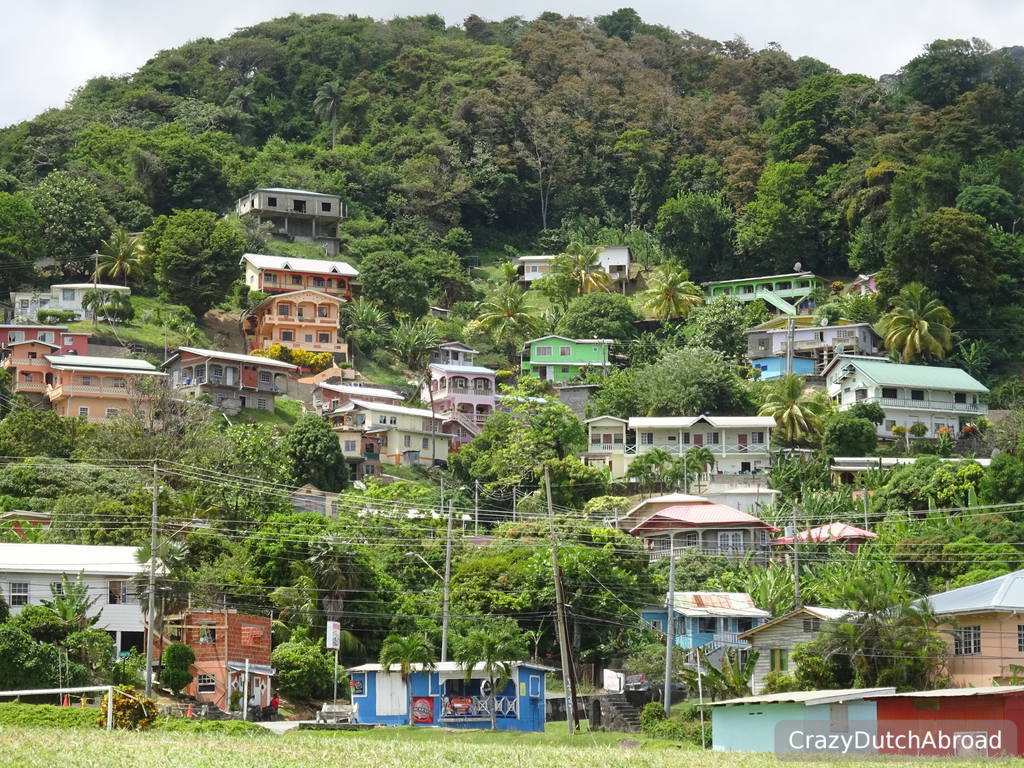 Caribbean houses in Speyside.
Pigeon Point Heritage Park
In Crown Point you will find the Pigeon Point Heritage Park which is a park with an iconic jetty with wooden rooftop for some shade at the end. The beach is supposed to be beautiful here, great for snorkeling, some food and drinks stalls are on sight and here you can probably buy your souvenirs! The first time we went there we had no cash to pay the entrance fee, the second time we were carrying all our dive equipment and the third time we had seen so many stunning beaches around the island we decided to skip this park.
Tobago Goat Racing
Yes, goat racing! Like greyhound dog racing with goats but, the funny part, the owners runs behind the goat on bare feet. There is nothing elite about this sport. Have a search on Youtube and enjoy this crazy event. There was no race during our visit but we did saw a guy with a goat in his car entering the race arena in Buccoo, maybe for training purposes.
Waterfalls and forest hikes
There are waterfalls and great forest hikes to explore during your stay on Tobago. We were at the entrance of the Argyle Waterfall, the highest of Tobago, close to our SCUBA dive appointment in the afternoon. It was only a few hundreds meters walking to the waterfall and the guided tour was only 30TT per person, less than 5 USD, but we did not want to rush. Next time!
The facts!
Visited: February 2017
Bars & Restaurants
Strip with bars
Milford Road in Crown Point is where you will find most restaurants and bars, it is not at the waterfront.
Spots we loved
Crown Point: Jade Monkey Casino Bar and Grill (bar scene), La Cantina (pizza and wine) and Bago's Beach Bar (waterfront, great for lunch).
Buccoo: Makara Restaurant (waterfront dinning, upscale and delicious) and Luvinia's (Miller's Guesthouse) great for lunch.
Speyside: Jemma's Seaview Kitchen. Charlotteville: The Suckhole
Beer in a bar
Bottle of Carib or Stag around 1,50 USD
Glass of wine in a bar
7 USD
Club Sandwich/Pizza Margarita
10 USD
Cup of coffee
3 USD
Meal
15 USD
Restaurants open
Local restaurants often close around 5 PM, international restaurants are open from breakfast to late.
Number of restaurants and bars in top-area
10
Quality of local food
Good but often greasy and/or deep fried.
Transportation
| | |
| --- | --- |
| Scooter/car rental | Scooters or bicycles I have not seen around. We rented a car from one of the neighbours, for 300 TT (about 45 USD per day. |
| Local transport | We could not figure out the bus schedule |
| Taxi | Taxi's were not too expensive |
| Uber | Not available |
| Boat | For $7,- US you can take the comfortable ferry (one way) to Tobago, bar and restaurant on board. Book online here: https://ttitferry.com/booking/ |
| Flight | 25 minute flights to Tobago cost about $25,- |
Sleeping
Apartment
We stayed at Our Sanctuary, really close to Crown Point through Airbnb for less than 30 USD a night. Click here to check the apartment & availability.
New to Airbnb? With this link you get FREE travel credit/discount on your first booking!
Nice hotel
You can also book Our Sanctuary with Agoda. It is basic but a lovely accommodation with a shared kitchen. Bring your own towels!
Resort
Starting from $125 per night up to very high-end
Hotel score price-quality
Average priced around the island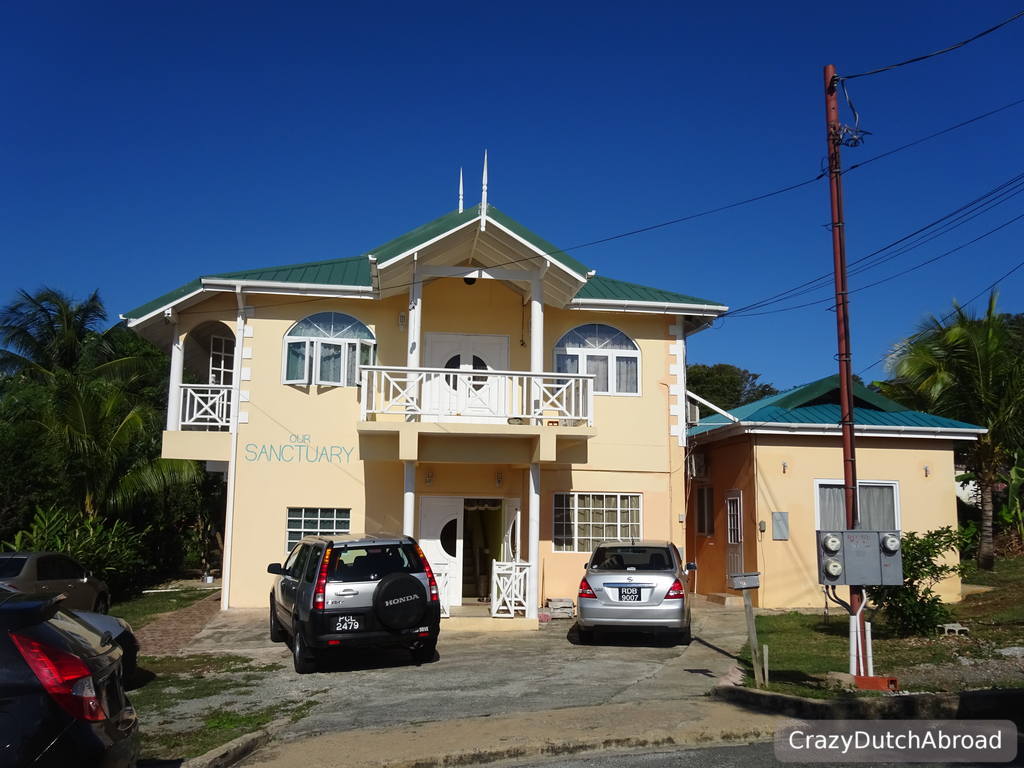 The villa "Our Sanctuary" where we stayed.
We loved staying here and meeting Patricia & Vish, very friendly and welcoming people helping out with everything. They picked us up from the ferry terminal and showed us around. They even invited us for breakfast to explain things about the Island and more. Everything is very clean and in good working condition.
Hot shower and a comfortable soft bed. Good value for money. In the banana tree garden you can even spot fireflies at night, awesome! We walked to Buccoo Beach in 30 minutes and we took a taxi to Crown Point (60 TT) from our place.
Internet access
| | |
| --- | --- |
| Local SIM card | We did not buy a local SIM as free WIFI was widely available. |
| UMTS | No information. |
| WIFI Hot spot | Free WIFI is offered at restaurants and bars around the island. The speed is fine, depending on the number of users of course. |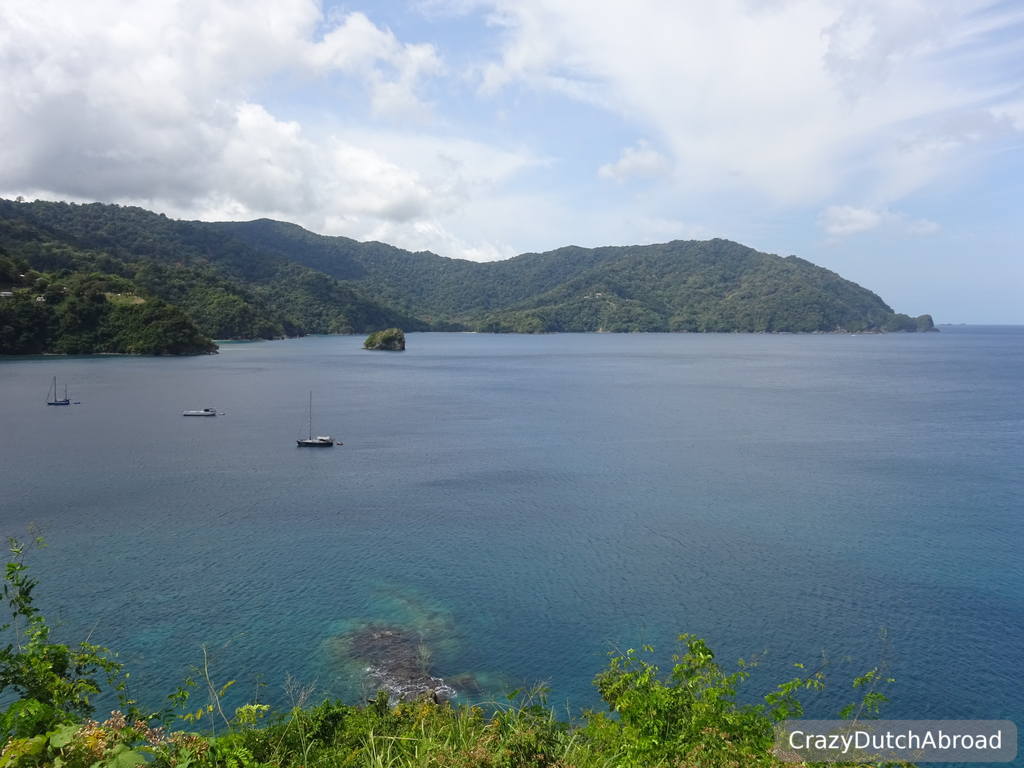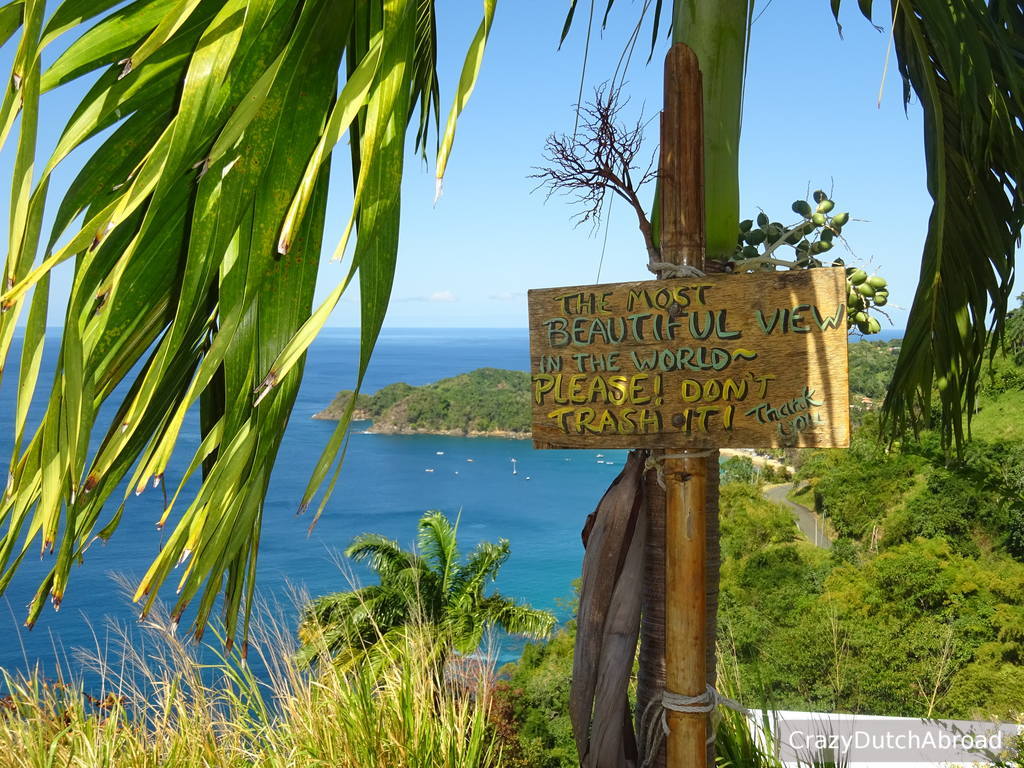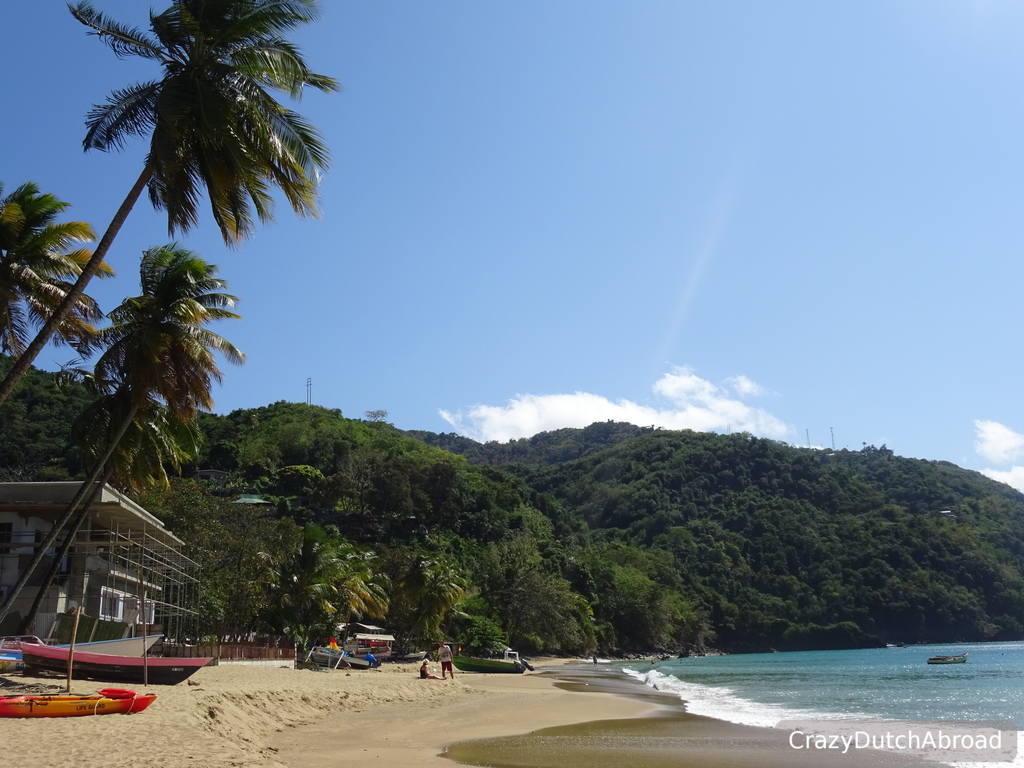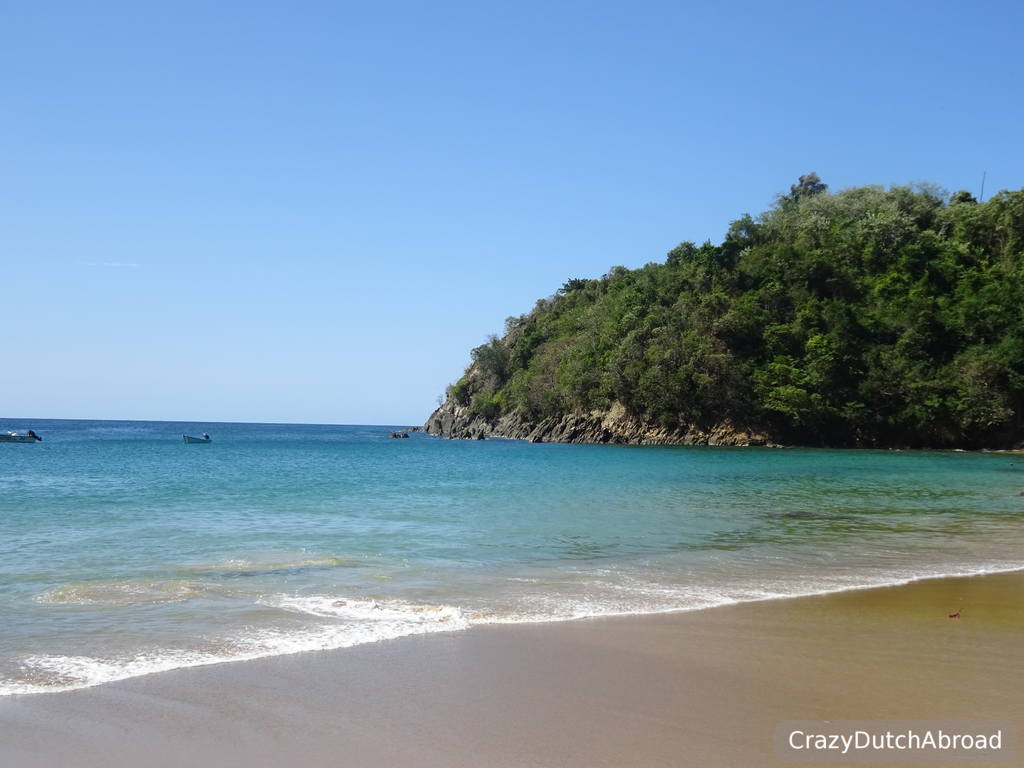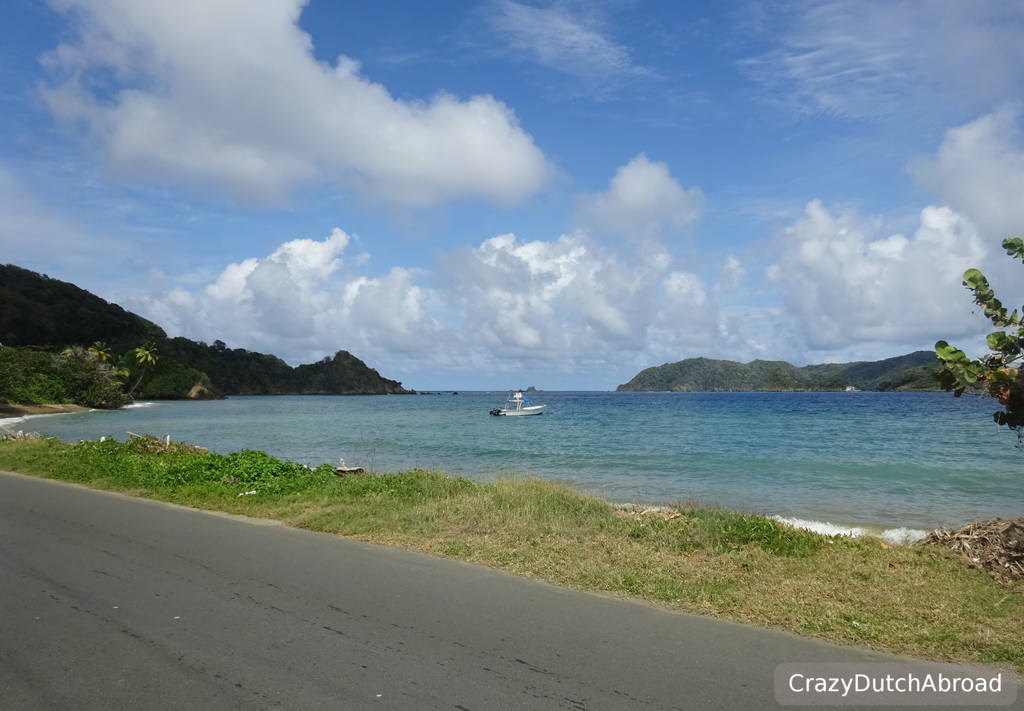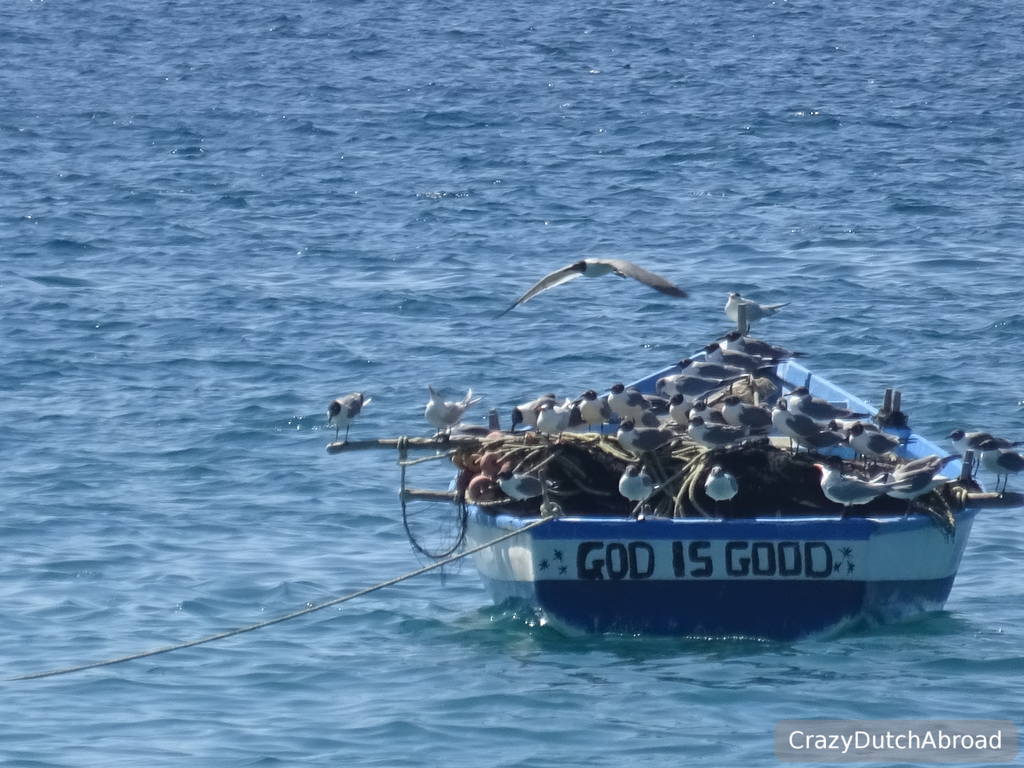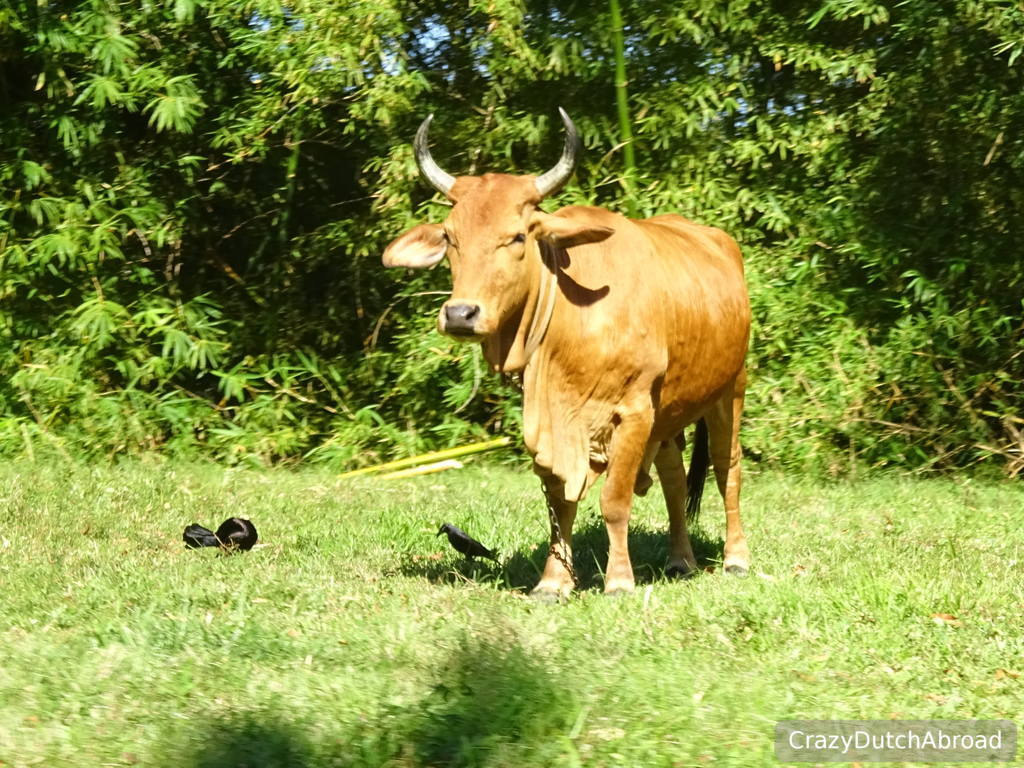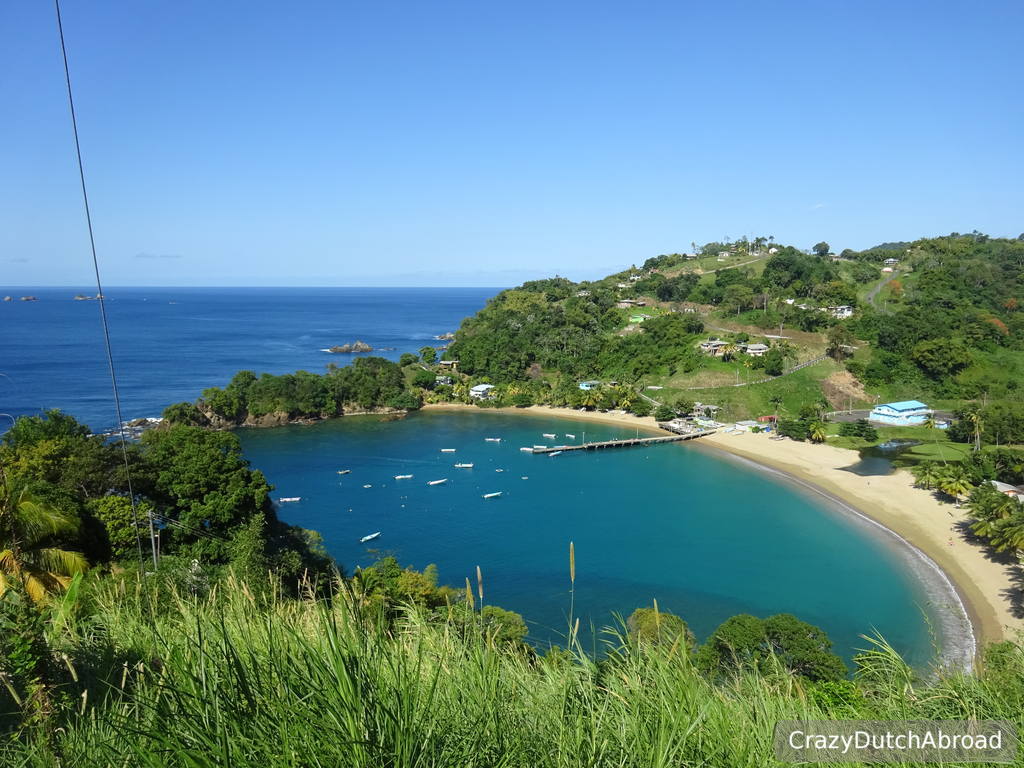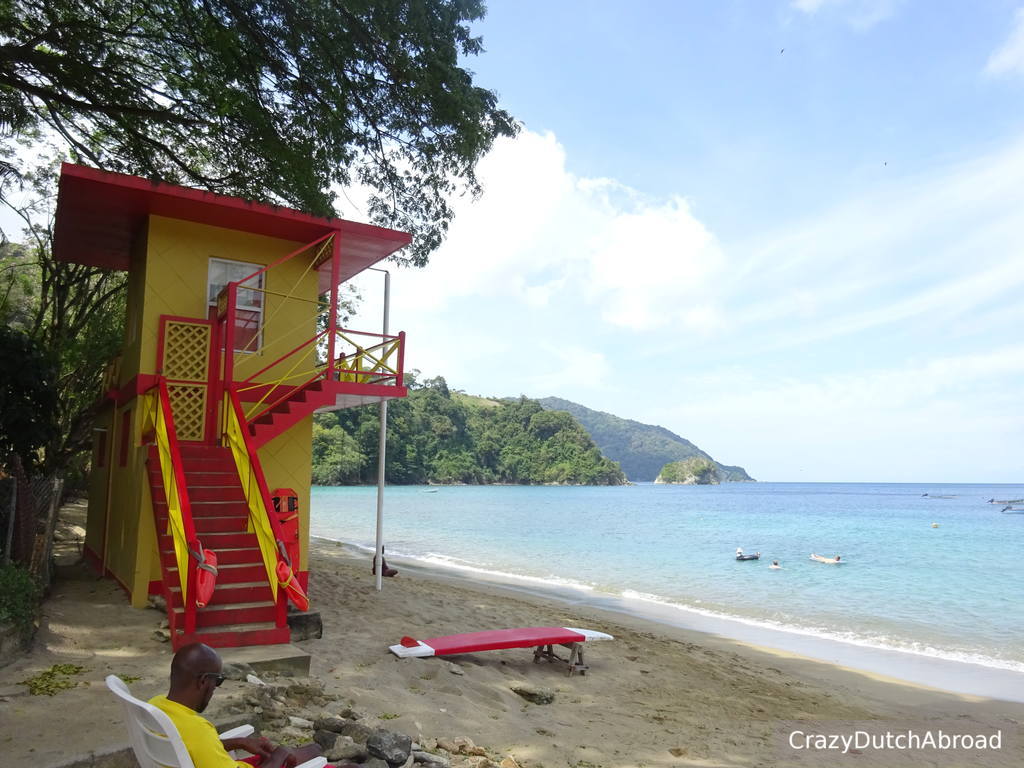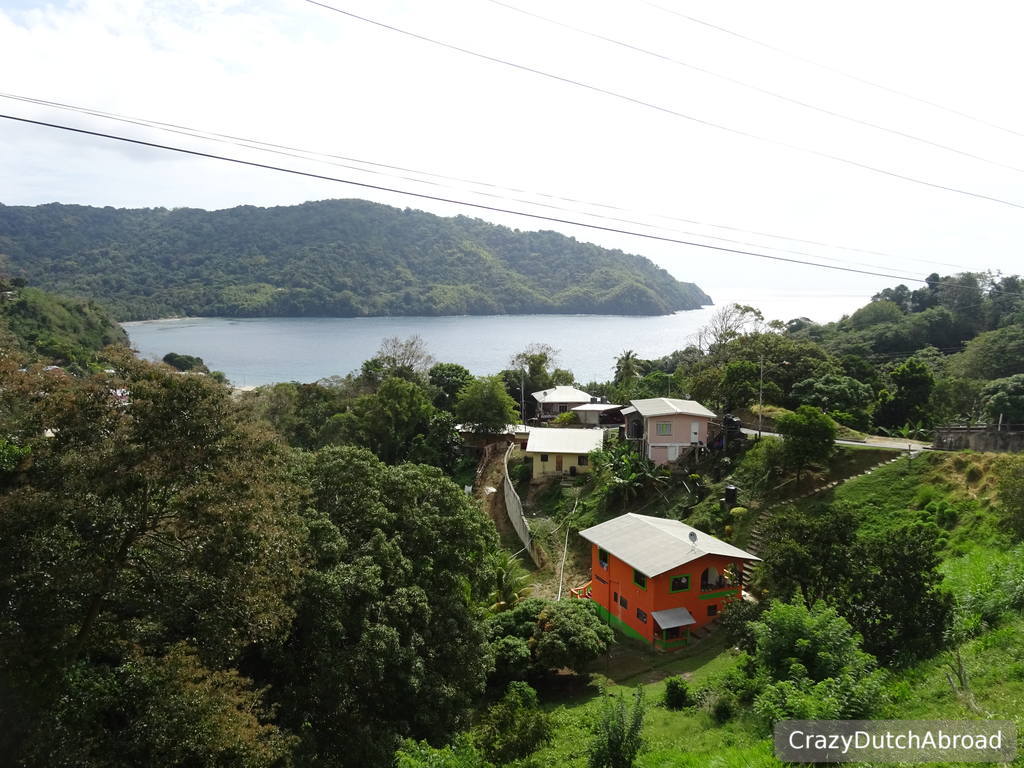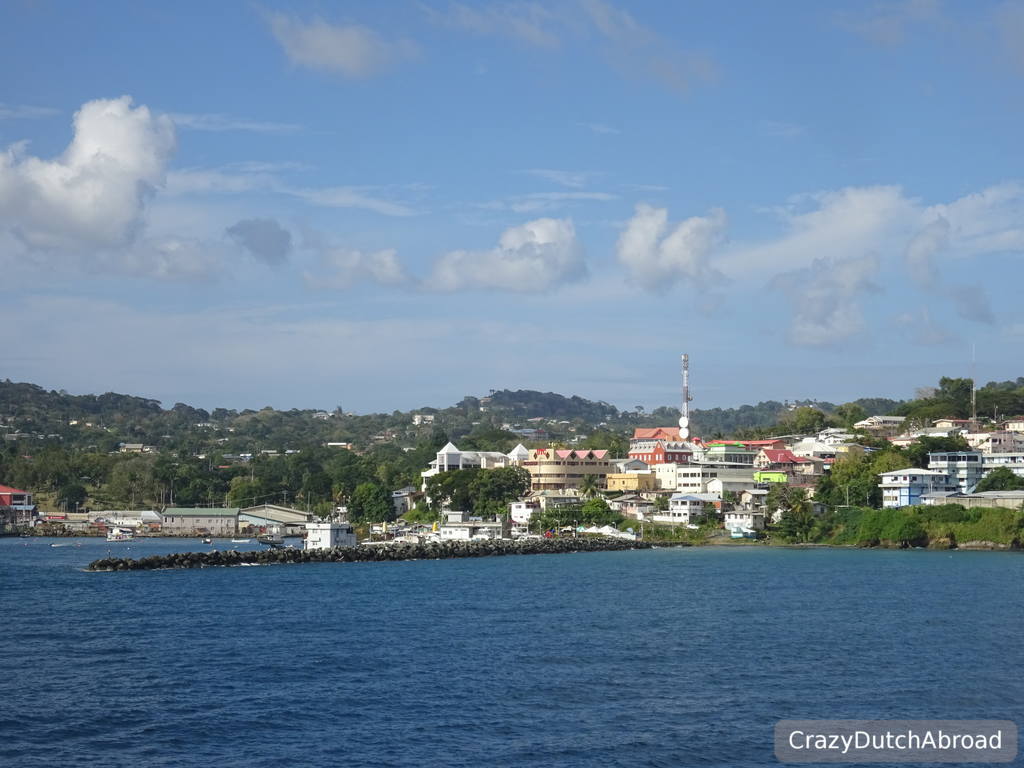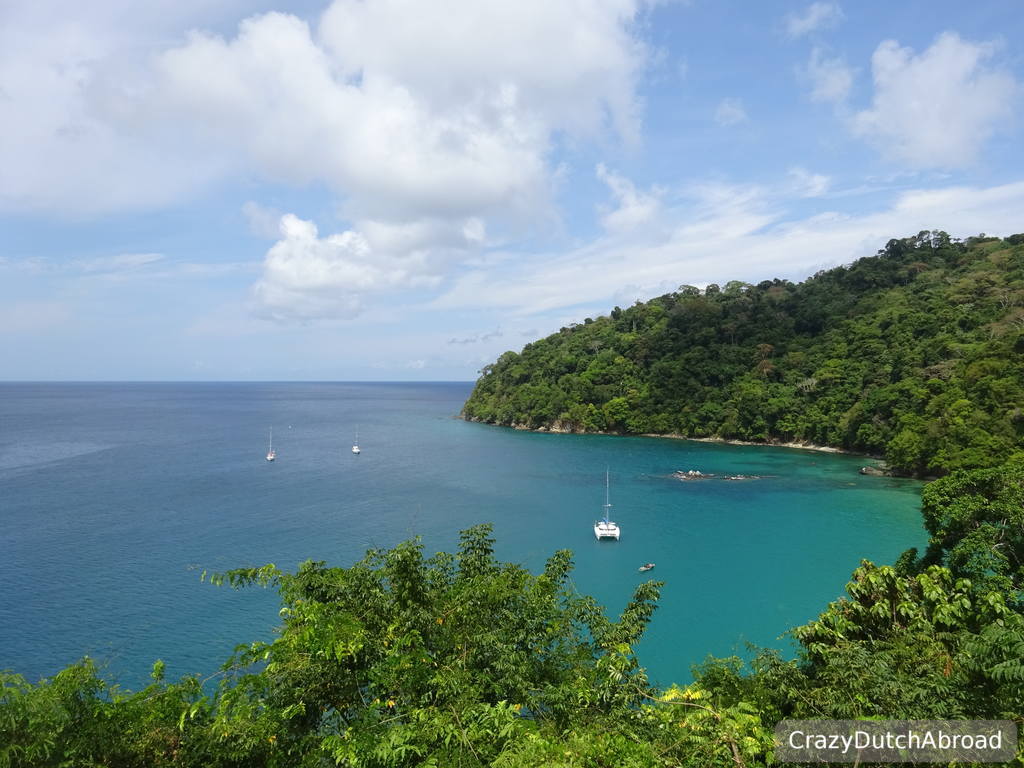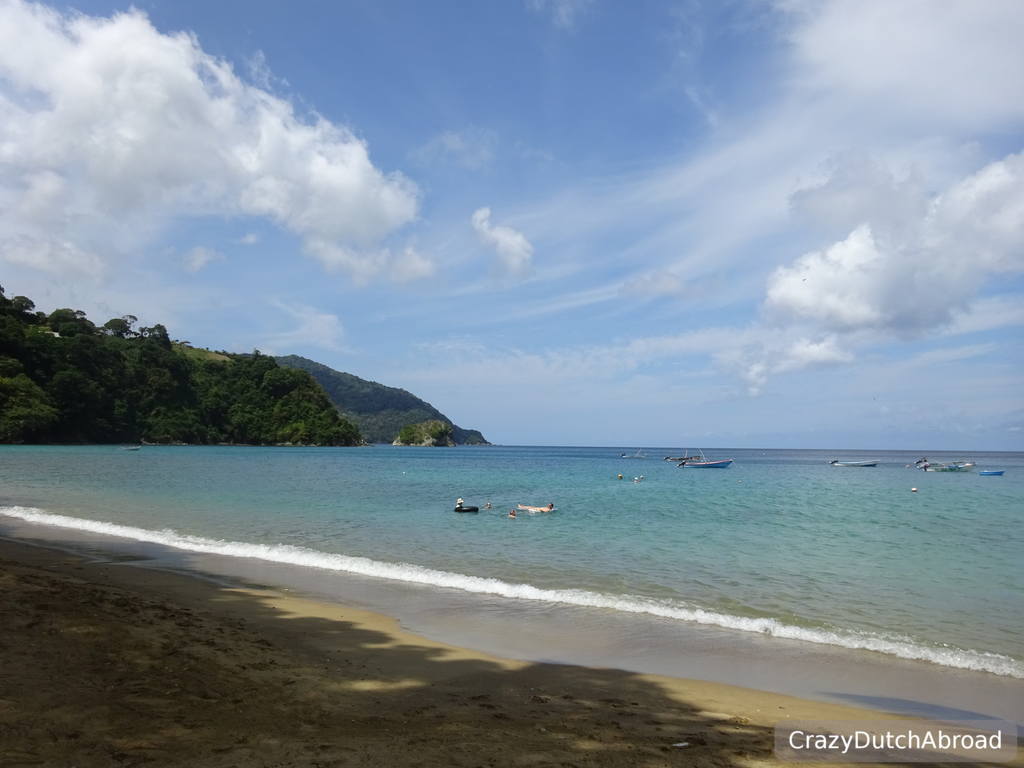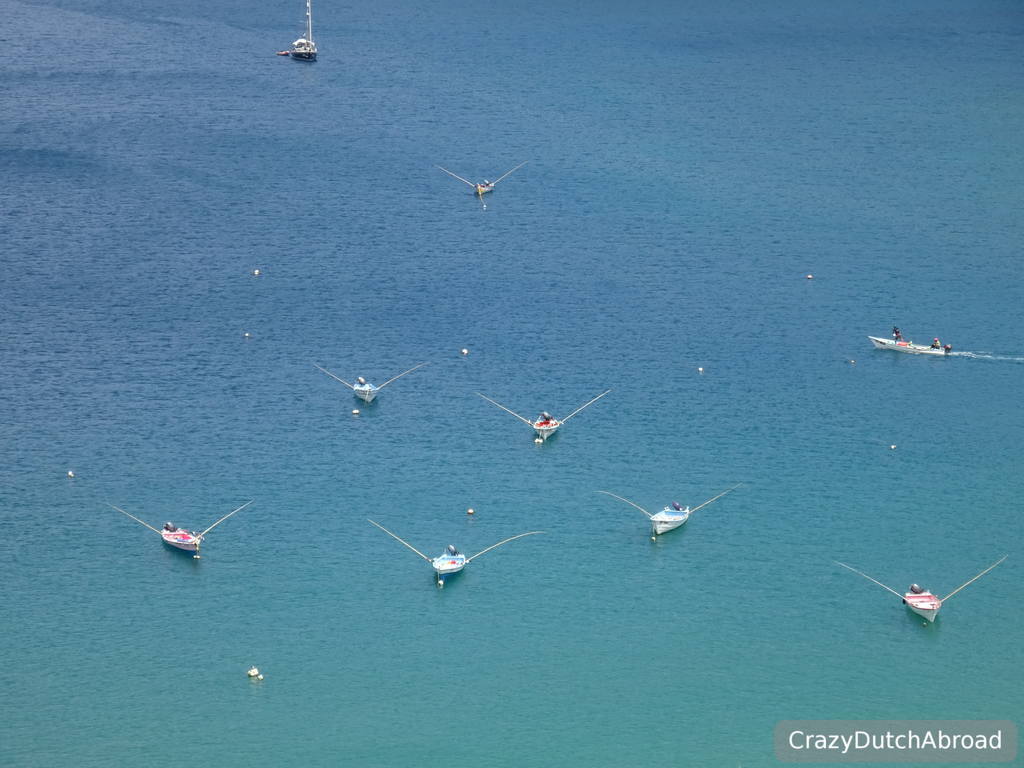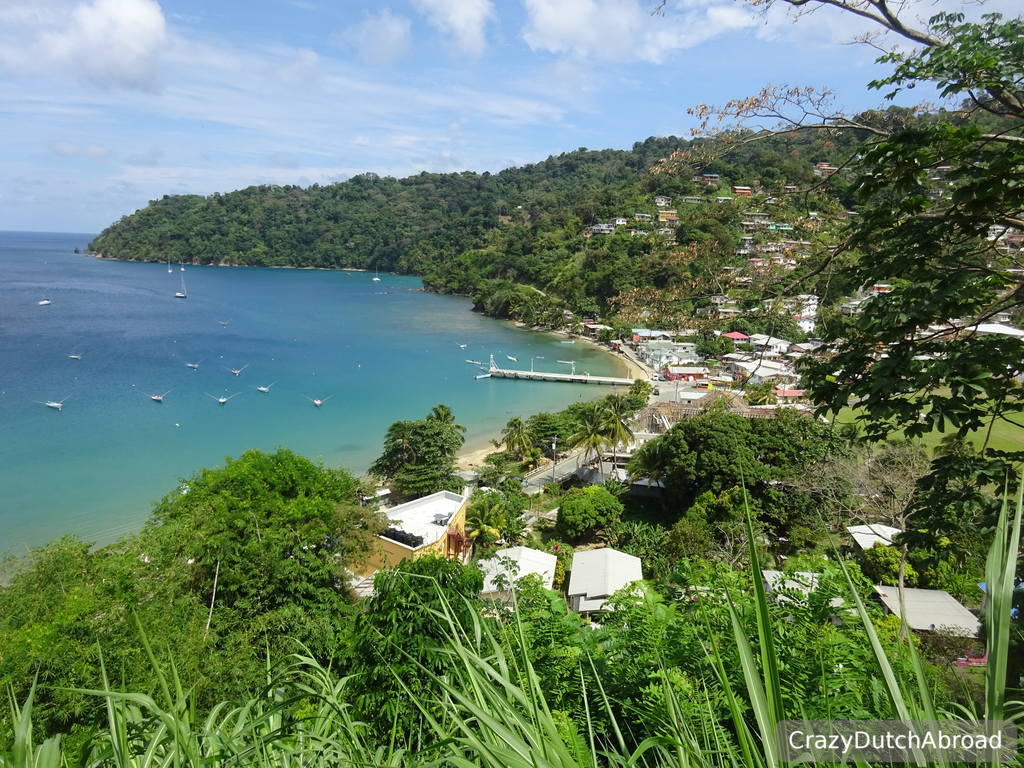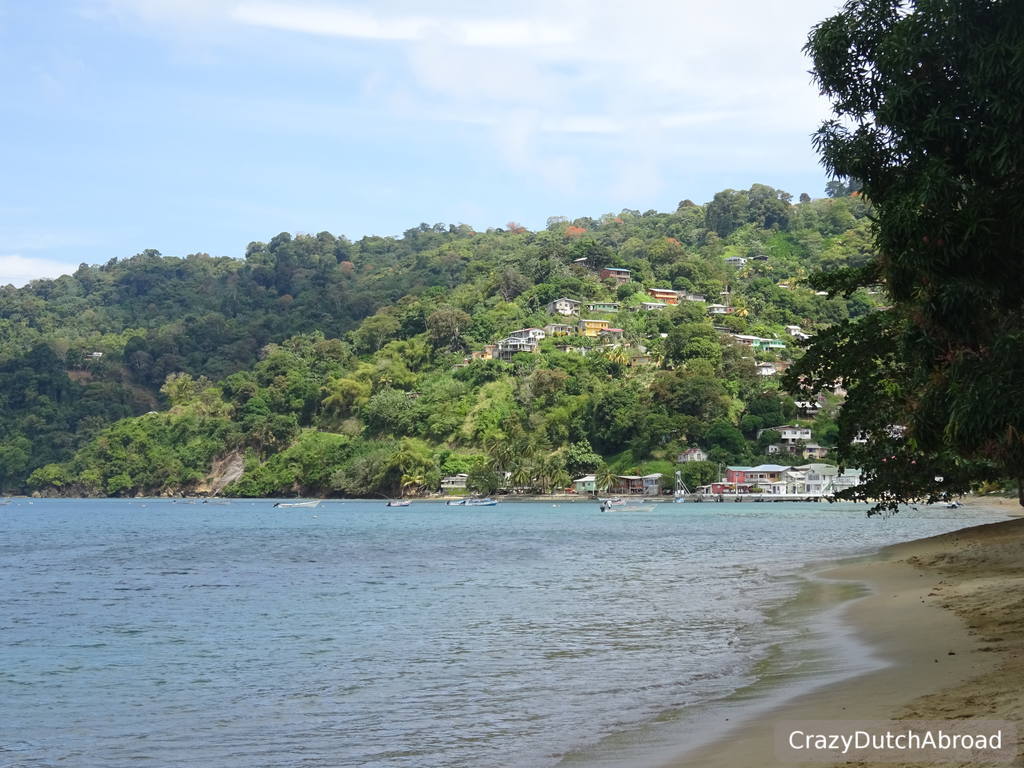 Impressions of Tobago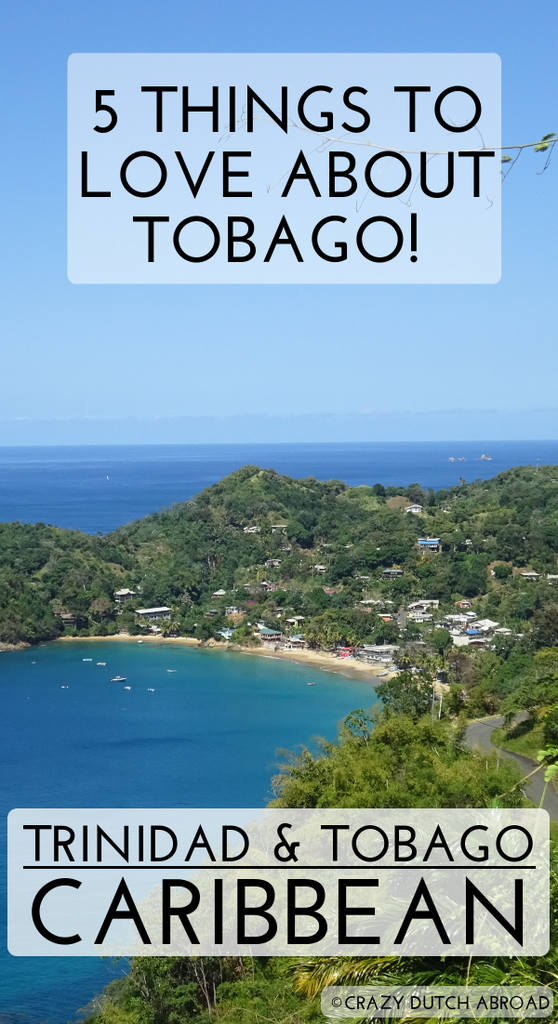 Like a local!
The road in between Speyside and Charlotteville was being repaired. On the way over AND on our way back we had to wait for about 30 minutes as they closed the road completely.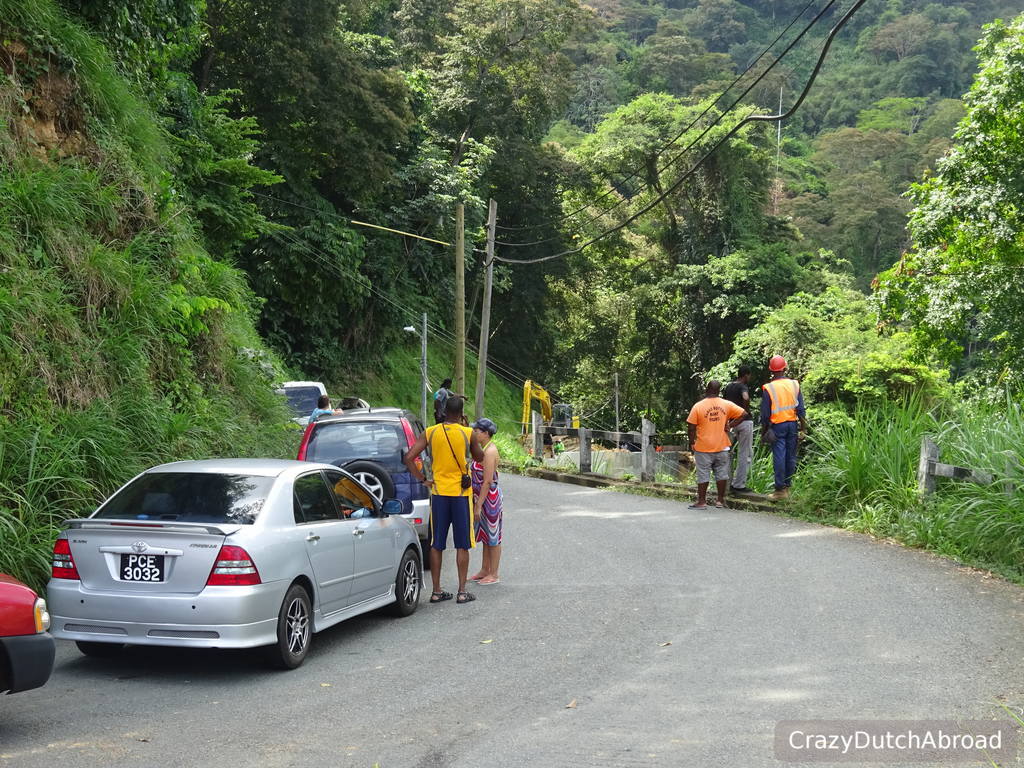 Have you been here? What did you like most?
If you enjoyed this post, please share it with your friends!
Marlies
Crazy Dutch Abroad
Share this page: