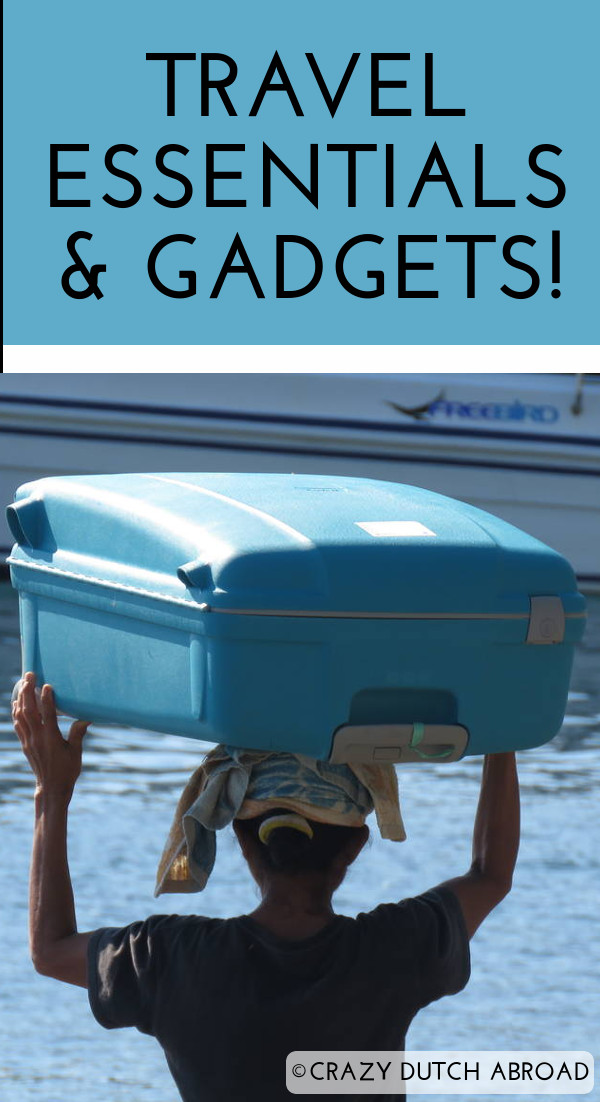 Travel Essentials & Gadgets!
When you travel you want your luggage to be as light and small as possible. Not only to jump boats, trains, cars and planes but also to carry it easily when you need to walk towards your accommodation along the beach (hard life :) or roads that are not made for trolleys.
Often people ask us how we manage to travel with about 10 kg check-in luggage (all-weather) and what electronic gadgets we would recommend. We have done quite some research on the items we have bought, especially the electronic devices.
Travel light, smart & efficient with these travel essentials and gadgets!
Stay online with a local SIM-card with prepaid DATA!
Roaming costs are still very expensive, even though slowly laws are changing and prices go down. Free WIFI in hotel, bars and restaurants is often provided and reliable in western countries. Unfortunately that does not apply everywhere around the world. Often it does not work, it is too slow, fixed-times only or you pay a crazy amount of money for 30 minutes of browsing. Besides that, while traveling you might want to leave your hotel to actually do stuff as well.
Buying a local SIM-card as soon as you arrive in a new country is the best way to stay online, anywhere and anytime. Sometimes the airports have a higher fee than in local shops, like in Indonesia, so check SIM and data plans (and prices) beforehand. When you travel with more than one person it is a great way to stay in touch through WhatsApp when you split-up during the day or have rooms on the other side of the hotel.
We use
http://prepaid-data-sim-card.wikia.com/wiki/Prepaid_SIM_with_data
to check UMTS information before we arrive.
Recharge anywhere with a strong Power Bank!
Power banks are the blocks that gives you the option to recharge your smart phones, tablets and digital cameras anywhere. They come in different sizes, colors and with various features. Things to think about when buying a
power bank
: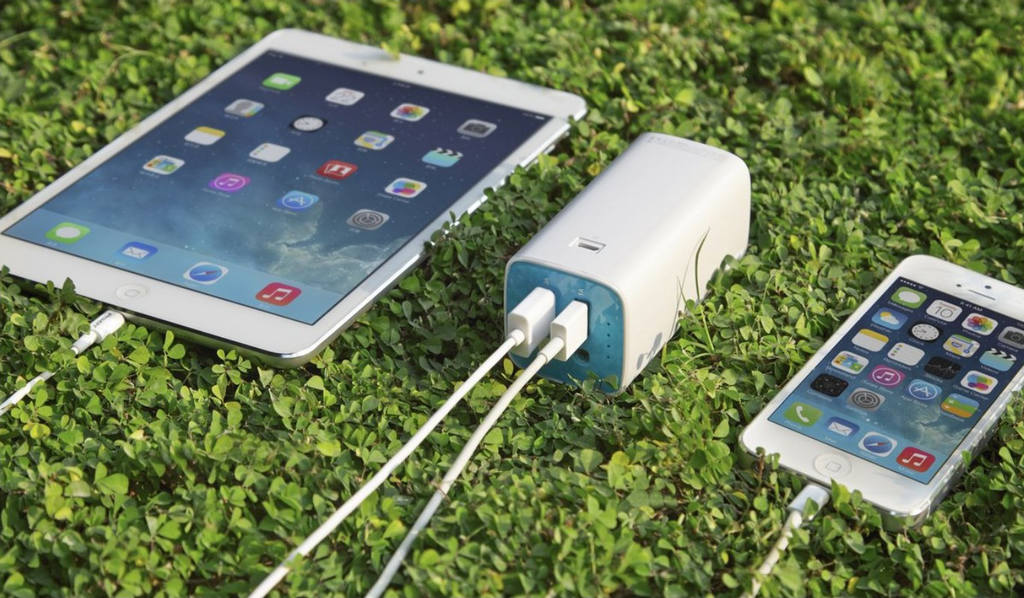 '
The mAh (milliampere-second) capacity tells you how much energy is stored in the power bank, the more the better. Check the battery of your devices. With a 2000 mAh battery in your phone you should be able to charge your phone 5 times with a 10.000 mAh bank and only 2 times with a 4000 mAh.
Output voltage. You want at least one 5-Volt 2-Amp (5V/2A) output for fast-charging your phone. This is indicated by symbols next to the port (1A/2A)
Indicators to show the battery level or charging status. You do not want to end up with uncharged devices thinking they are fully charged.
Size and weight. The higher the mAh capacity the bigger the power banks get, unless you invest more money or spend some time searching...
My recommendation:
FDGAO Power Bank Portable Charger 10000mAh, Mini Phone Charger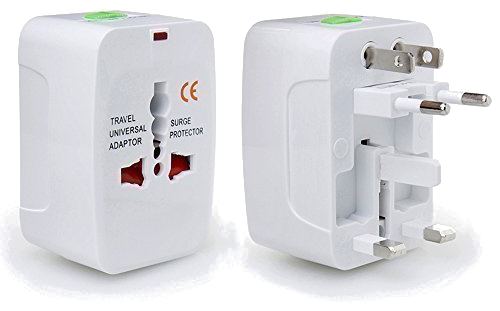 All-in-one travel adapter for 150 countries!
Different countries, different power outlets. To save you from buying and carrying several adapters (and hopefully the right ones) on your journey you can buy an all-in-one piece. This way you can change the plug outlet with switches instead of putting pieces on top of each other. Find one where you have different inputs and one that can be used in as many countries as possible, this one can be used in 150 countries and costs only a few dollars!
My recommendation:
Universal World Wide Travel Charger
1 USB-adapter for 6 devices!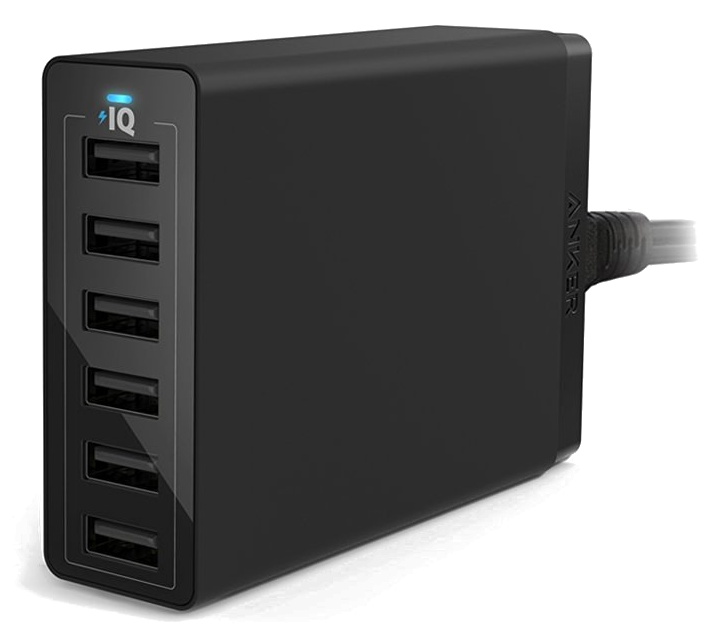 Charge several electronic devices fast and in one go while leaving the USB-adapters at home with a multi-port USB-charger. Buy a charger with an output voltage of 60 Watt/12A for fast-charging your devices. The number of ports is up-to-you, but the more ports the bigger, heavier and more expensive the charger gets!
The Anker chargers are of high quality and this one is smaller than your passport!
Anker 60W/12A 6-Port USB Charger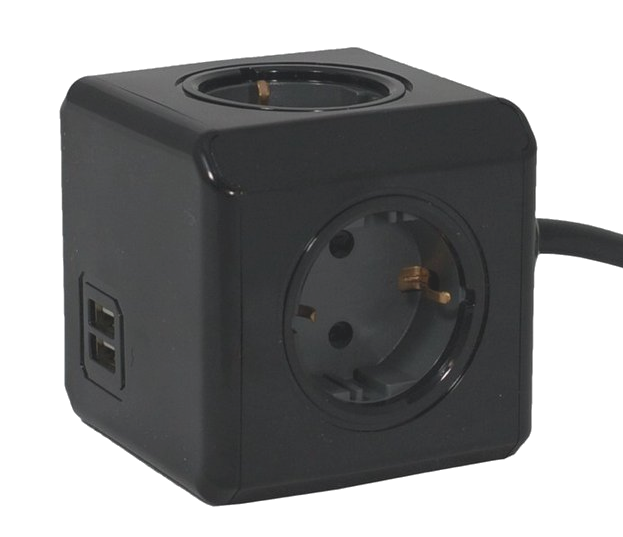 All plugs in one small block!
If you travel with a laptop or devices with rechargeable batteries you probably want to bring a power strip. This way you can charge everything during the night and it also saves you from buying several travel adapters. Budget hotel rooms often only have one power outlet, somewhere in the most 'difficult' corner. When you have a phone (or two), a digital camera, tablet and laptops - you need more than one plug! If you work online and prefer a coffee shop or quiet corner in a restaurant it is great to have a few meters of cord.
The PowerCube is a tiny block with the outlets on all sides. The one with two USB ports combined with 4 outlets is what I would recommend. Also you need to consider the length of the cord, buy one with 3 m/10 ft cord so you can use it in easily coffee shops, airports and restaurants. Buy the block in your own country to make sure the inlets fit your chargers.
My recommendation:
PowerCube Extended with Duo USB port
Tiny water heater that fits in your hand-luggage!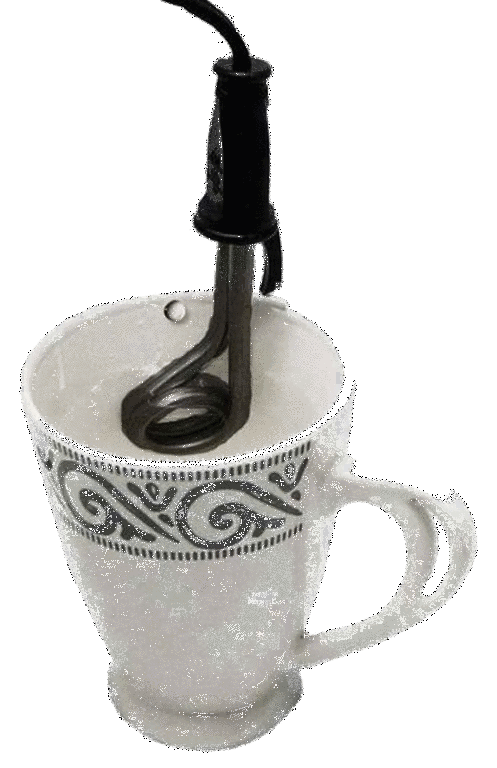 Whether you have an early flight or skip the breakfast buffet after a night flight - a good cup of coffee is always available with this tiny water heater. From a cup of coffee/tea to boiling eggs and instant noodles - the water-boiler is used daily! Even the smallest travel kettles are still pretty big, so why not just bring the heating element and dip it in your cup?
I have to admit I have been searching a long time before I found one, but I can not live without it anymore and I found one online for you!
Travel Immersion Water Heater - Dual Voltage
Create your own breeze in the tropics!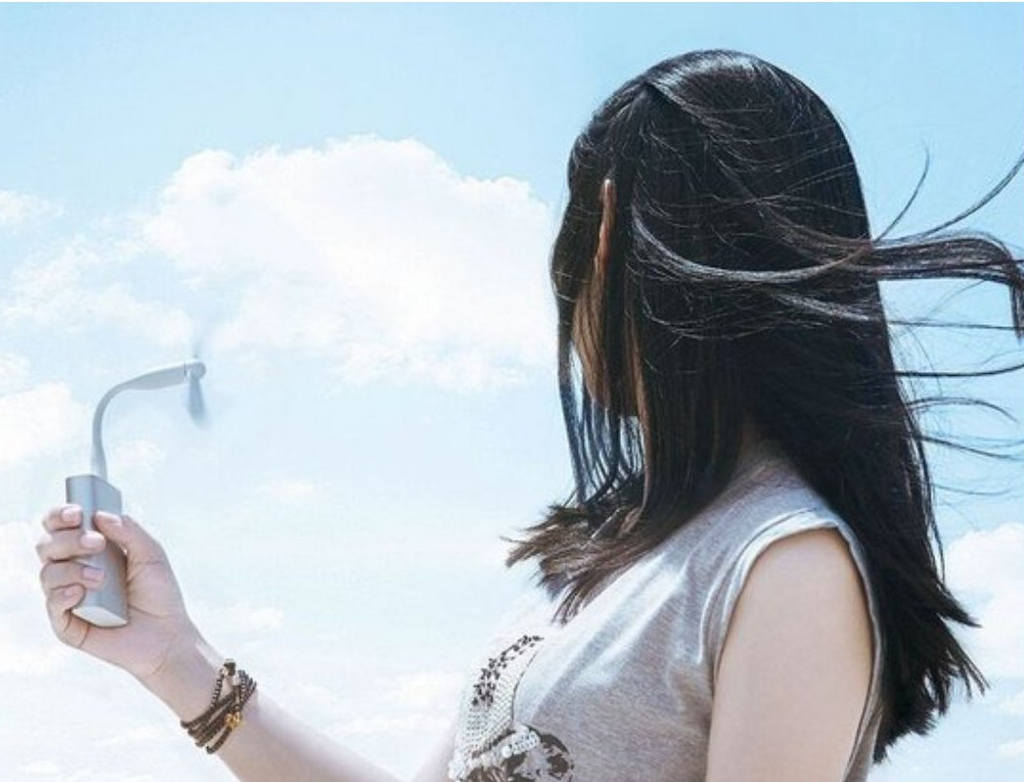 Especially on hot and humid days - a breeze comes in sooo handy! Normally I used a hand fan but this is a bit difficult when you are browsing the internet so I found the mini fan with USB-plug!
Easy to use when you work on the laptop, but you can also plug it into the power bank to survive an extremely hot bus or hotel room without air-conditioning or fan. It is cheap, effective, does not break and cost only a few dollars!
My recommendation:
Xiaomi USB Flexible Mini Fan
Swiss army knife!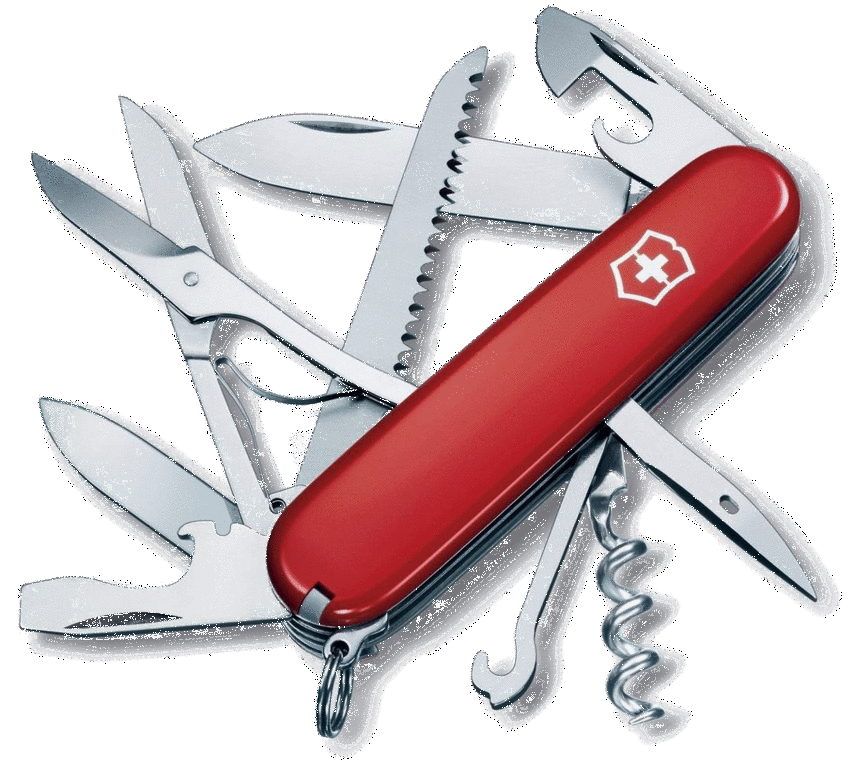 Nothing new but it has to be on the list since it is the ultimate problem solving tool. Pocket knives always come in handy when there are no other tools around! From opening food packages to cutting ropes - all-in-one strong tiny tool. Especially the Swiss army knives are great and they do not rust, thank you Switzerland!
You can fix all kinds of problems with different blades, a wood saw, screwdrivers, can openers and other handy tools. There are so many sizes, prices and uses, match it to your needs but do not overdo because they become pretty big as well - unless you are going on a real survival trip off course. Do not forget to get a corkscrew on it for opening wine bottles, the ultimate rescue tool in times of need! ;)
My recommendation:
Victorinox Huntsman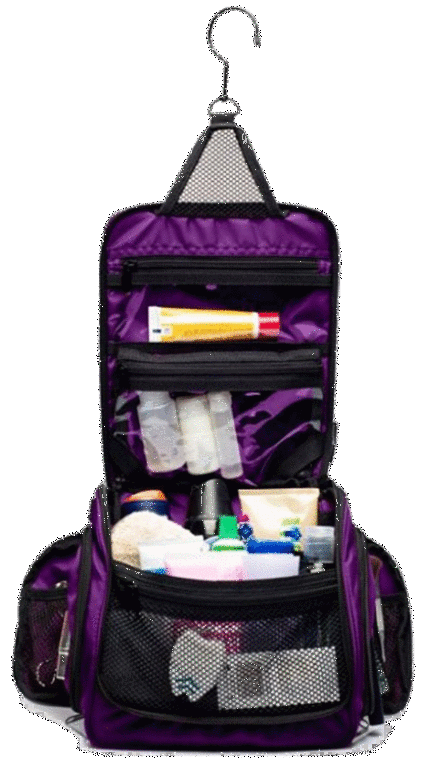 Hanging toiletry bag
Especially when you are traveling on a budget you often share bathrooms and/or they are really small without a shelf. That is why I always carry a toiletry bag with a
swivel
hook to hang it on the towel hook/rail, easy access.
Buy one with several mesh pockets, elastic loops and compartments so you can easily organize and grab the things you need and it does not move around too much while flying/traveling. Make sure to get a waterproof toiletry bag. This works two ways: If a bottle leaks during travel and if the shower sprays in all directions.
My recommendation:
Neatpack Medium Size Hanging Nylon Toiletry Bag
The most comfortable and light towel!
Taking towels or not is always a point of discussion. Is the hotel providing bath towels, swimming pool or beach towels (for free) and what if I go to the gym? Microfiber towels are light-weighted, quick drying and have high absorption performance. Nowadays the ones you can buy are soft and comfortable as well - where they looked and felt like cleaning towels before.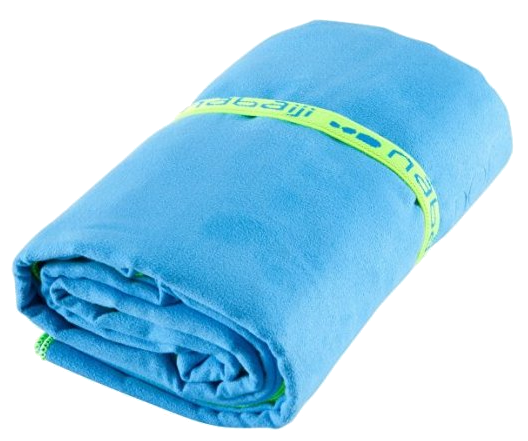 Last year I was traveling with a small towel (50x50 cm), which are not that great for showering and beach visits. A sarong or hamam towel is big enough but does not really absorb as much and it does not keep you warm at all.
Since I got a Nabaiji towel from friends I am hooked! It is used as a bath, swimming pool and beach towel but also as a blanket in the plane, sofa and on the bed! Get one that is 110 x 175 cm so you can wrap it around yourself to change your bikini on the beach! The Nabaiji towels come with an elastic band to wrap it up or hang it on a hook. You can buy them at a Decatlhon shop or online here:
My recommendation:
Nabaiji Microfiber Ultra-light Travel towel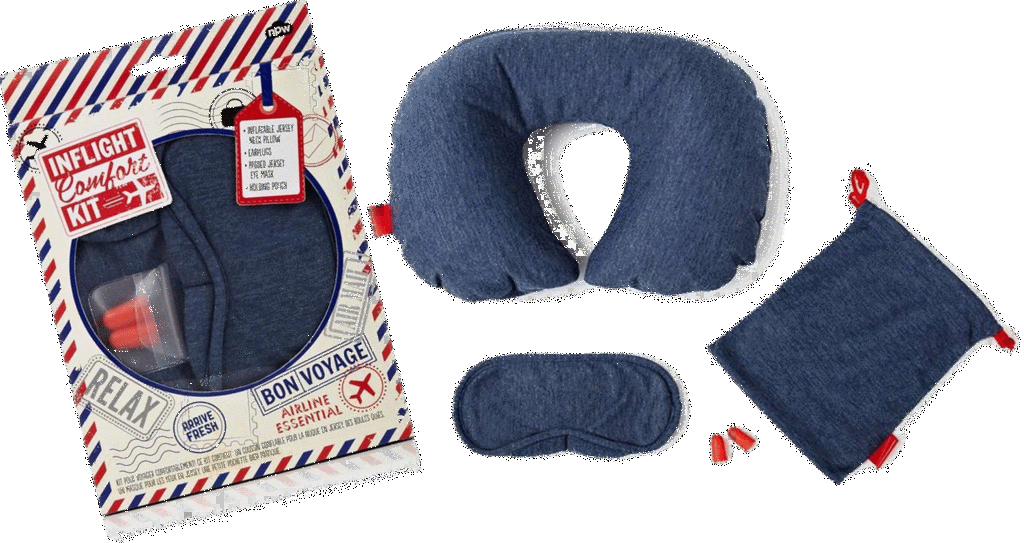 Essential inflight tools!
From night flights to hotel rooms without proper curtains - a sleeping mask comes in handy. I have to admit I refused it for a long time - but it gives you the extra hours of sleep you sometimes need so hard! Combine it with sleeping earplugs when you have thin walls and loud neighbors or somebody that snores out of your pillow-trowing-reach. :)
An inflatable neck-pillow comes in really handy in airplanes and when a pillow is lacking at your accommodation (or too hard/soft/etc.). Travel pillows filled with foam or polystyrene micro-beads are softer and they shape better but this takes up a lot of space.
My recommendation:
NPW InFlight Kit
Laptop backpack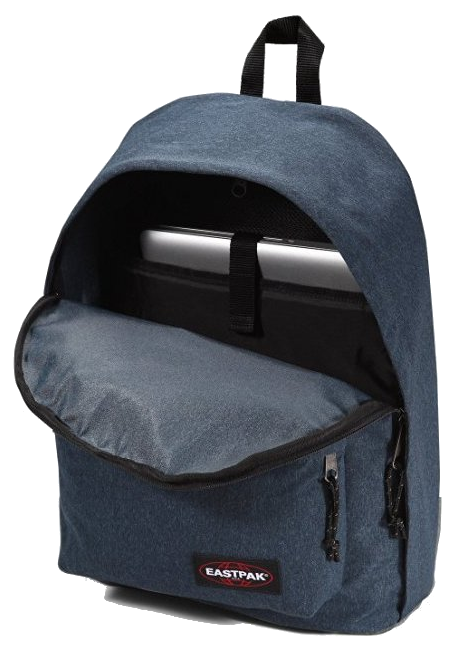 Last but not least - the ideal handluggage backpack for your electronics while traveling: Eastpak. Carry it on your back when jumping boats & trains or walking over the beach toward your bungalow. It does not look like a laptop bag (which can be good in certain areas) and it does the job perfectly! While a heavy shoulder bag might start to hurt after a while a backpack keeps you in balance. The Eastpak version does not hurt your shoulders due to the padded shoulder straps. There is a padded laptop compartment that fits two laptops (MacBook Air - yeah, another free tip!) easily.
My recommendation:
Eastpak Unisex Out Of Office Laptop Backpack
These are affiliate links, so if you buy something - I get a small fee to keep providing you all this information for free! Do you have some awesome gadgets we should try?! Please share!
If you enjoyed this post, please share it with your friends
Marlies
Crazy Dutch Abroad
Let's travel the world in a crazy way!
Share this page: