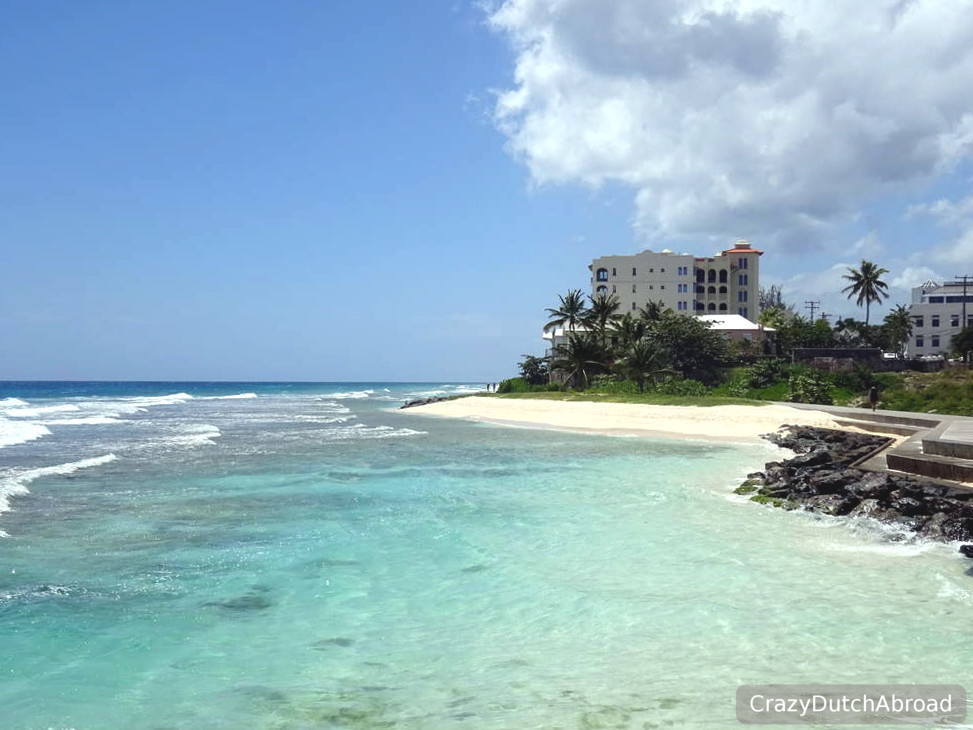 Why Barbados really is a Happy Island!
Maybe because it is the most Eastern Caribbean island, being less influenced by other cultures. Maybe because of the islands history being one of the first stops for overseas travel in the old days. Barbados has something unique you should experience! It is often referred as the happy island and that is not just because of all the rum!
Barbados is a well-developed tourist destination but it has kept its own Caribbean culture like no other. You will not find Chinese shops, barely a KFC but plenty of Chefettes (local fast food chain) and rum shops! Big cruise ships arrive often but the guests seem to spread out over the island. There are so many beautiful beaches it does not feel crowded or overrun anywhere, just pick one along the South or West coast.
Barbados beach
Bridgetown is a local capital city where souvenir shops are hard to find but grocery and clothing stores are all around. On Saturday there is a market down town, a great spot to explore a bit of the Bajan culture.
Coconuts and rum are found around the island. Try to capture one of the fast flying beautiful hummingbirds on camera (failed), watch the fireflies at night and mind the green monkeys steeling fruits from the gardens. Nightlife is all around and if you want to feel or act like a pirate and drink all day - this is the place! Have it your way and have a lot of fun on Barbados! My favourite spot in the Caribbean so far!
Things to love about Barbados
The most beautiful beaches and colorful houses!
Smooth white sand, crystal clear turquoise waters and sea turtles everywhere. There are so many beautiful beaches around the South and West coast of Barbados, everyone can enjoy this piece of paradise without crowds.
Countless beach bars, from small wooden bars in Caribbean colors and fancy international bar/restaurants with high-end service and comfort. Play high speed beach ball at Miami Beach or rent a sunbed with umbrella from one of the fancy hotels or beach bars.
Choose whatever you like and enjoy a drink, some snorkeling or meeting locals and have some great conversations about their country. The number of beautiful beaches is impressive. My favourite is at the end/beginning of the boardwalk in Hastings, right in front of the place we stayed (see fact sheet). At night there are countless fireflies visible from the boarswalk, really beautiful!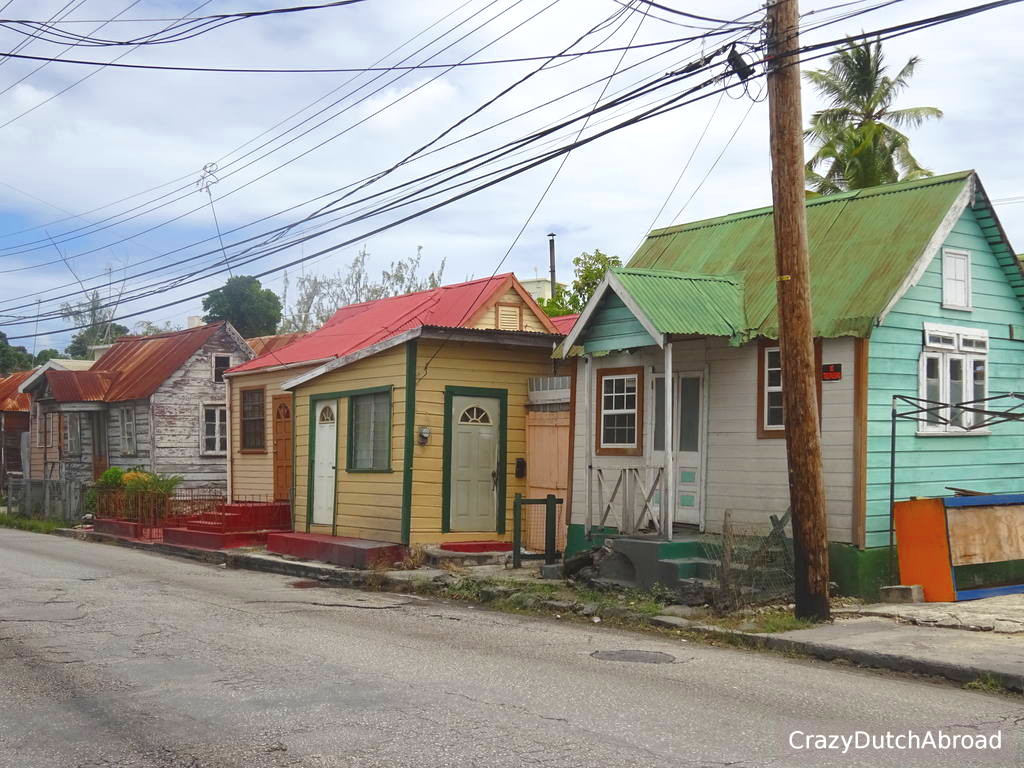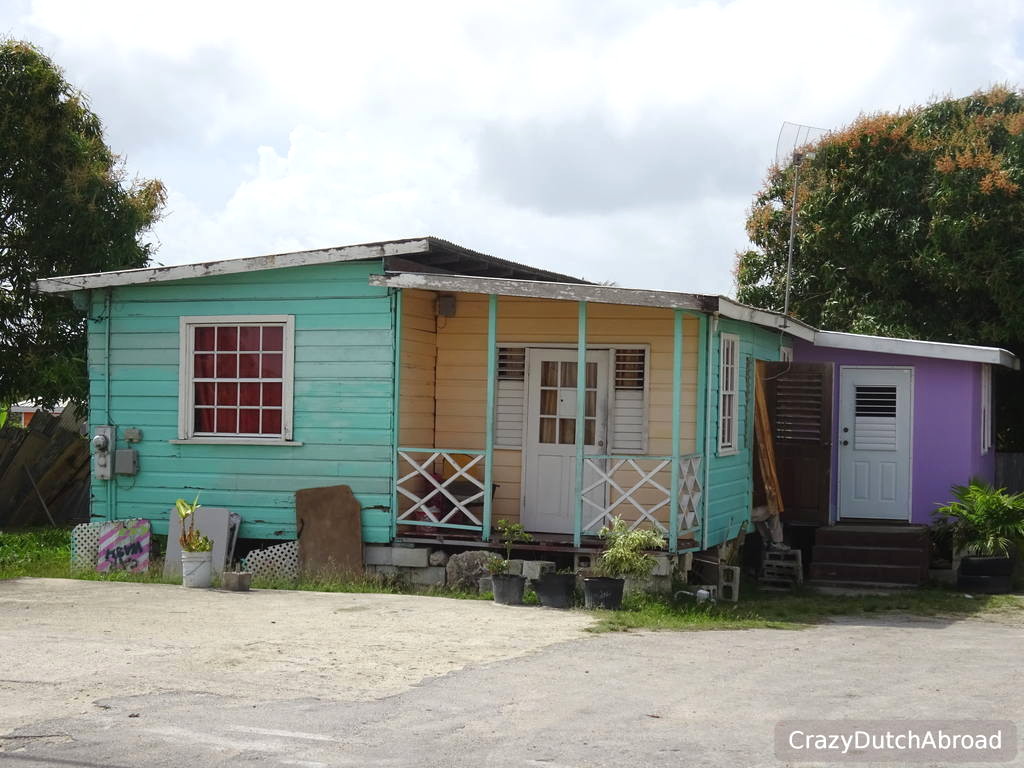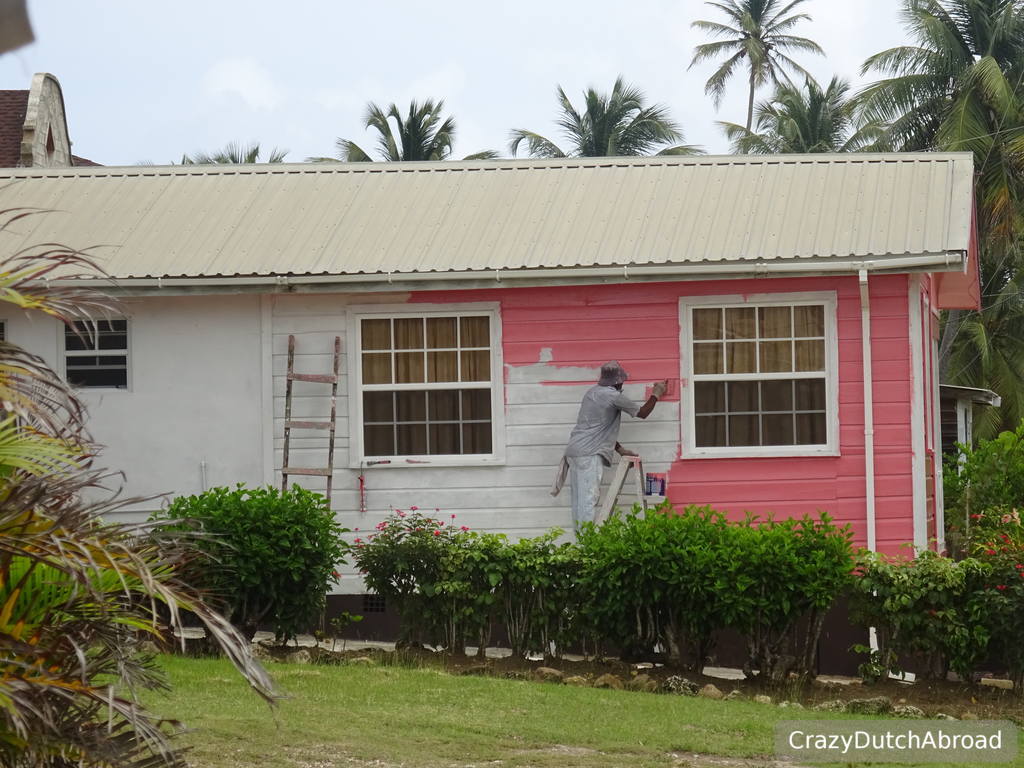 Colorful Caribbean houses on Barbados
Oistins Fish Fry on a Friday night!
Oistins is a favourite spot for locals and foreigners on a Friday night. The Oistins Bay Gardens, right next to the Fish market turns in to a lively market with grilled and fried fish made to order. There are dozens of wooden cabins turned into beach BBQ restaurants and fresh fish is on the grill everywhere.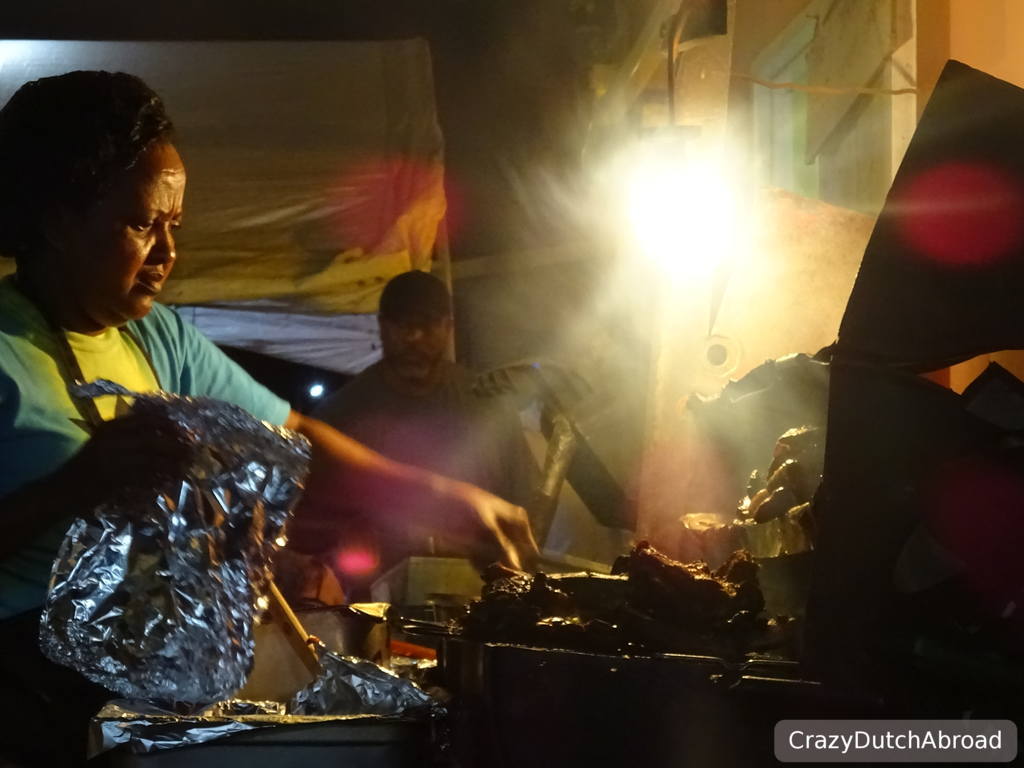 Grilling at Oistins
It is crowded, some favourite restaurants have waiting lines of people trying to get a plastic chair at one of the large shared tables. Barbados is often called the land of the Flying fish. Flying fish can jump out of the water and glide through the air for up to 200 meters. In Barbados eating grilled or battered Flying Fish is a delicacy, a plate would cost around 15 USD.
Soca and reggae music is pumping through the speakers and people are liming. Liming is part of the Caribbean culture and it means something like; to unwind and enjoy yourself while sharing food, alcoholic drinks (rum) and often dancing. You can find elder people ballroom dancing on the slower Calypso songs while the younger people preform a sort of battle on stage with a pumping beat. Drinks are cheap and the party does not seem to stop. Around the market you can find some stalls with beautiful local art and craft. Dress-down for the local food or dress-up to get your groove on!
On Fridays you get the real experience. It is busy, expect to wait for about one hour to get some food. On the outside, along the main road it seems to be less busy. Try some Legendary fishcakes as an appetizer. Every night there are restaurants and bars open at the Oistins Fish Fry. If your desired restaurant has a long queue, just return the next day when there are no crowds from all around the island.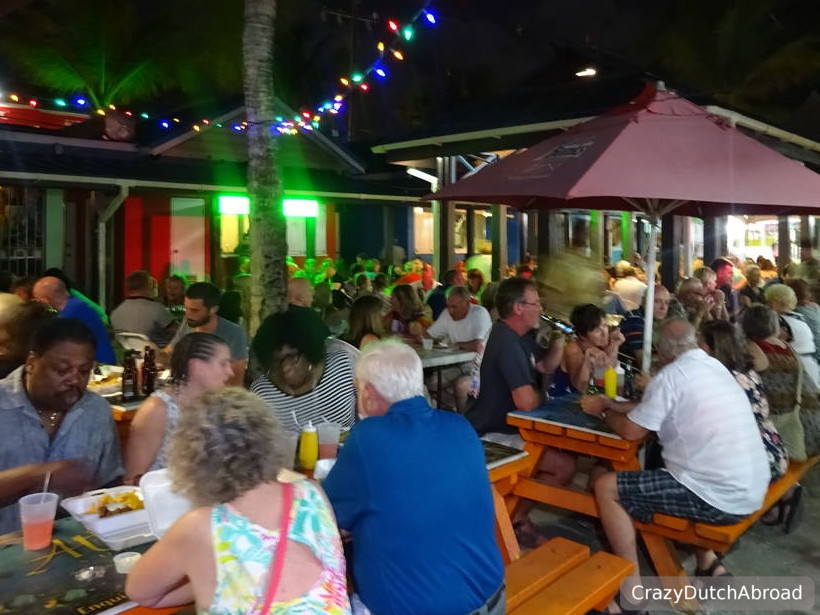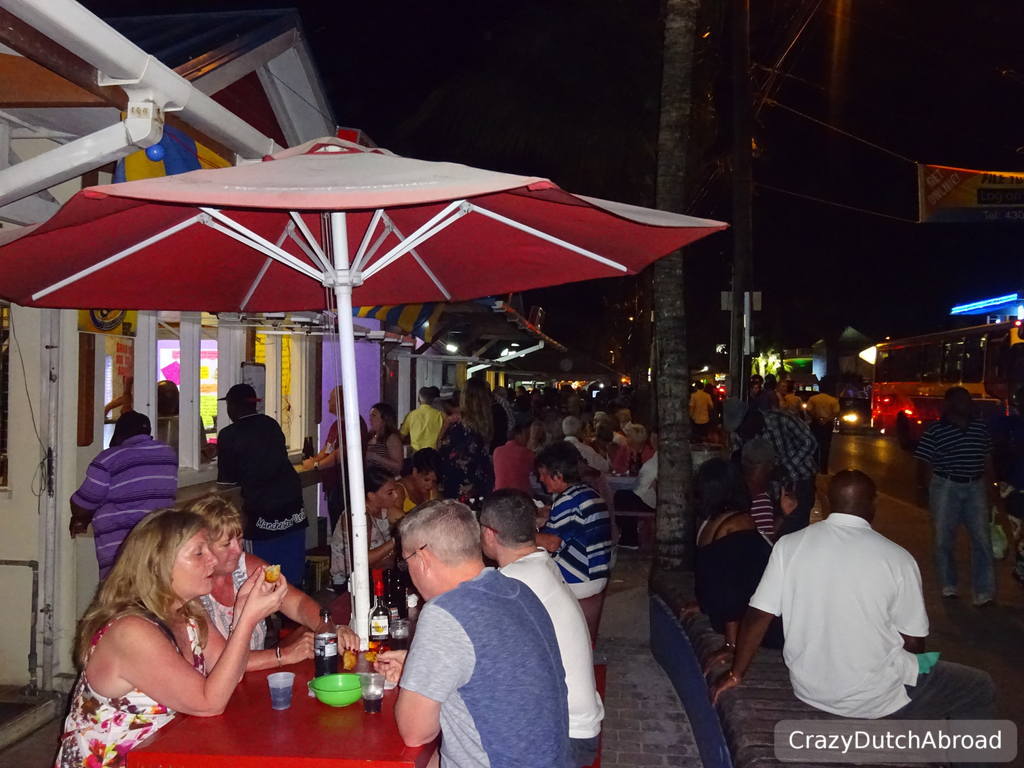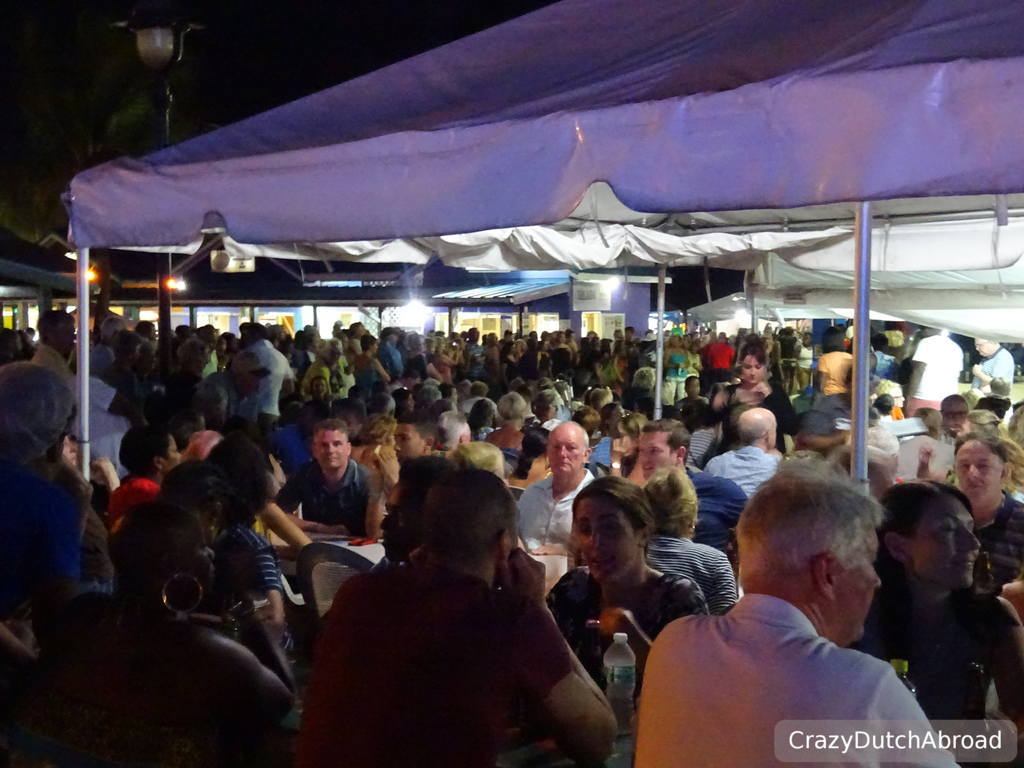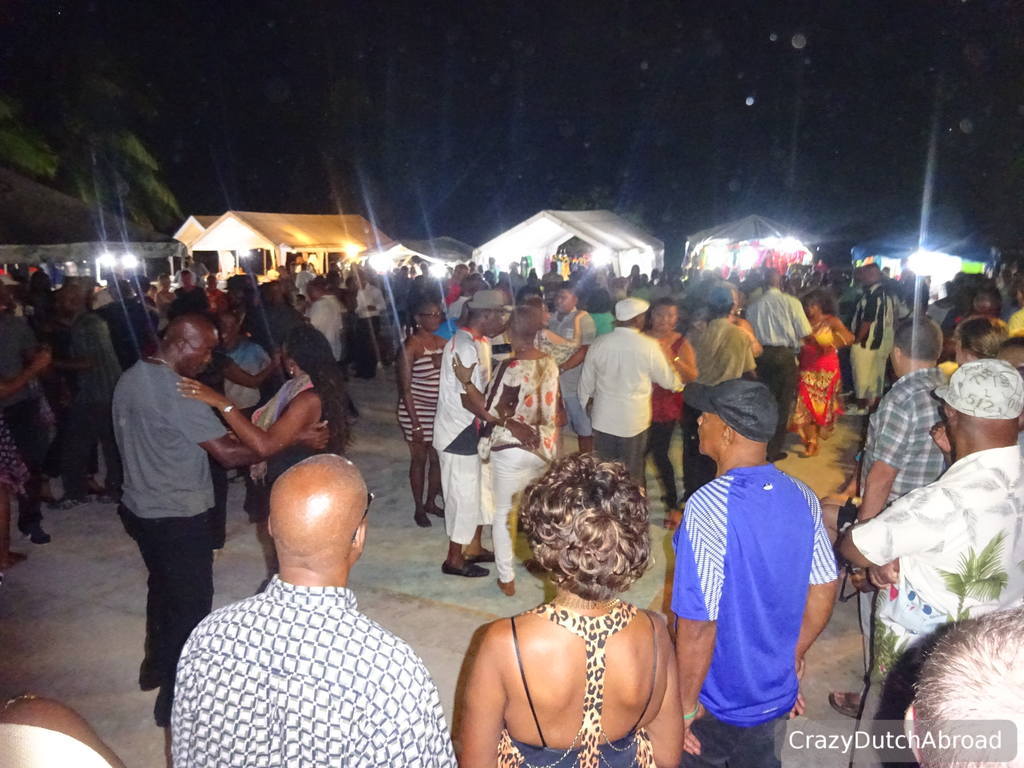 Oistins Fish Fry on a Friday night
Rum tour at the Mount Gay Rum Distilleries!
The country of the rum, here you can drink like a pirate! There are rum distilleries, rum tours and rum shops. We visited both the Mount Gay Rum Distilleries and the St. Nicholas Abbey and the differences are enormous.
Mount Gay Rum Distilleries vs. St. Nicholas Abbey
For us Dutch people it starts with the price. Find a coupon in your hotel lobby or in the bigger restaurants at the washrooms and enter the sample tasting tour of Mount Gay for 15 USD (2 for 1) with five rum samples. The Abbey charges 45 USD for two with just one sample.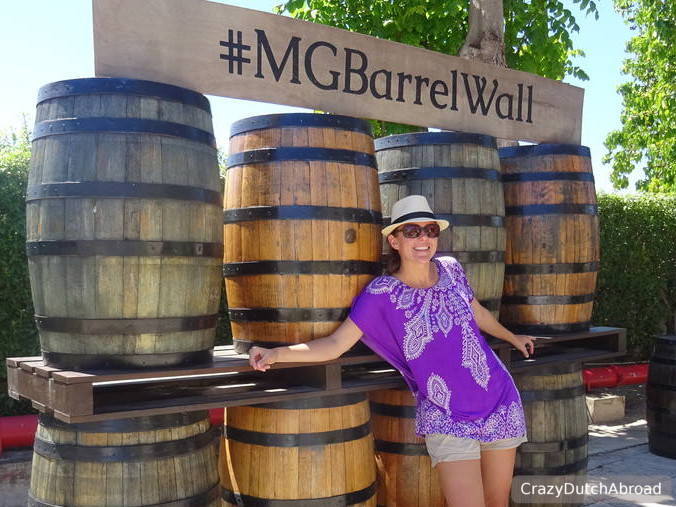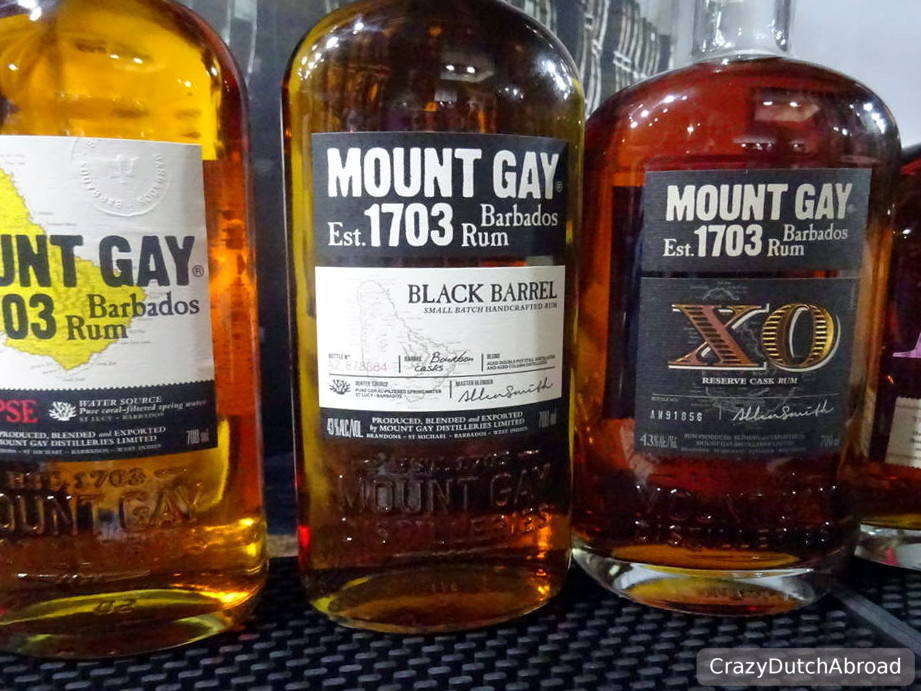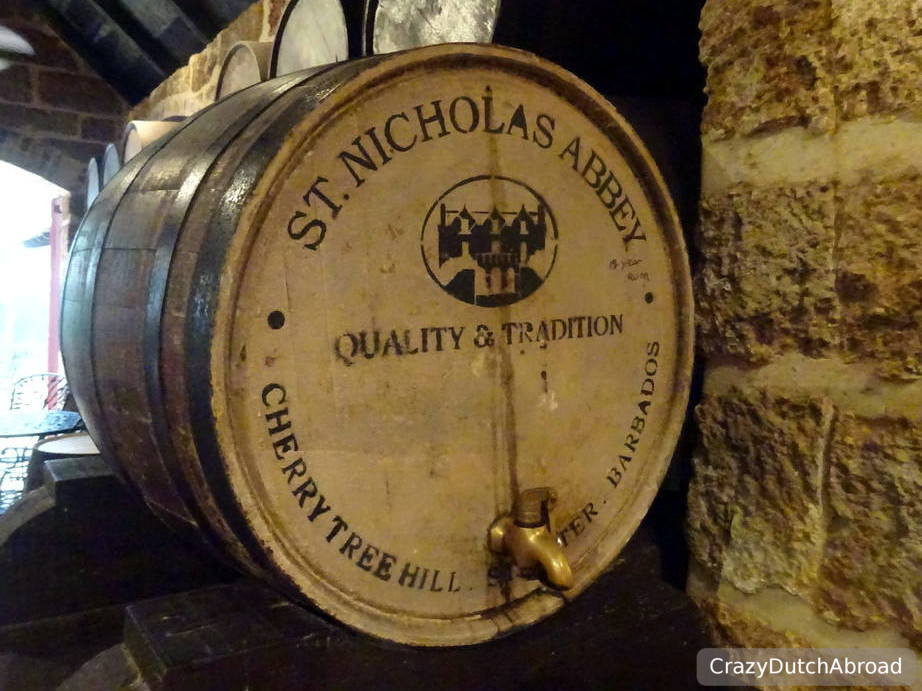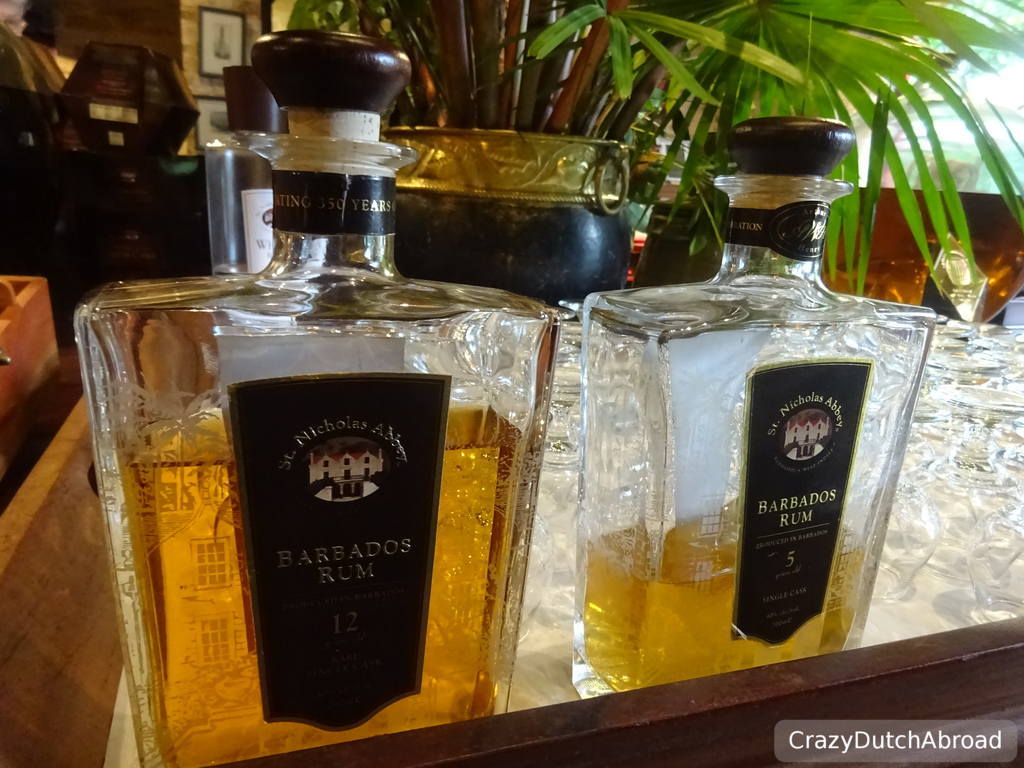 Mount Gay Rum Distilleries and St. Nicholas Abbey
Both give a rum punch and a guided tour with a lot of information about the history and culture of Barbados. Where the St. Nicholas Abbey gives you a tour around the residence, information about paintings, furniture and tableware at Mount Gay you learn about the beginning of making rum on Barbados, which is what I came for... Both distilleries show you a video, at the Abbey you see old 8mm films of people in Barbados where the Mount Gay movie gives you an illustration of the process of distilling rum.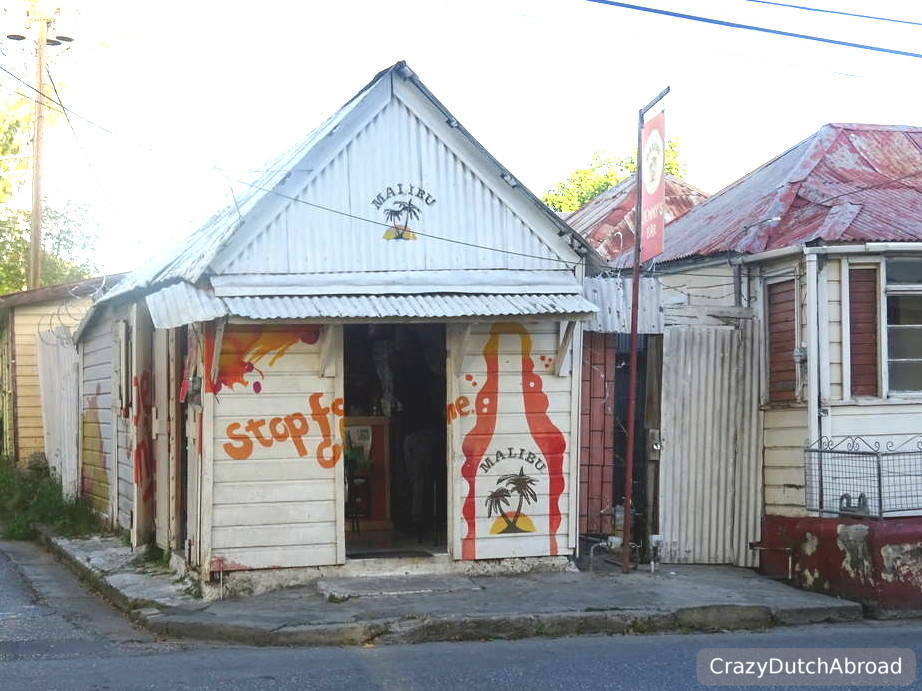 Rum shop Jenny's Bar
At Mount Gay we learned a lot about the tasting, recognizing age and ingredients, the tour took about one hour with less than 10 minutes of video. At the Abbey we got one sample with only the age mentioned, the video took more than half the tour time, about 30 minutes in total. Another difference is that you can buy samples at the Mount Gay bar/restaurant without paying for a tour, that is NOT possible at the Abbey.
So, I guess you realize which one we preferred in many ways: Mount Gay Rum! Which one tastes better? That is really personal, but I have to say Mount Gay as well...
Visit some local rum shops and food stalls
If you really want some local cultural experience, skip the international bar scene and visit the Cheapside market. On the top floor there are various food stalls serving your Bajan (Barbados) food with a great Caribbean taste - it is really cheap! Served with ice cold beer covered with ice if you like.
Rum shops, more like local bars, are found everywhere. Hundreds of wooden bars, decorated with rum bottles and advertising are there to explore. Locals walk in and out for a drink, a dish of the day or just to catch up with a friend. We were taken to Jenny's Bar, right across Harbour Lights. It is great fun to go there for a drink or two and enjoy the local vibes for a fragment of the prices you pay in the 'hot spots'.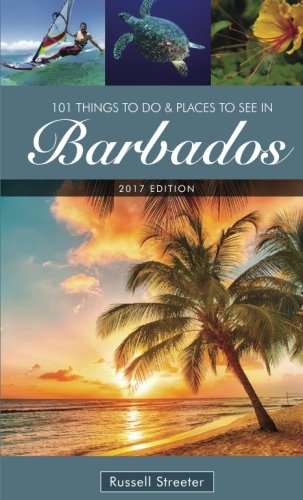 101 Things To Do and Places To See in Barbados
Russell Streeter

This insider's guide reveals the island's best-kept secrets, so you can feel like a "regular", even on your first trip, and find activities for the whole family!



SCUBA diving and snorkeling!
Snorkeling with turtles and exploring
the shipwrecks of Carlisle Bay
should be included on your holiday in Barbados. You can swim from the beach for FREE or hop on a snorkeling boat trip from $40 USD with a group. We have seen some companies feeding turtles in Carlisle Bay. Please be aware that this is NOT natural and DO NOT touch turtles either! There are plenty of turtles around to experience a natural encounter which is more sustainable. SCUBA diving the wrecks of Carlisle Bay I would not recommend unless this is the first time you will see a wreck or turtles while diving. There are more interesting wrecks to dive on in Barbados.
Barbados is known for about a large number wrecks and great visibility. What you might not know it that there are some beautiful coral reefs as well, with the G-spot as one of the highlights. It is called the G-spot for a reason! Read about it on my SCUBA blog:
SCUBA diving Barbados, the G-spot!
Lessons learned in Barbados
There are not a lot of beach bars and restaurants North of Bridgetown
We walked from the bus terminal in Bridgetown to the cruise ship terminal, passed the Pelican Craft Center and Mount Gay rum at about 4 PM - all closed. Passed by the power plant until we found the first rum shop / bar that was open: Bush bar! A local rum shop that just opened. After a drink we took the bus to Holetown where nightlife was all around. :)
Rainy road trip on a scooter is fun but maybe not the best!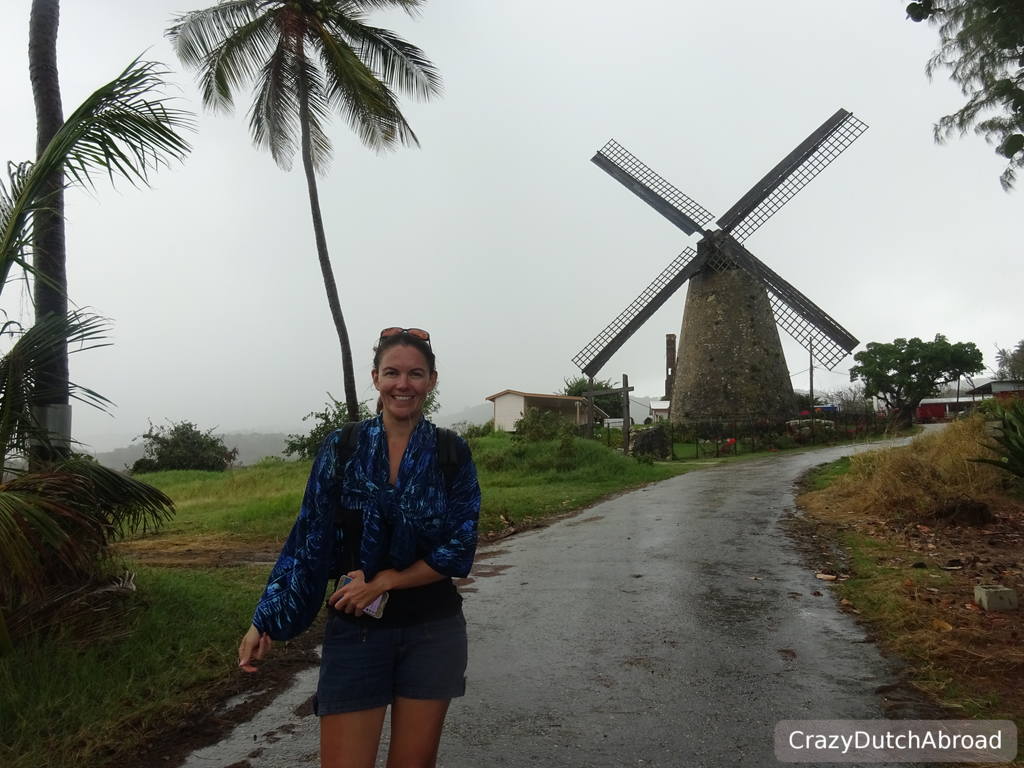 Having a Dutch moment at the Morgan Lewis Windmill in the rain.
For about half the price of a rental car you can rent a scooter. We always love it to discover an area by scooter as you are constantly outside and get good views around. Unless you come across some rain. We were about halfway on our scooter tour, having lunch at Sand Dunes Restaurant in Windy Hill on the East side when the clouds came...
We thought we could make it to St Nicolas Abbey but by the time we arrived at the Morgan Lewis Windmill we had a proper shower of rain. Soaking wet we quickly took some shots of the Windmill, giving it a bit of a Dutch look as it often rains in The Netherlands as well. Totally wet we arrived at the Abbey, luckily our electronic devices kept working. So I guess the cheapest option is not always the best option but it was lots of fun!
If you see the landscape in the less-developed areas on Barbados and the East coast you will see more dry, flat land with cactusses (like on Bonaire and Curaçao), the inland is more tropical/forest like with a lot of trees and green monkeys.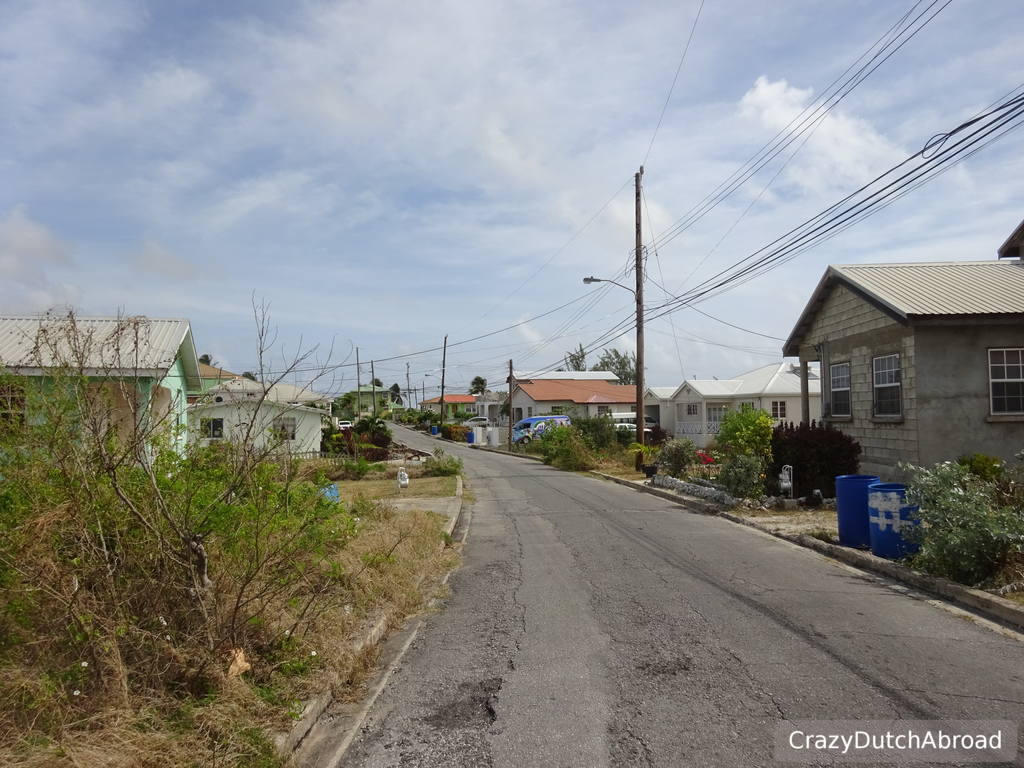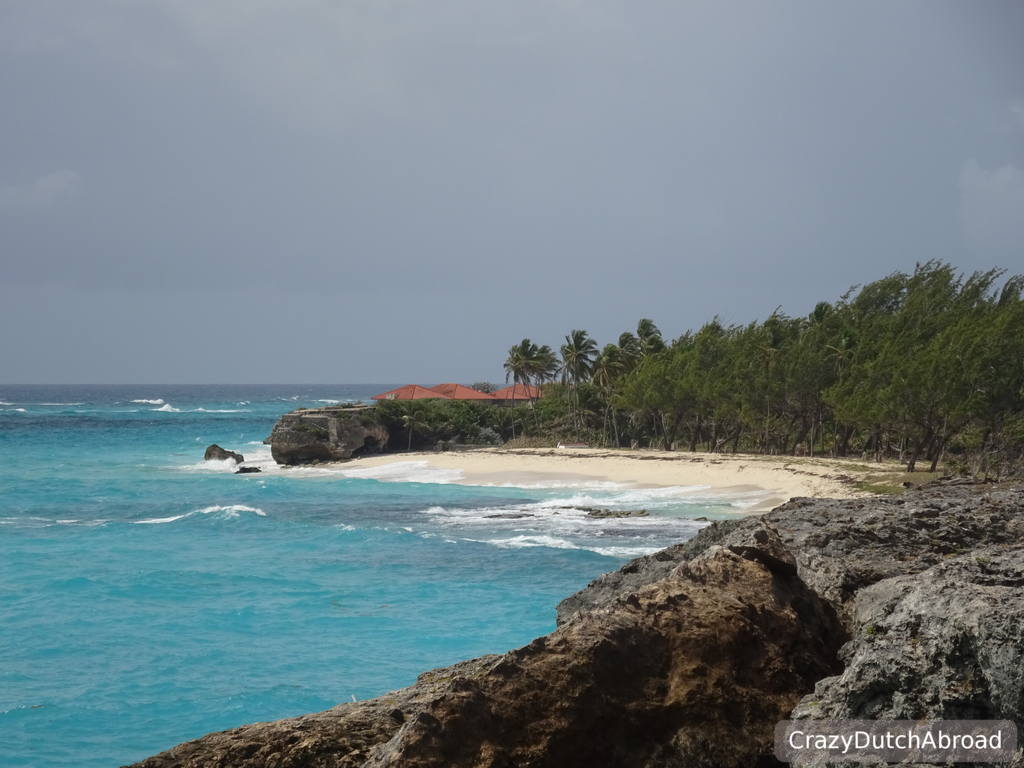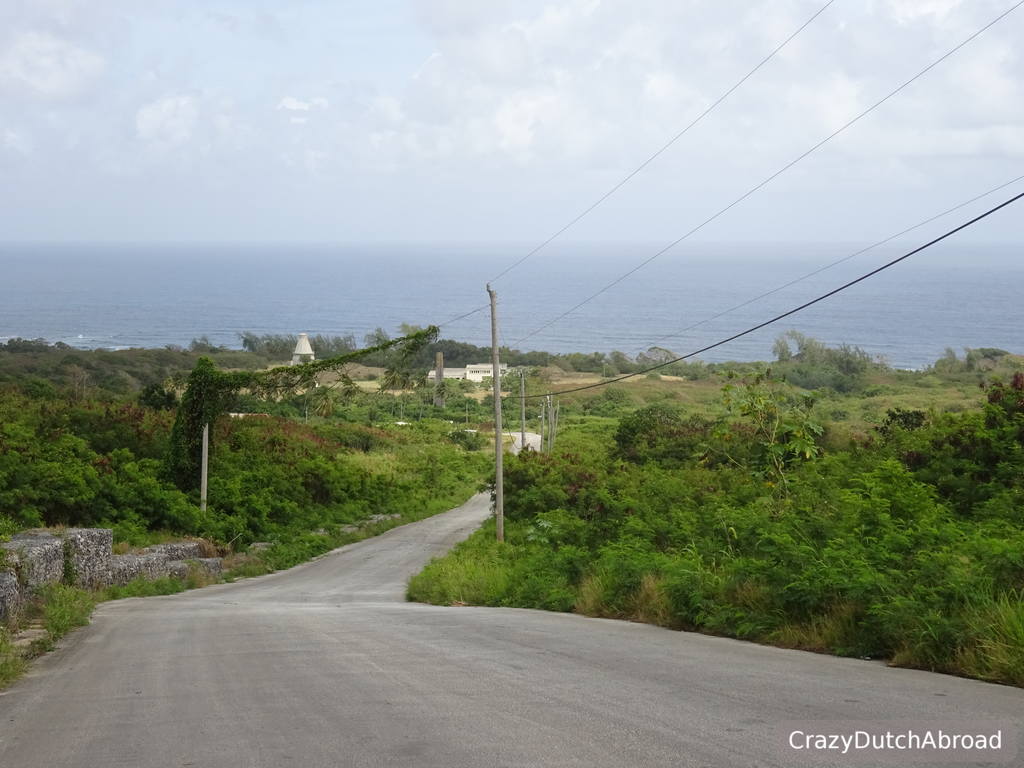 Some sunny pictures of driving around Barbados.
Things we skipped but you might love!
Harrison's Cave
The Harrison's Cave is a beautiful cave with stalagmites and stalagtites you can visit in the middle of the island. You can take a tram tour, a walking tour or a adventurous tour with a bit of crawling through the cave with head lamps. Tram tour cost about 30 USD per person. We did not do it because of the large number of visited caves, last one was the Hato caves on
Curaçao
. We expected it to be a bit 'touristy' and less natural.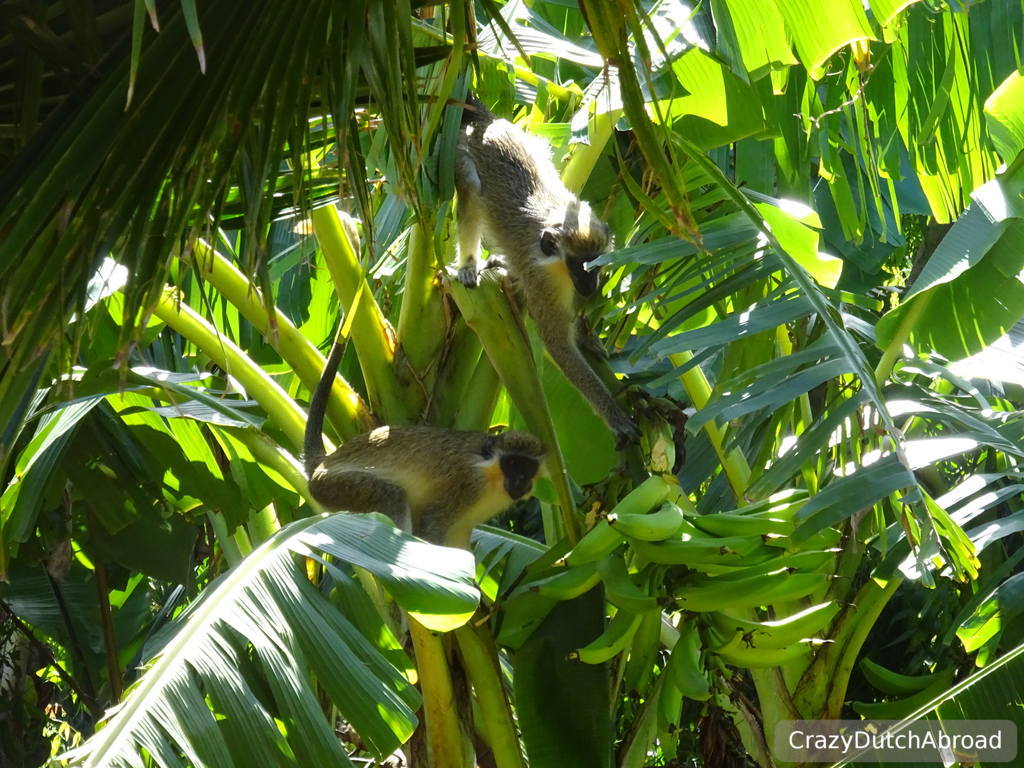 Green monkeys grabbing some plantains.
Welchman Hall Gully
Close to the cave you can find the Welchman Hall Gully park. It is a tropical rainforest park with self-guided and other available tours to explore the flora and fauna of Barbados. One of the major attractions here is seeying Green monkeys. Well, we had those in the garden in St. George, were we stayed with Airbnb our first week on Barbados. They often came to get some plantains and play.
Click here to check the apartment & availability
. New to Airbnb? With this
link
you get FREE travel credit/discount on your first booking!
Gun Hill Signal Station
From the top of the Gun Hill Signal Station you have a panaramic view over the entire island. The station was build in 1818 and used for noticing ships approaching the island and to strategically locate the soldiers in case of attack. Also rebellient slaves were easy spotted from the top. There is a statue of a lion which is a popular photo object. We had bad weather so we skipped this historical sight and viewpoint.
The facts!
Visited: March 2017
Bars & Restaurants
| | |
| --- | --- |
| Strip with bars | From Speightstown to Oistins you will find bars and restaurant along the waterfront. St. Lawrence Gap, Holetown and Speightstown have a sort of strip with bars/restaurants really close to each other. |
| Spots we loved | In St. Lawrence Gap: Cafe Sol (sunset spot!)& Harlequin Restaurant for dinner, Sharkey's Tropical Cafe for drinks. |
| Beer in a bar | Bottle of Banks or Carib around 2 USD, 4 for 5 USD in local places |
| Glass of wine in a bar | 7 USD |
| Club Sandwich/Pizza Margarita | 15 USD |
| Cup of coffee | 1.5 USD |
| Meal | 30 USD, about half in rum shops and if you look for a real cheap-eat try the all-beef roti at one of the Chafette's (fast-food chain) is really good for 5 USD. |
| Restaurants open | Local restaurants often close around 5 PM. International restaurants are open from breakfast to late, often closed one day in the week. |
| Number of restaurants and bars in top-area | Hard to say as there are hot spots everywhere along the Caribbean coastline, plenty! |
| Quality of local food | Good, try the homemade pepper sauce if you like to spice up your meal. |
Transportation
| | |
| --- | --- |
| Scooter/car rental | Cars go from 100 USD a day. We rented a scooter for 50 USD a day with Demario's Cycle World in Bridgetown. |
| Local transport | You can go almost everywhere around the island for 1 USD per bus/minivan - it can be cramped sometimes. |
| Taxi | Taxi's cost about 30-40 USD for 30 minutes driving, airport to Bridgetown for example. Call a day in advance! |
| Uber | Not available |
| Boat | There are no other islands nearby but you can go on a sunset booze cruise, starting from 70 USD all-in. |
| Flight | You can fly to various Caribbean islands within one hour, prices vary a lot. |
Sleeping
Apartment
We stayed at Sandy's apartment on the Hastings mainroad through Airbnb for less than 50 USD a night. Click here to check the apartment & availability.
New to Airbnb? With this link you get FREE travel credit/discount on your first booking!
Nice hotel
Palm Garden Hotel Barbados has airconditioning and a swimming pool close-by the beach as well, still under 100 USD a night.
Resort
Starting from $250 per night up to very high-end
Hotel score price-quality
Considering the location by the beach prices are OK.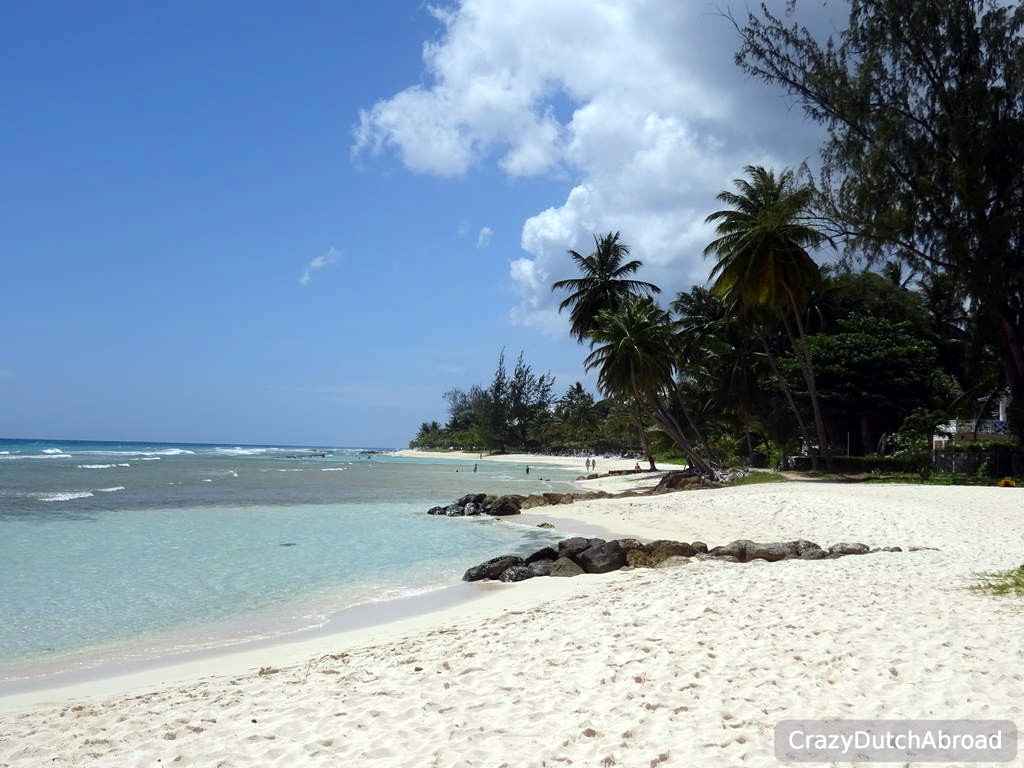 Our beach in Hastings
If you want to stay at the best beach without paying for the Marriot you should book Sandy's apartment, see link above! This location is just THE BEST! With a beautiful quiet beach right across the road and easy access to Bridgetown, St Lawrence Gap & Oistins by public transportation (1 USD) I think this is the perfect place to stay in Barbados.
The apartment is basic, spacious and comfortable. There is a hot shower, comfortable bed, plenty of (beach) towels and a well equipped kitchen - all you need! There is an outside seating area which is nice and a washing machine for you to use. We would love to stay at Sandy's place again, recommended!
Internet access
| | |
| --- | --- |
| Local SIM card | We did not buy a local SIM as free WIFI was widely available. |
| UMTS | No information. |
| WIFI Hot spot | Free WIFI is offered at most restaurants and bars around the island, not at the local rum shops. |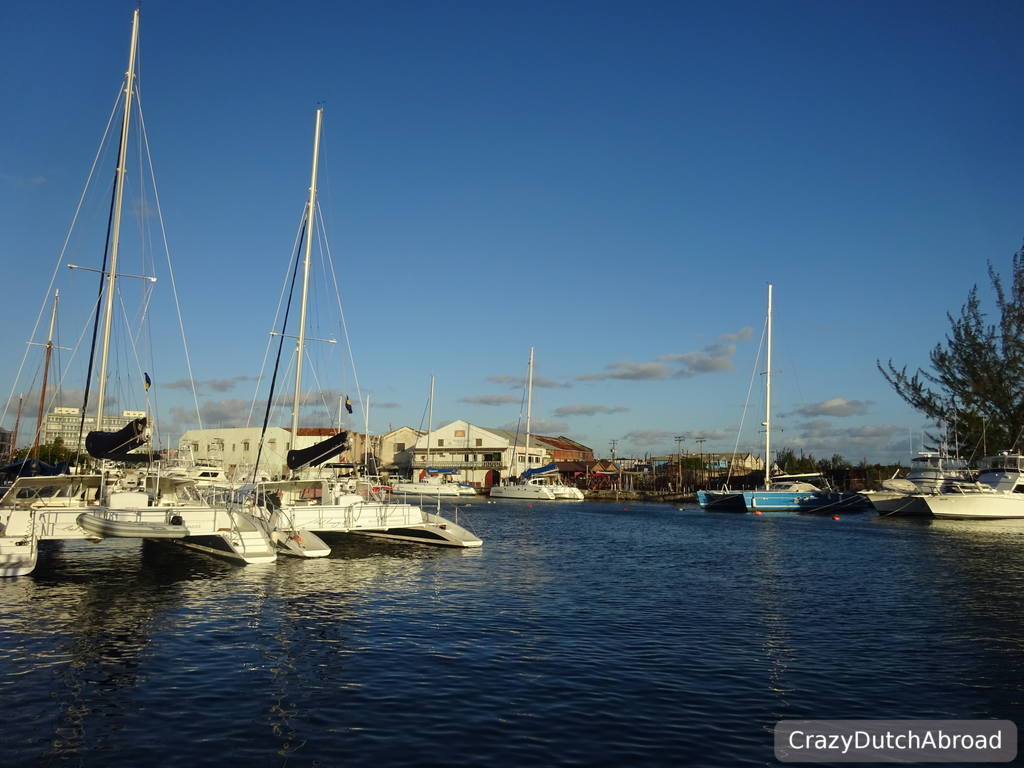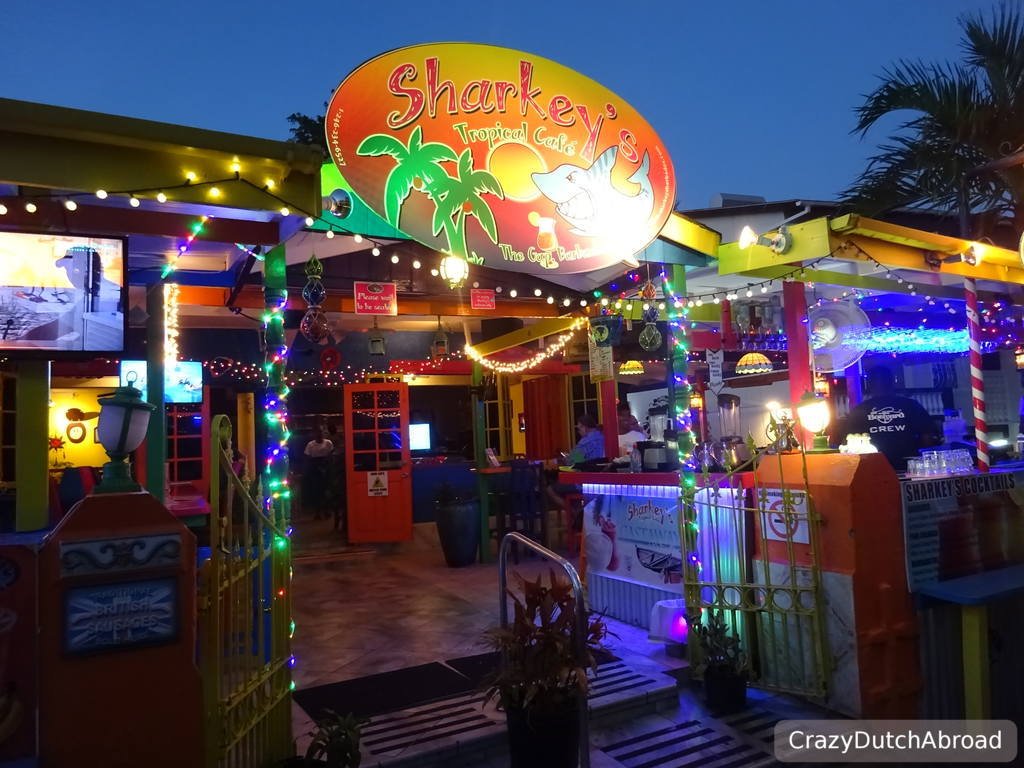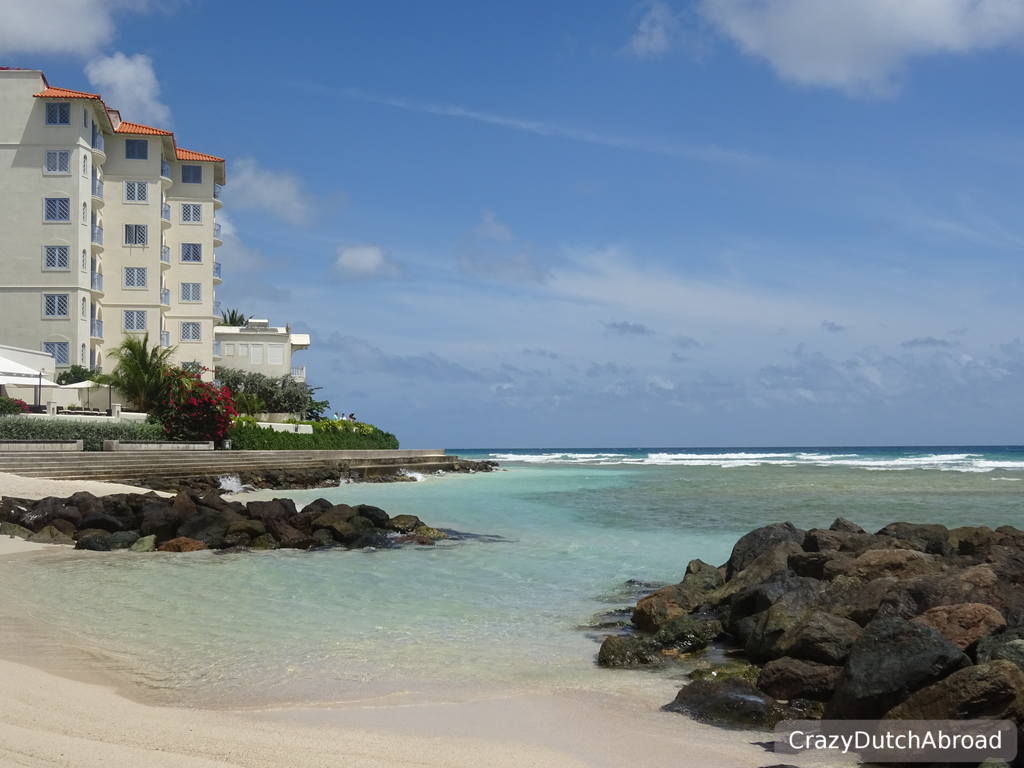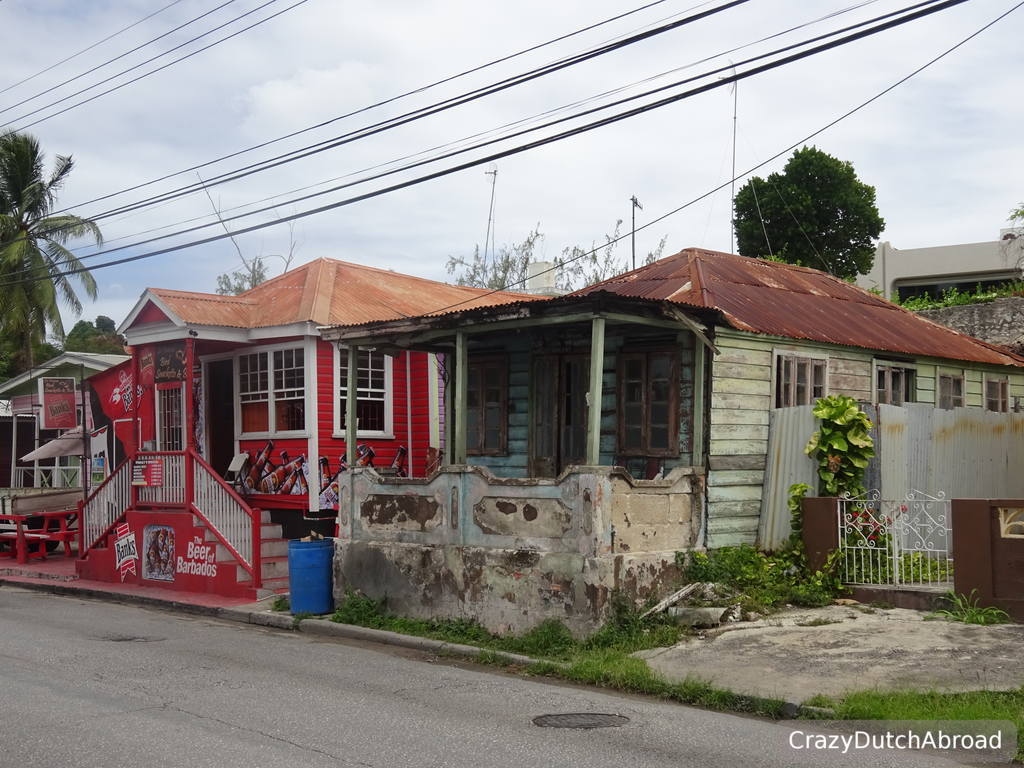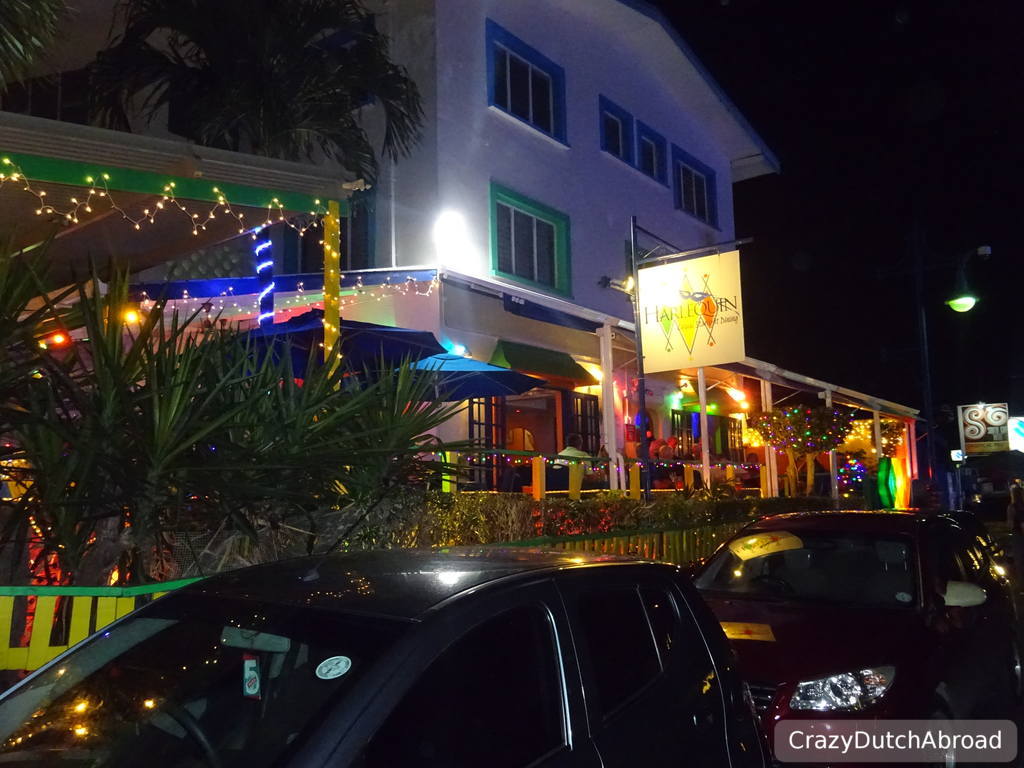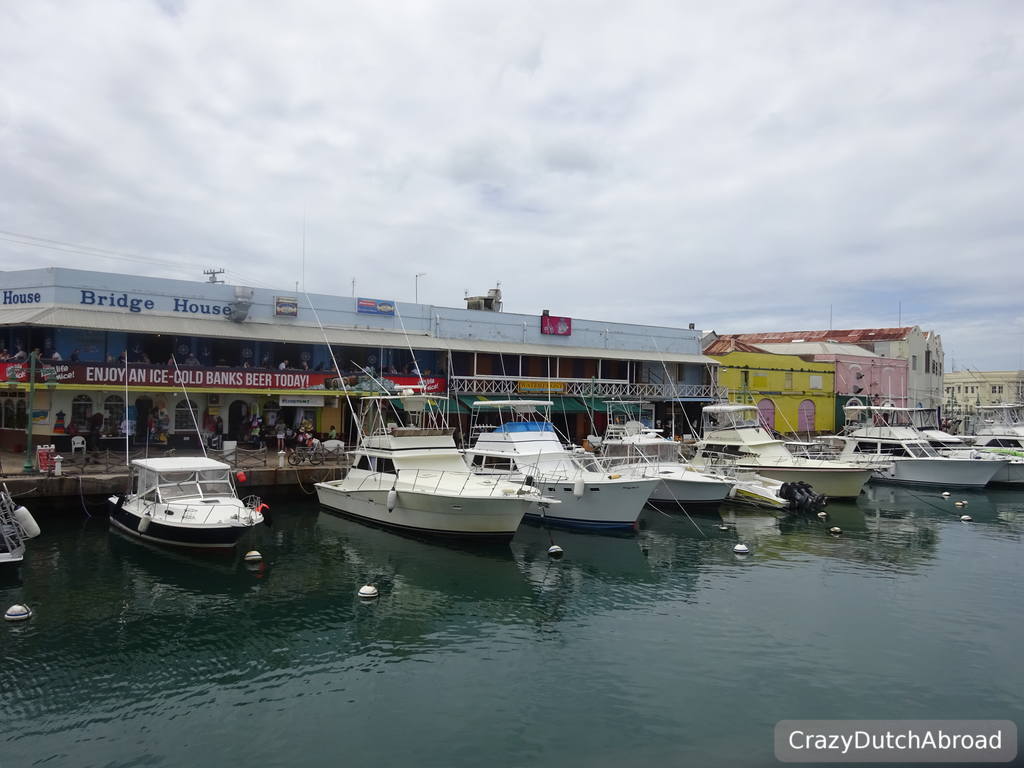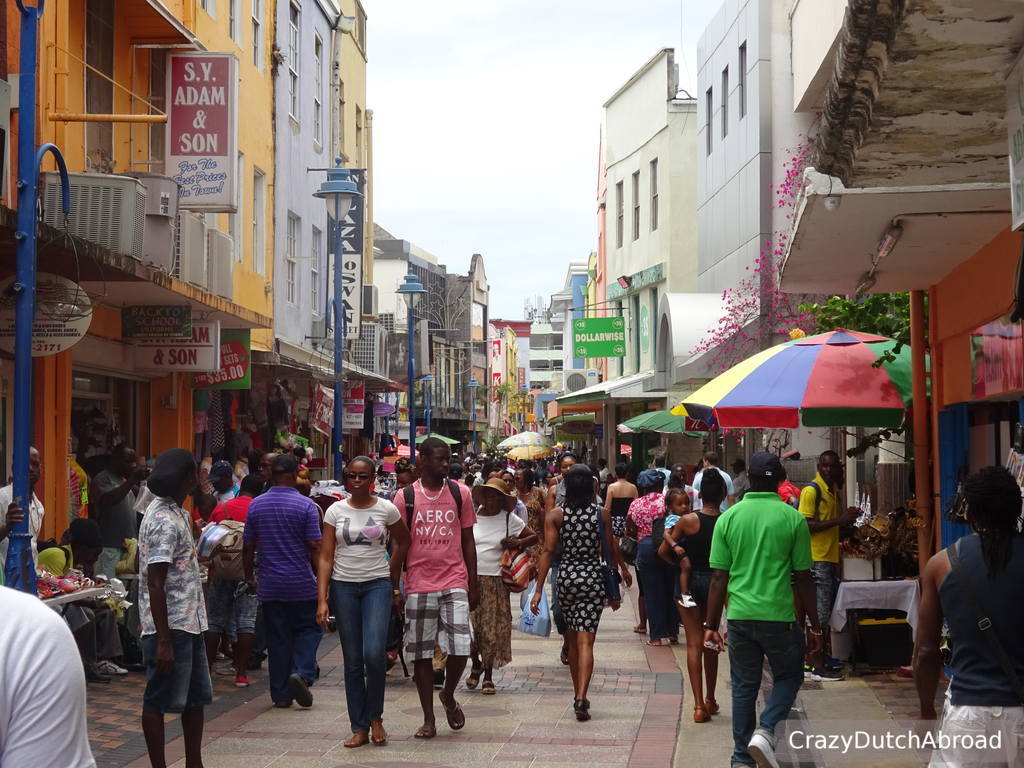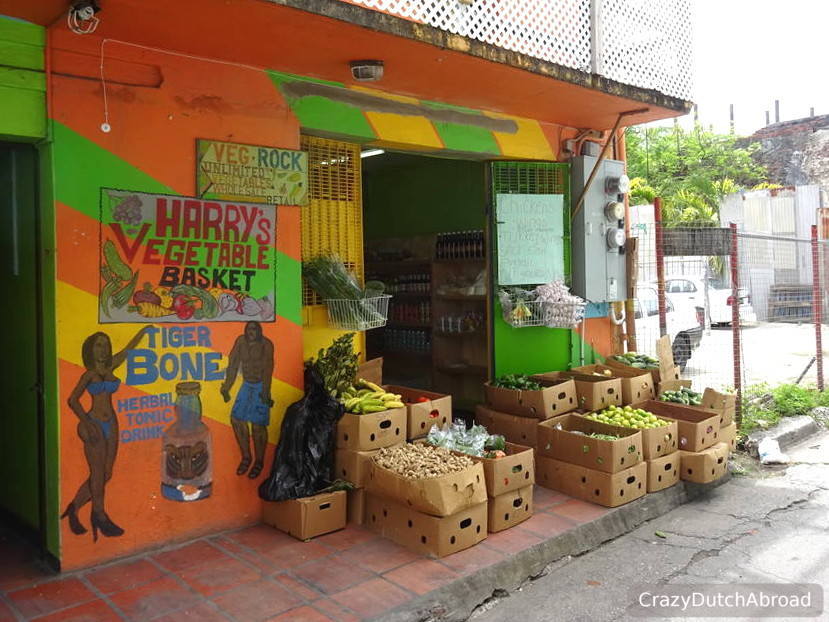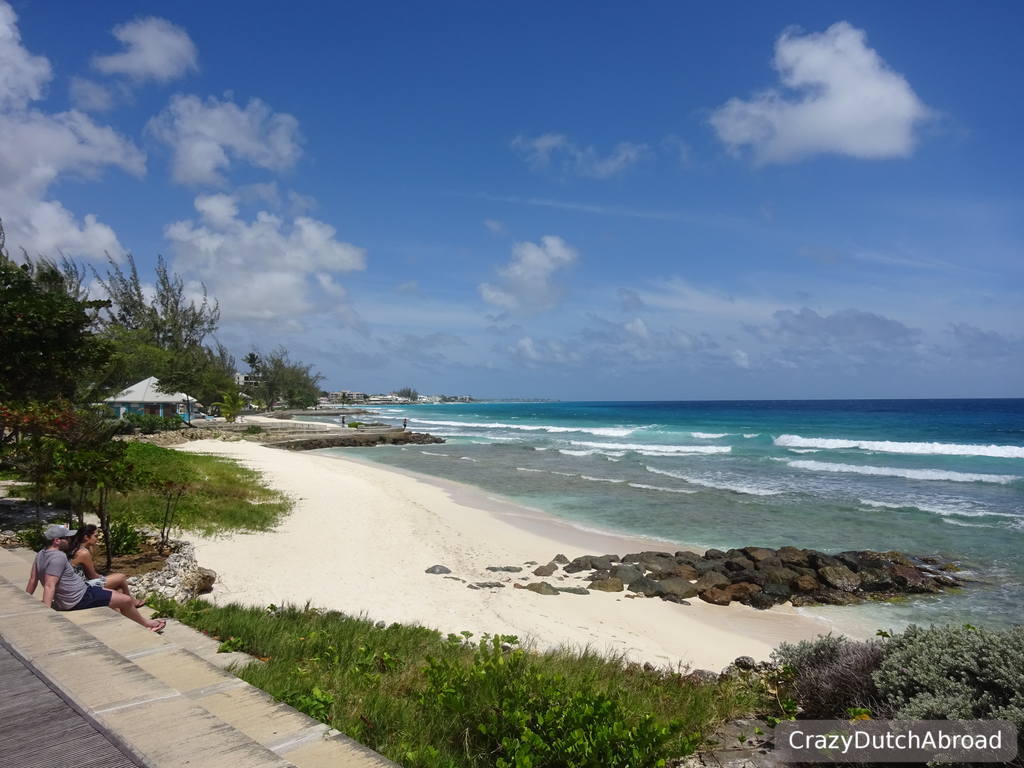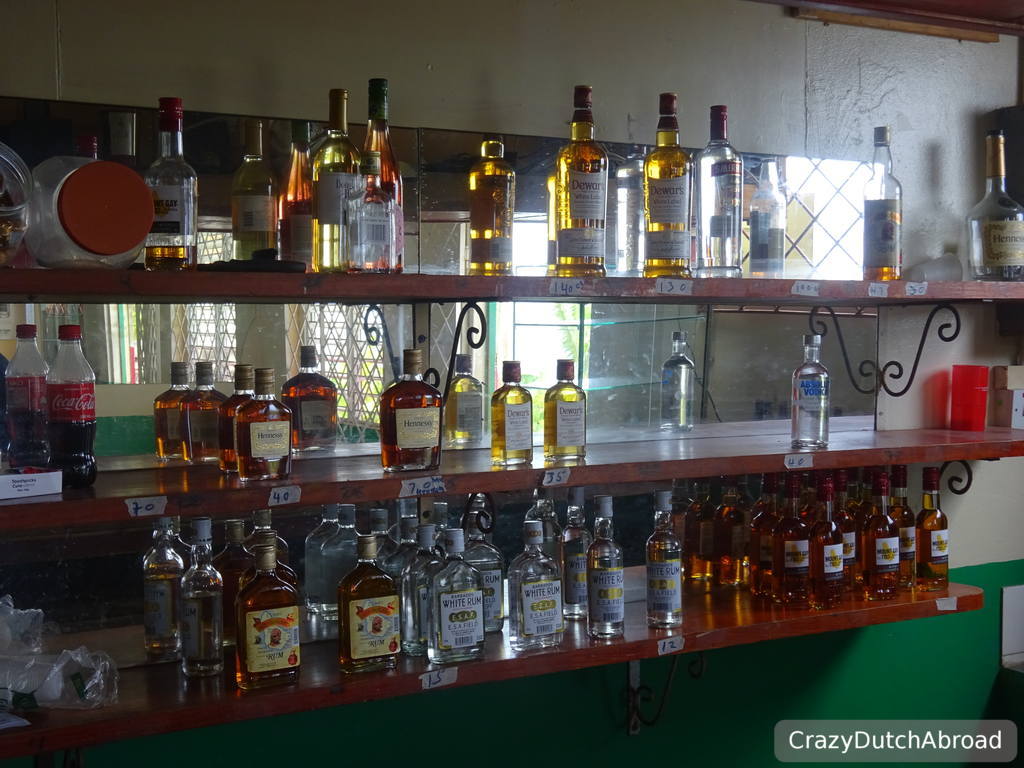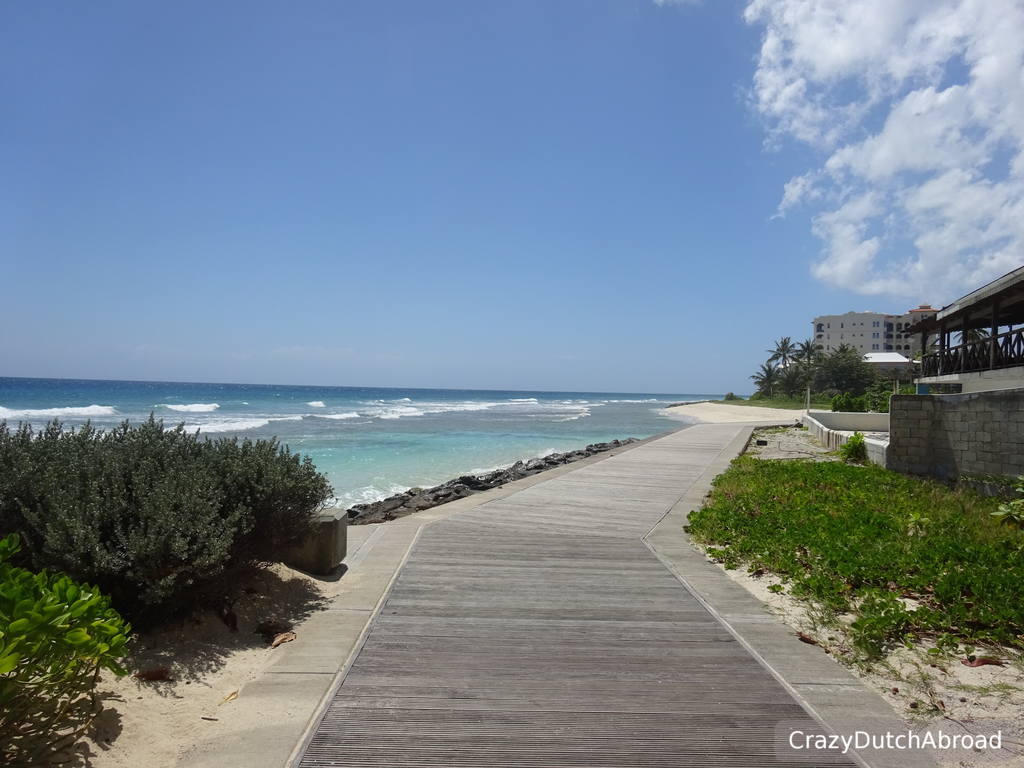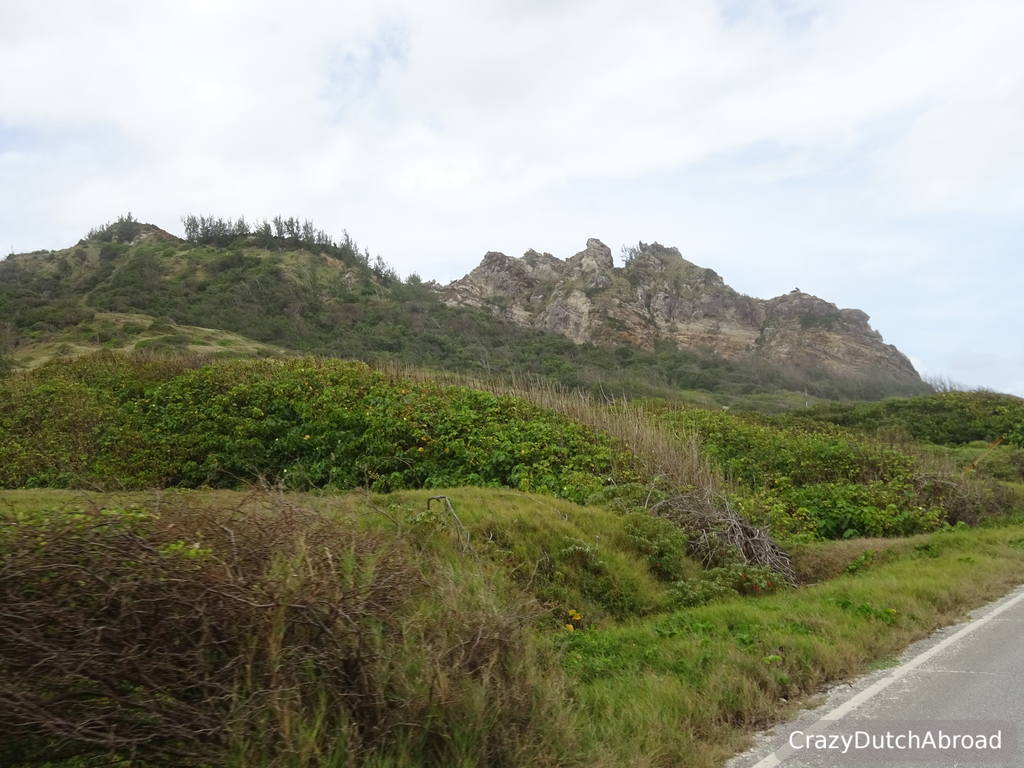 Impressions of Barbados 2017!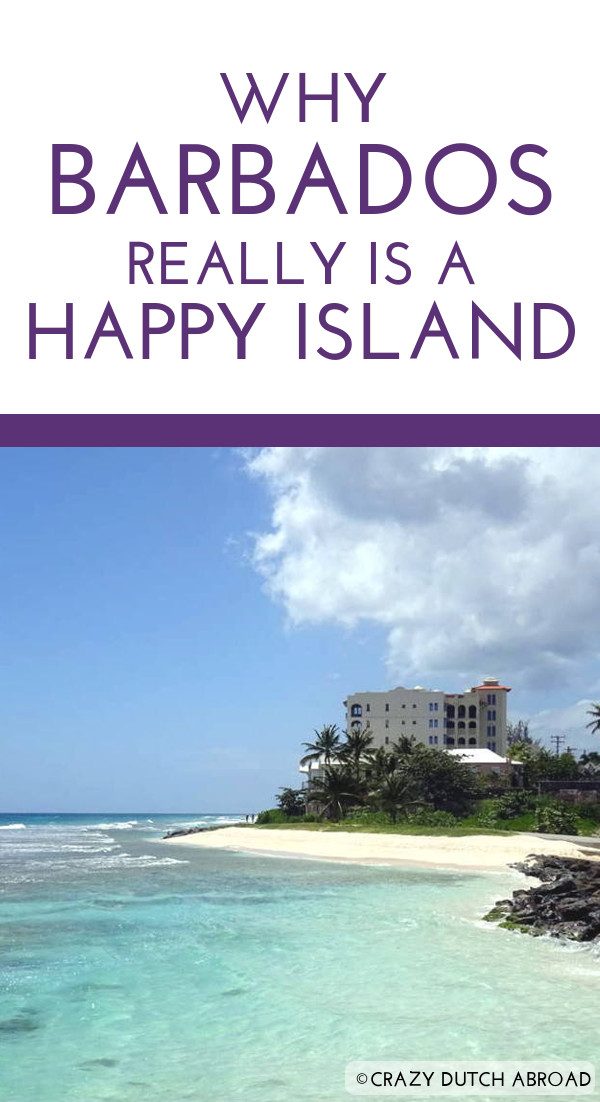 Pin it!
Like a local!
Fresh young coconut water and jelly in the morning. Perfect after a night of liming and Bajan rum. :)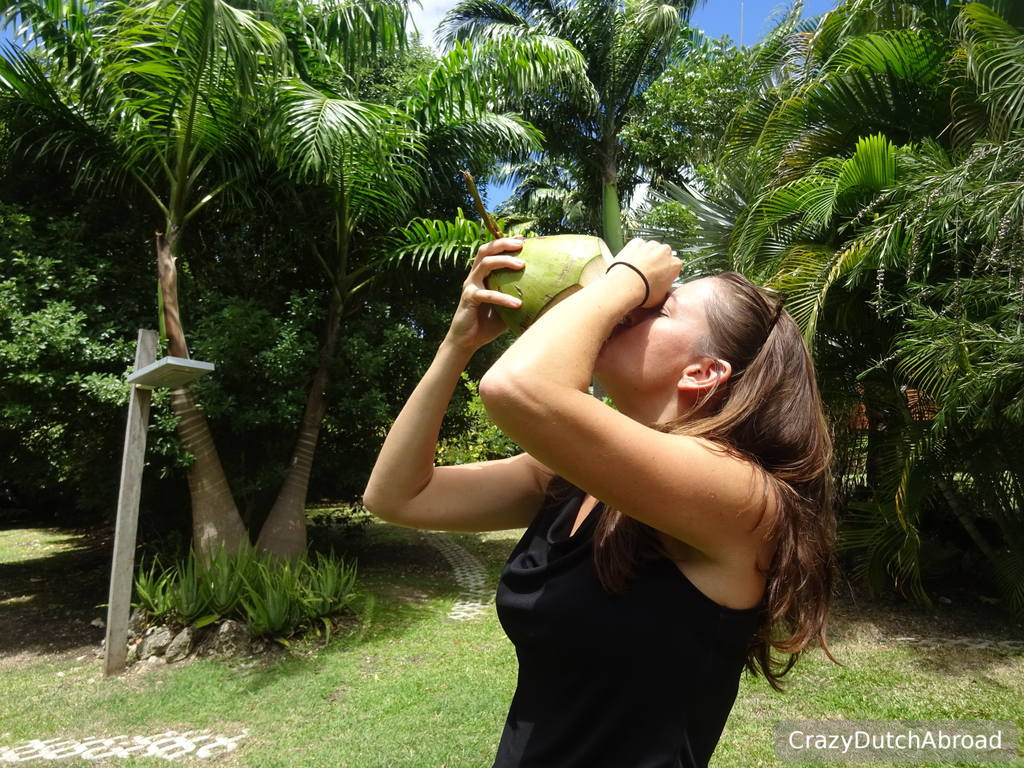 Other islands in the Caribbean to explore:
Trinidad
: Carnival, Leatherback turtles and bird watching!
Tobago
: Tropical beaches and mountain views over secluded bays!
Bonaire
: The Dutch Caribbean: Bonaire, Divers Paradise!
Curaçao
: Colonial influences, colorful markets and the turquoise water!
If you enjoyed this post, please share it with your friends!
Marlies
Crazy Dutch Abroad
Share this page: