Indulge yourself in Guadeloupe, the French Caribbean!
In the shape of a butterfly Guadeloupe has several sides to explore. With Basse-Terre and Grande-Terre being the 'butterfly wings' and lots of nearby islands to visit there is something for everybody. The landscape changes as well as the cultural experiences. Explore this Caribbean island with all the benefits of being a French overseas territory, stunning beaches and picturesque Caribbean villages!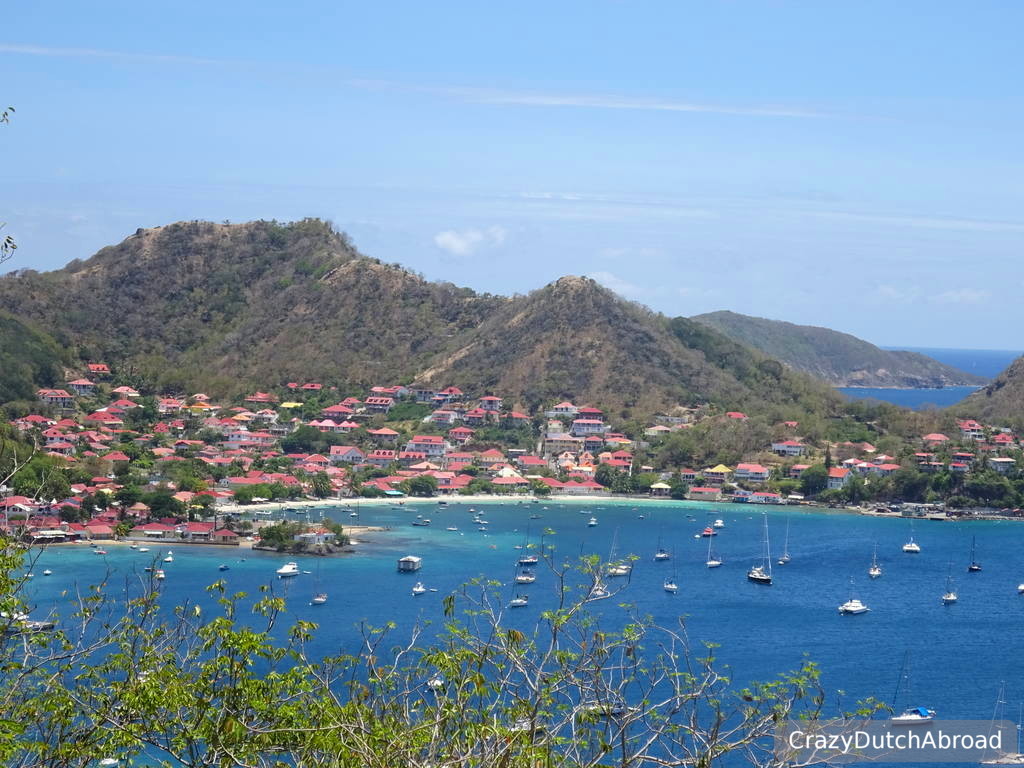 Les Saintes (Terre-de-Haut)
After seeing quite a few islands in the Eastern Caribbean Guadeloupe felt like a relief. Communication is easy, especially if you speak a little French, you can book or arrange what you want or need and it will actually happen. From our international arrival to the post office (yeah shipping another package home!), there might be a waiting line but you can get things done!
The island is well-developed, with big hotels around the Le Gosier area, golf courts and a highway around the whole island. The infrastructure is good and the economy seems to be thriving, especially compared to the other islands around.
Because this is actually part of France it is no surprise many French people come here for a holiday. We really loved it although the Creole/Caribbean influences have almost disappeared from the streets (except for the souvenir shops) and if you come from Europe do not expect a culture shock here.
Guadeloupe is actually more French than Bonaire or Curaçao is Dutch. There are no Chinese shops but you can find some American fast food chains. Romantic harbours and beach towns full of lovely styled Caribbean and European bars and restaurants. Discover some local art and clothing at one of the artisan markets and enjoy the palm trees and flowering plants with hummingbirds around.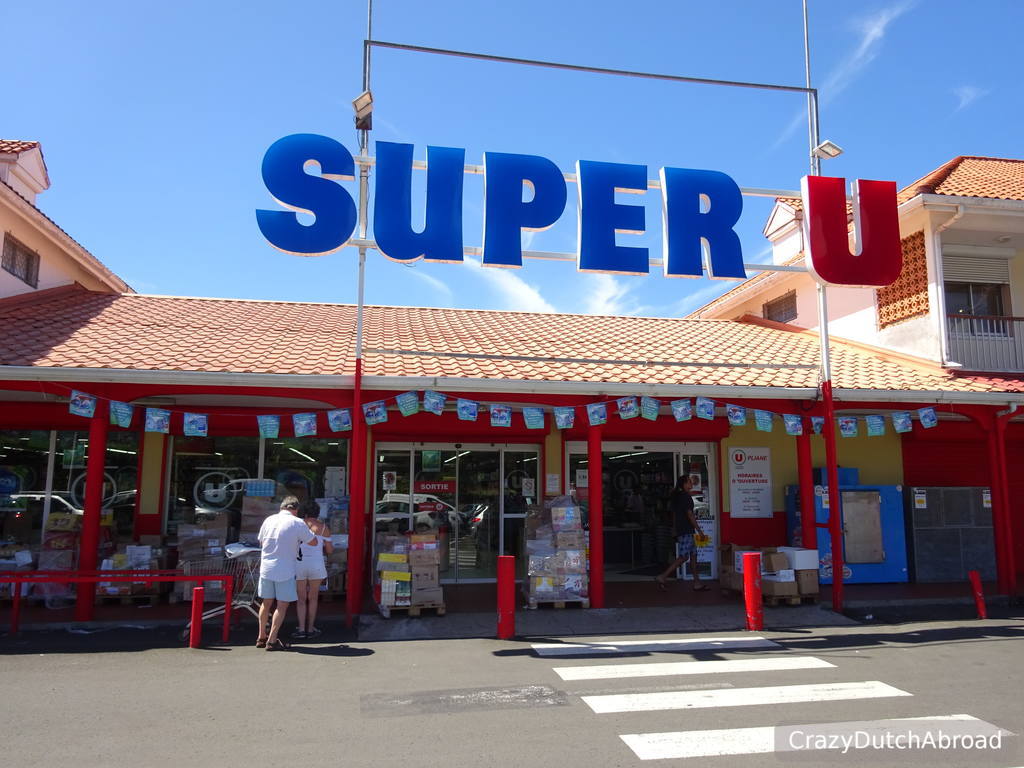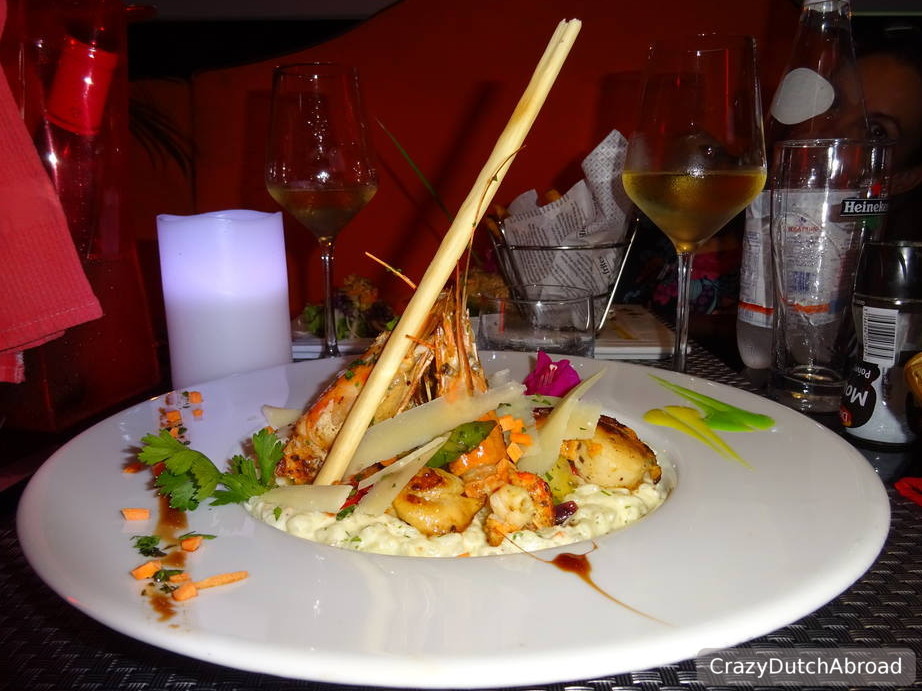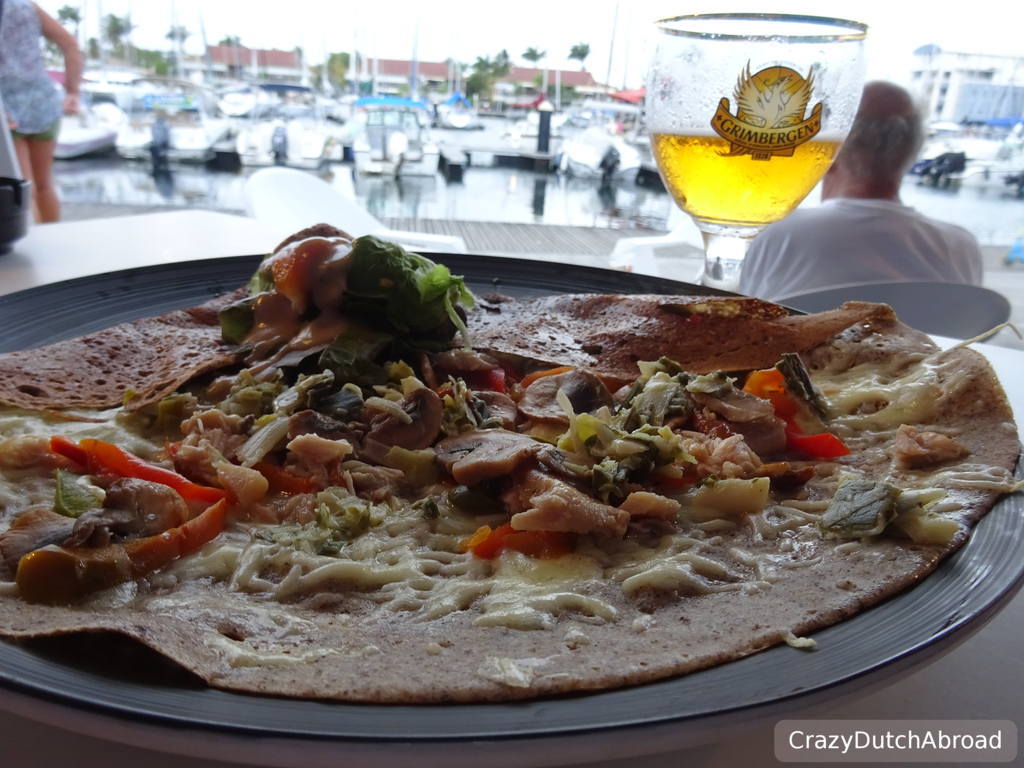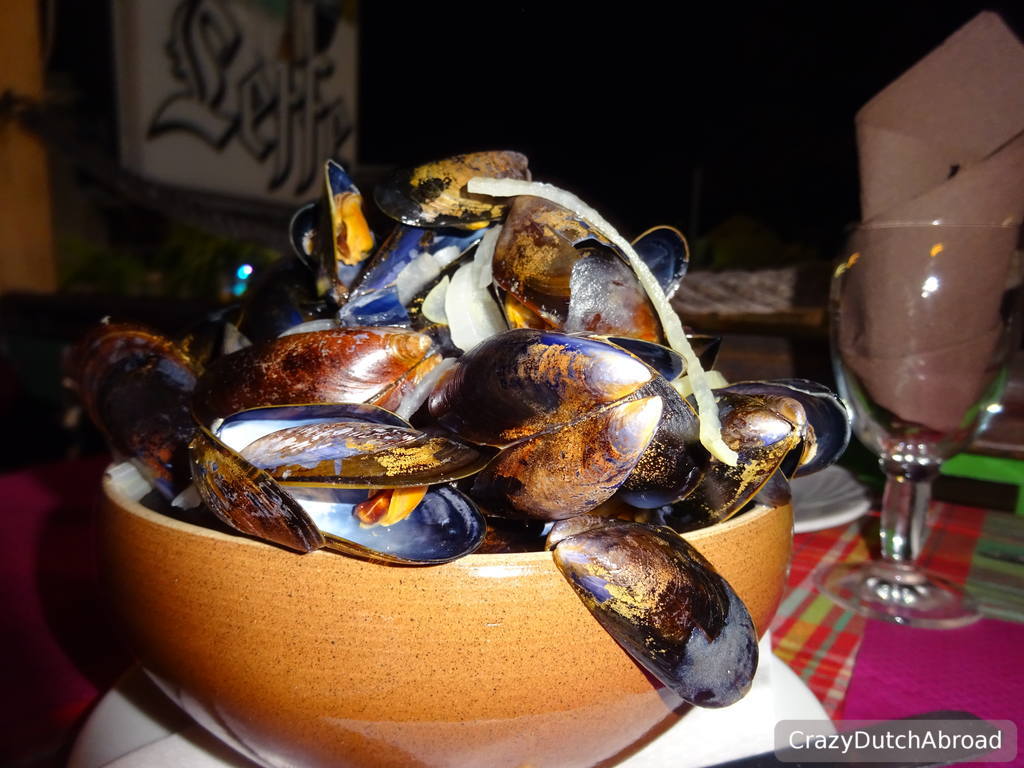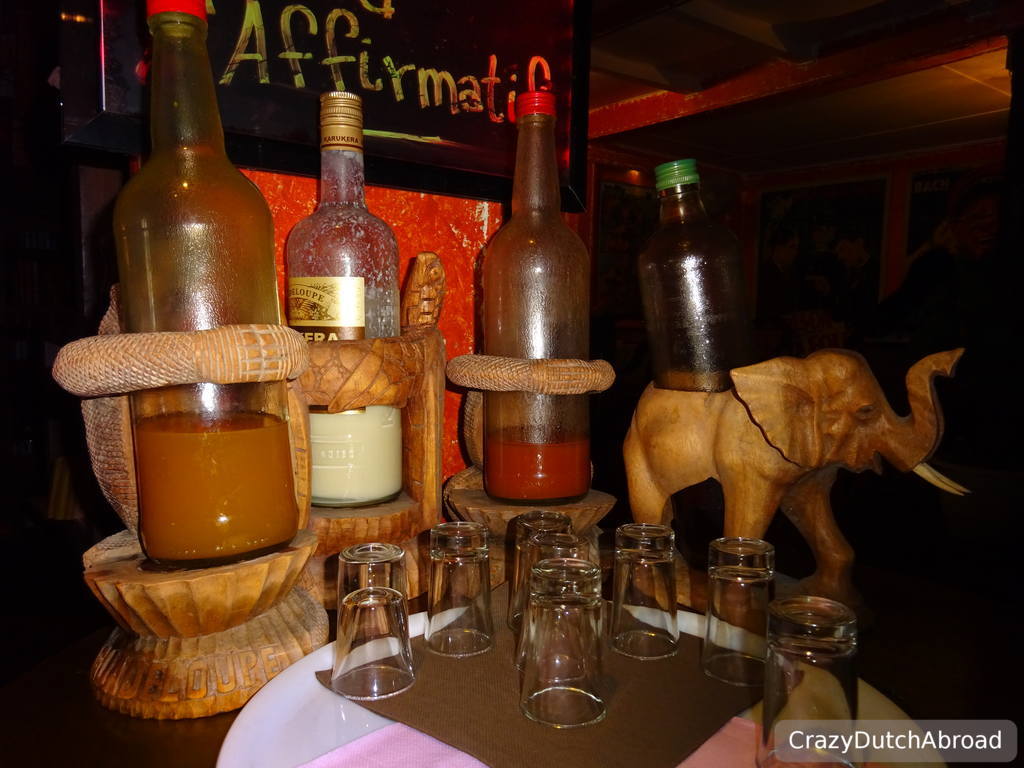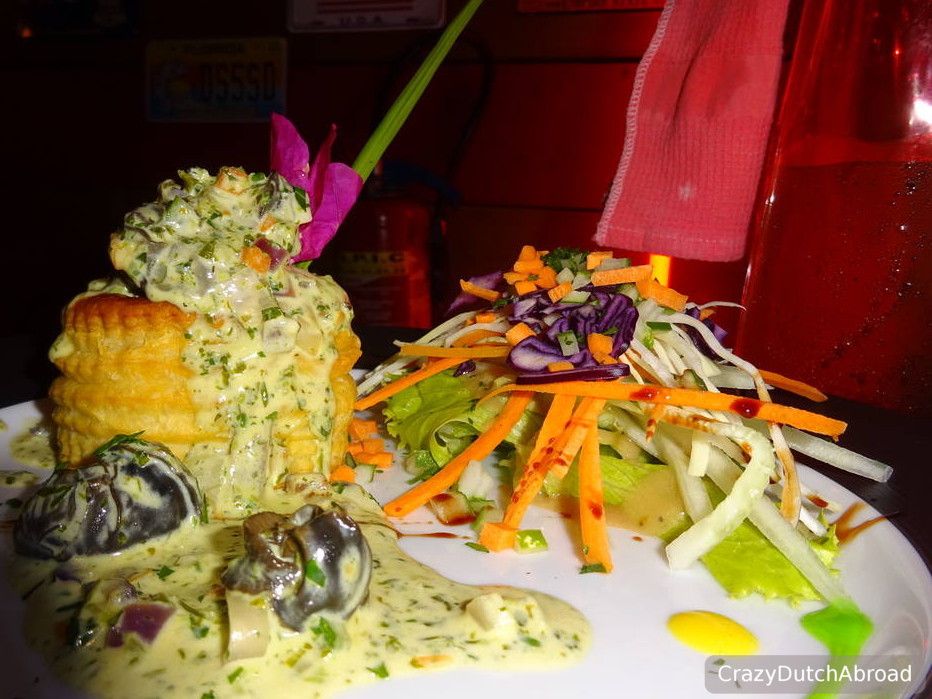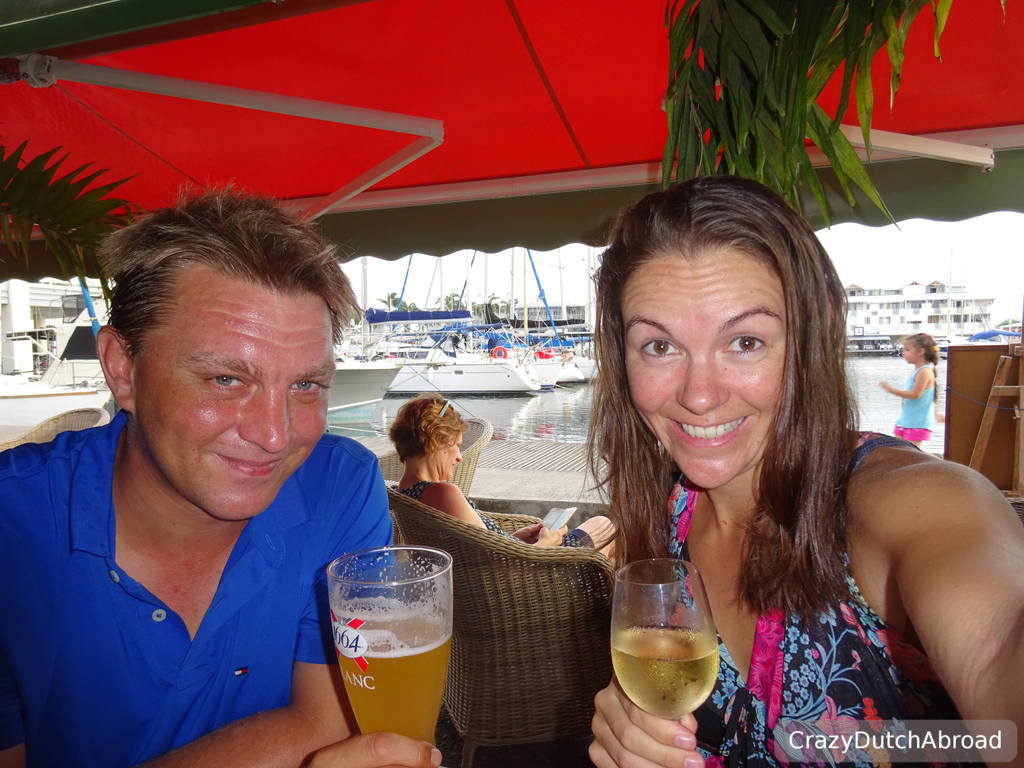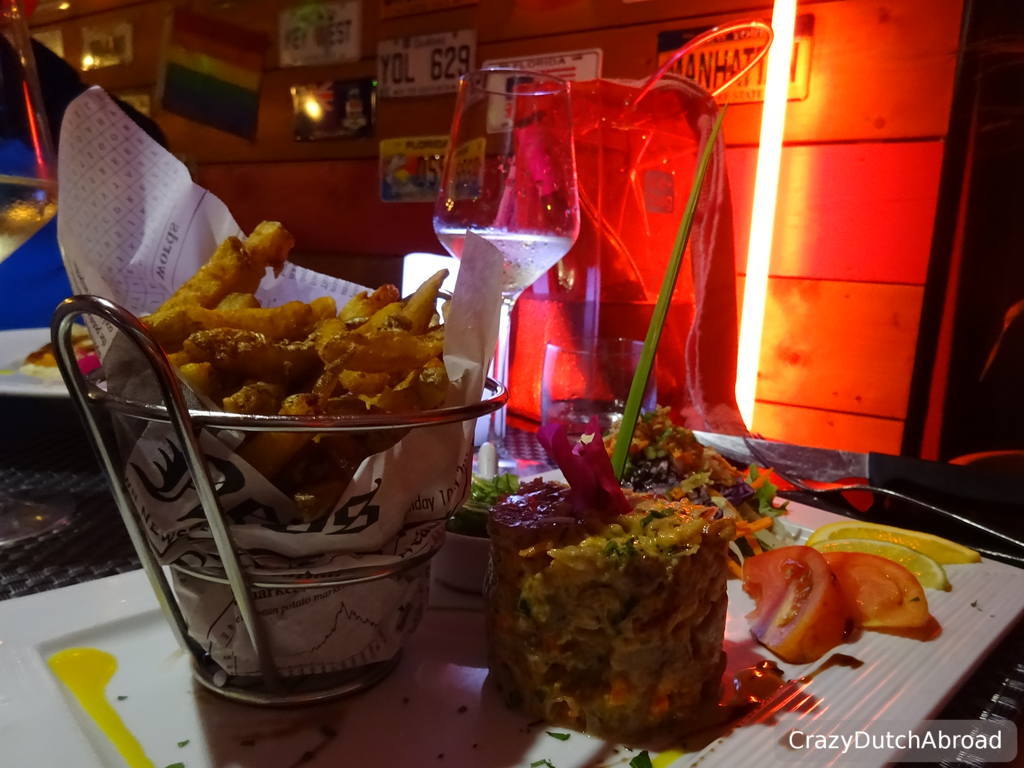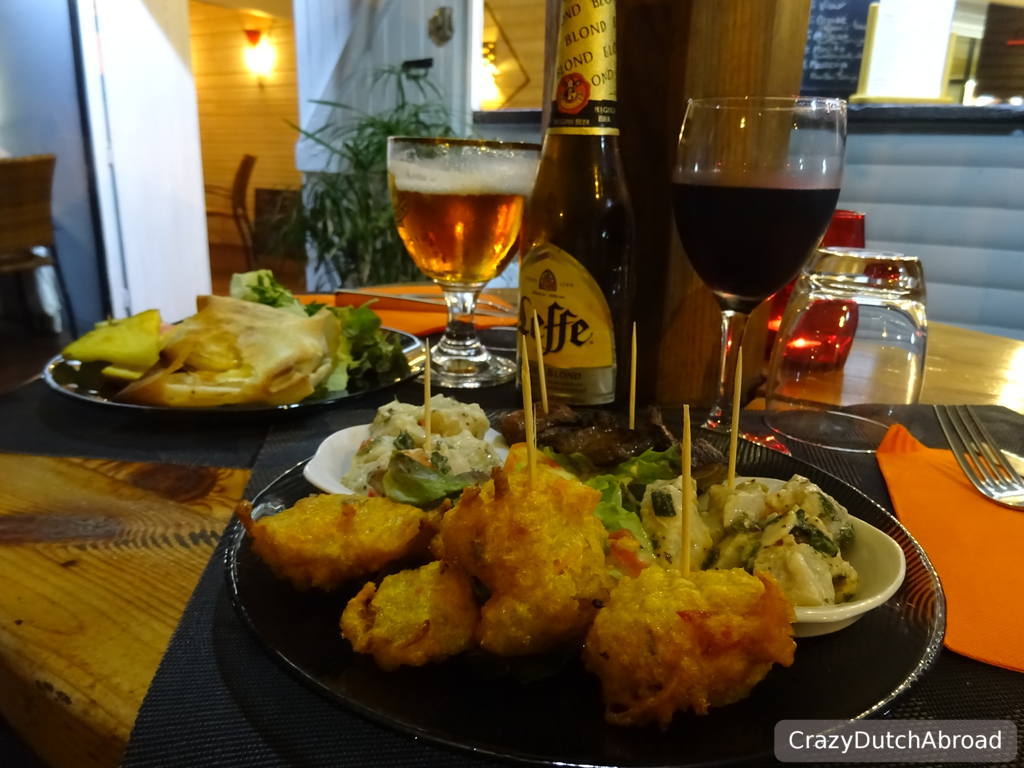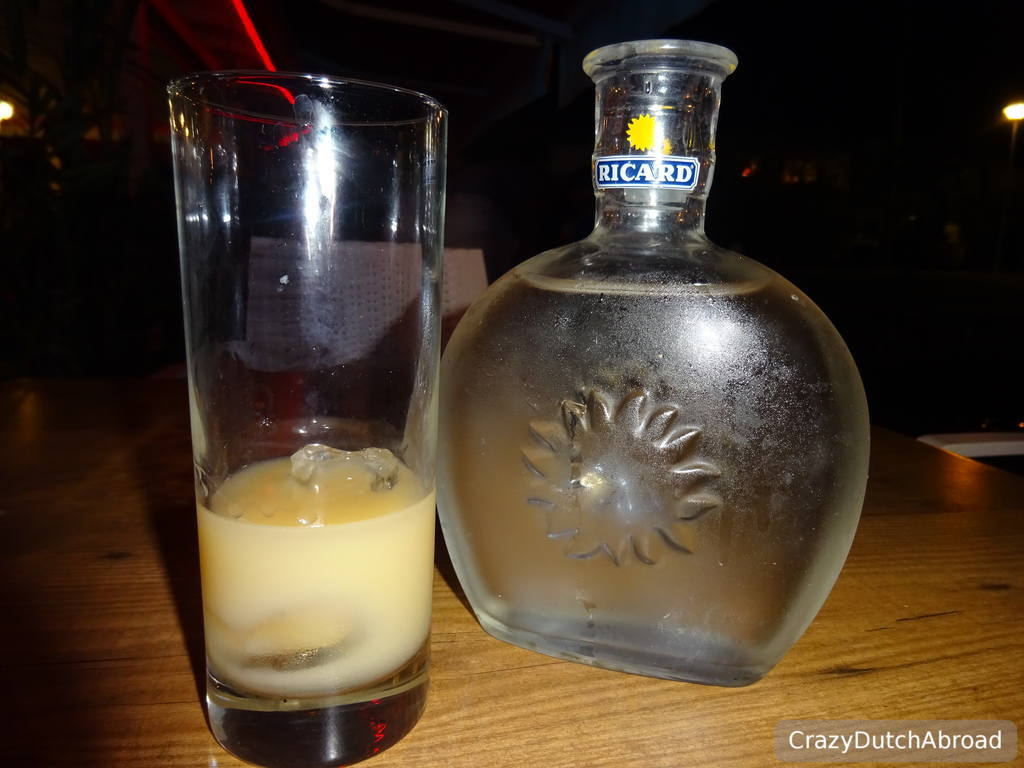 Enjoying French cuisine in Guadeloupe!
Things to love about Guadeloupe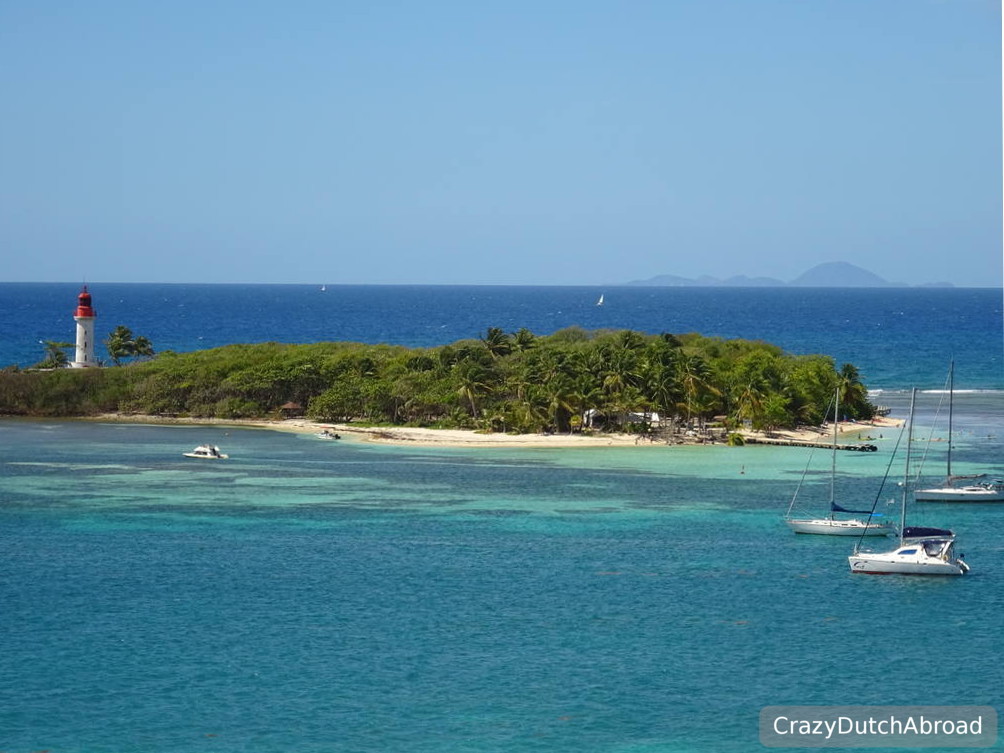 Ilet Du Gosier
French cuisine in the Caribbean!
Get a warm baguette and fresh croissants from one of the many French bakeries, large selections of cheap fruits and vegetables in the supermarket and last but not least: Draft beer and tasty wine everywhere! Combine this with the most delicious french dishes made with fresh ingredients giving many different tastes right at the waterfront. There is great, accurate and fast service around, your glass is never empty - a blessing in the Caribbean!
The supermarkets are full of fresh products for normal prices, especially compared to Dominica, Trinidad & Tobago and even Curaçao and Bonaire! This is not a food blog, but I just need to put up some photos of great dishes to give you an idea, especially if you are not French or have not been in France... It took me a tight schedule of running every day just to spoil myself in the evenings. ;)
Saint-François
After driving around the whole island 'selecting' where to stay we ended up in Saint-François. Saint-François is a beautiful mid-size village in the South of Grande-Terre (North-East) with a local feeling. While the towns in Basse-Terre are smaller and with black lava beaches, Saint-François (and Sainte-Anne) are more developed with commercial areas and with sandy beaches.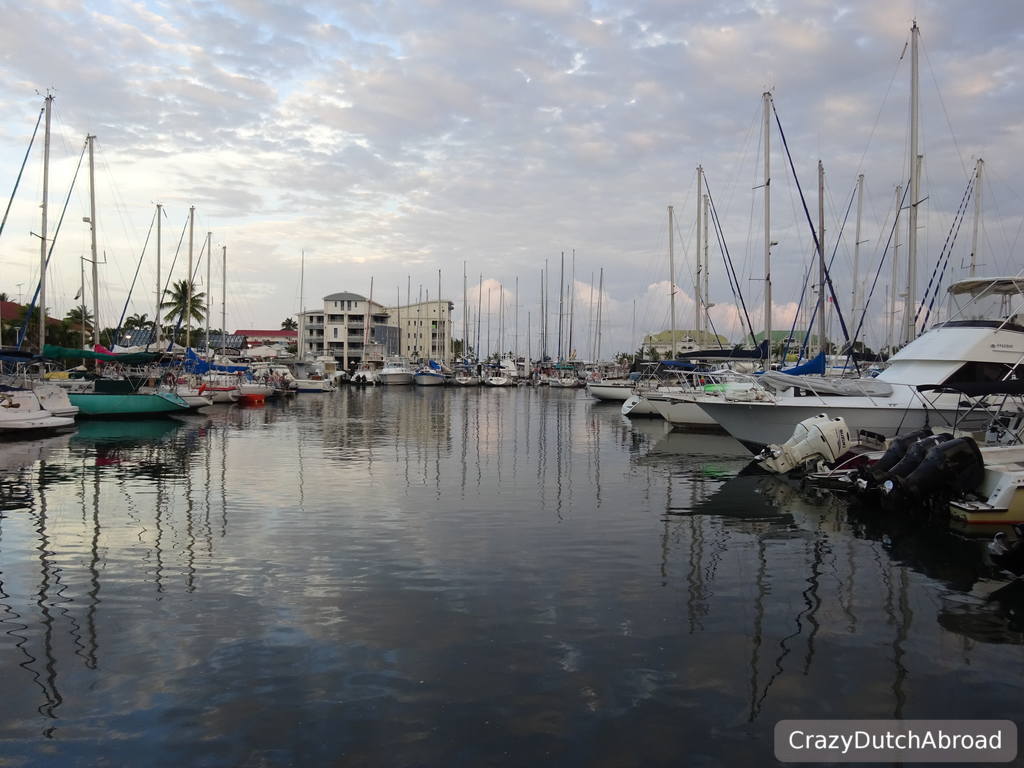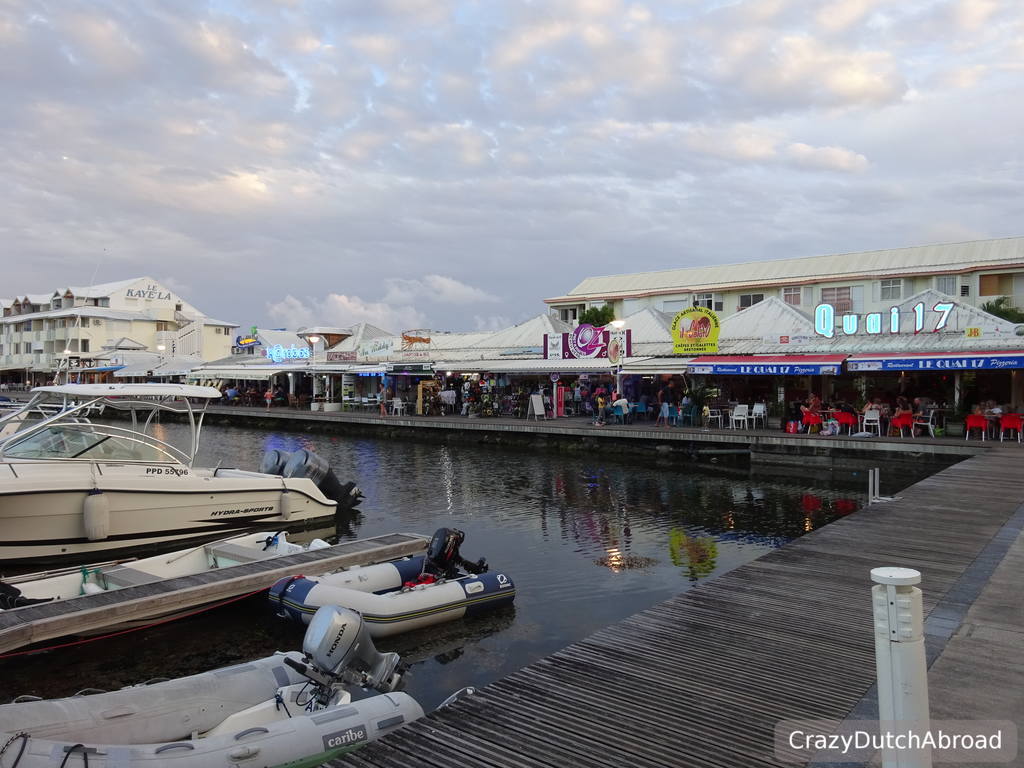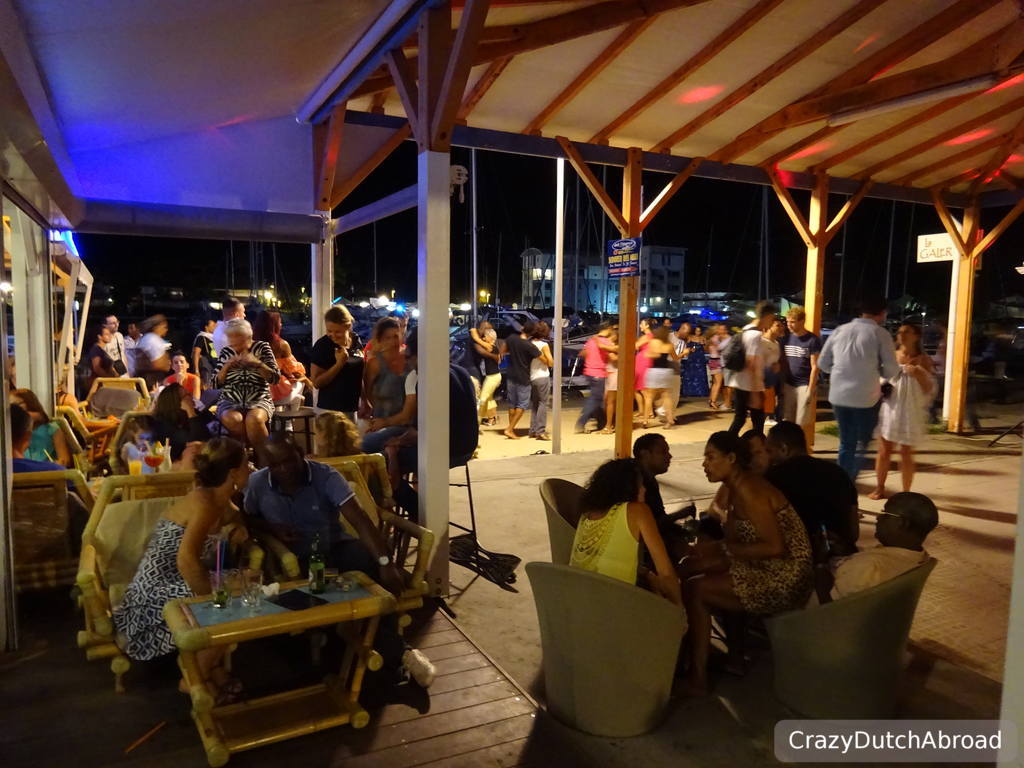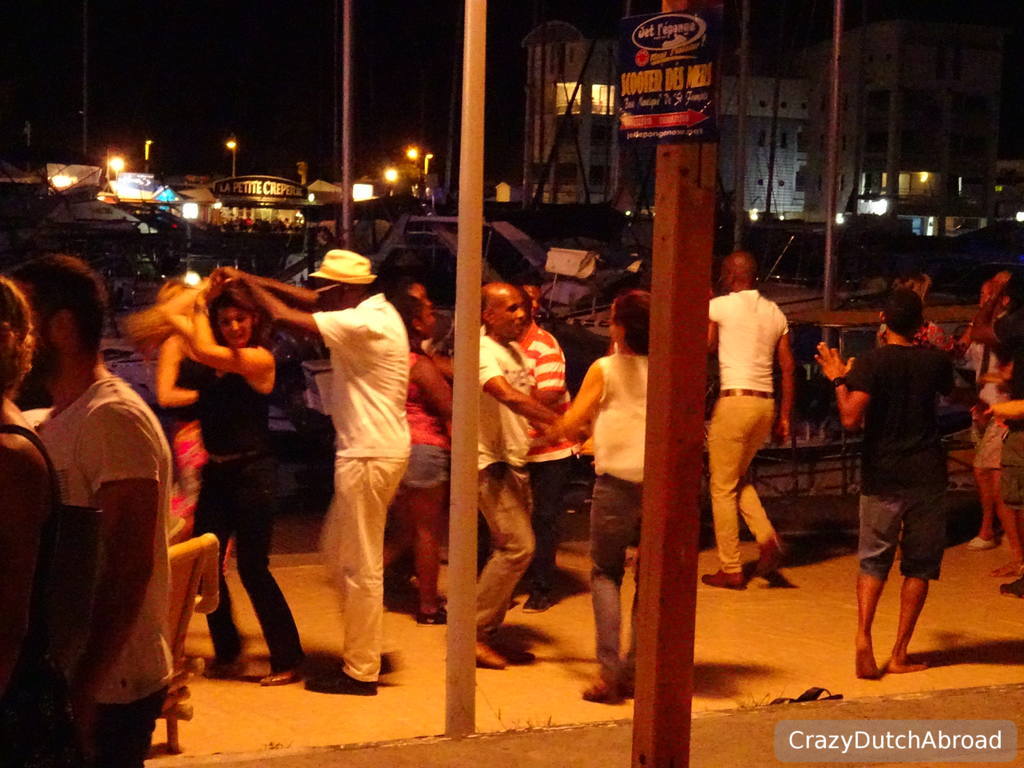 The marina/harbour of Saint-François, Guadeloupe.
There are local markets, big French supermarkets, all kinds of water sports and live music and dance events during the week. It feels like a beach town in France, along the Mediterranean Sea with Caribbean influences. The 'Afro-Caribbeans' play domino while the 'French' love to play Pétanque / jeu de boules.
On Tuesday make sure to visit the evening market at Marché La Rotonde. On Sundays there is salsa night at Le Robinson Bar in the marina.
Driving around Basse-Terre and Grande-Terre
Everything is spread-out around the island, renting a car is mandatory if you want to see something. The road conditions are great but the roads are often a bit off the coastline and driving around is less scenic than on other islands. Although there are some very nice parts, most of the roads lay more inland without ocean view or interesting buildings - just agriculture and some vegetation.
There are many beaches and villages on both parts of the island. Take two days for a proper drive around Basse-Terre, one is enough for Grande-Terre.
Two spots you should not miss are
Fort Delgrès
and
Pointe de la Grande Vigie
.
Fort Delgrès is on Basse-Terre. It is a cultural sight to walk around and learn something about the history of Guadeloupe. Make sure to bring a bottle of water and sunscreen because most of it is outside in the sun. The entrance is free and you get a map.
Pointe de la Grande Vigie is a scenic point at Grande-Terre, the most Northern tip of the island. It is just a short walk to the end where you can take some photos of the Atlantic ocean splashing on the impressive rocks.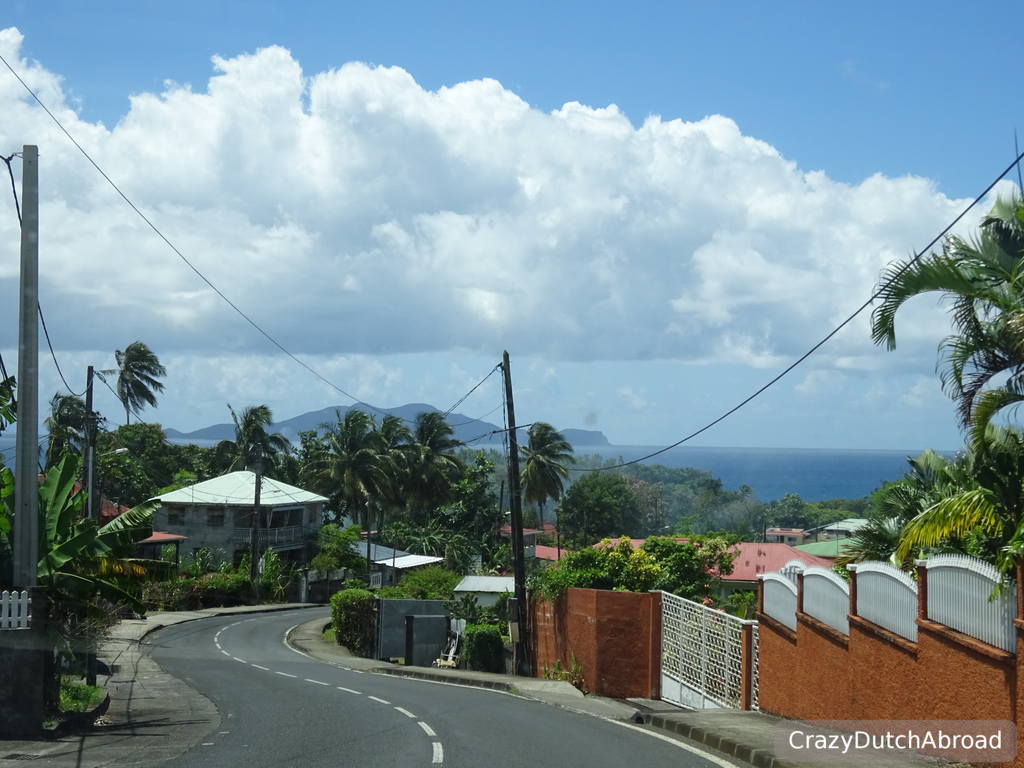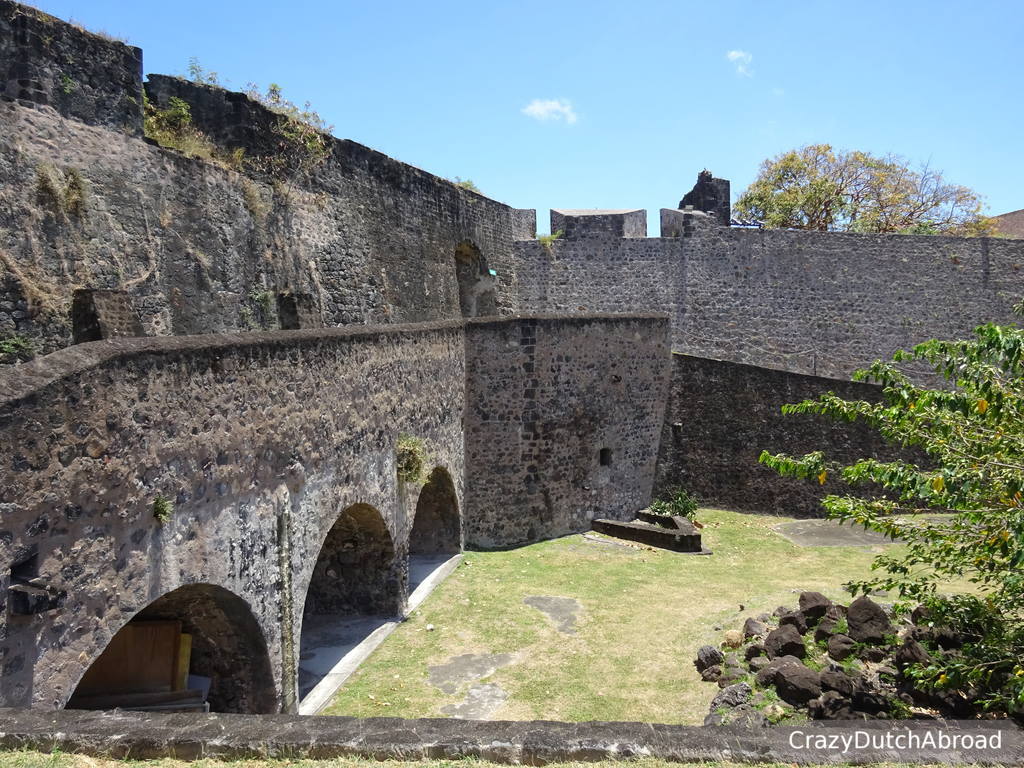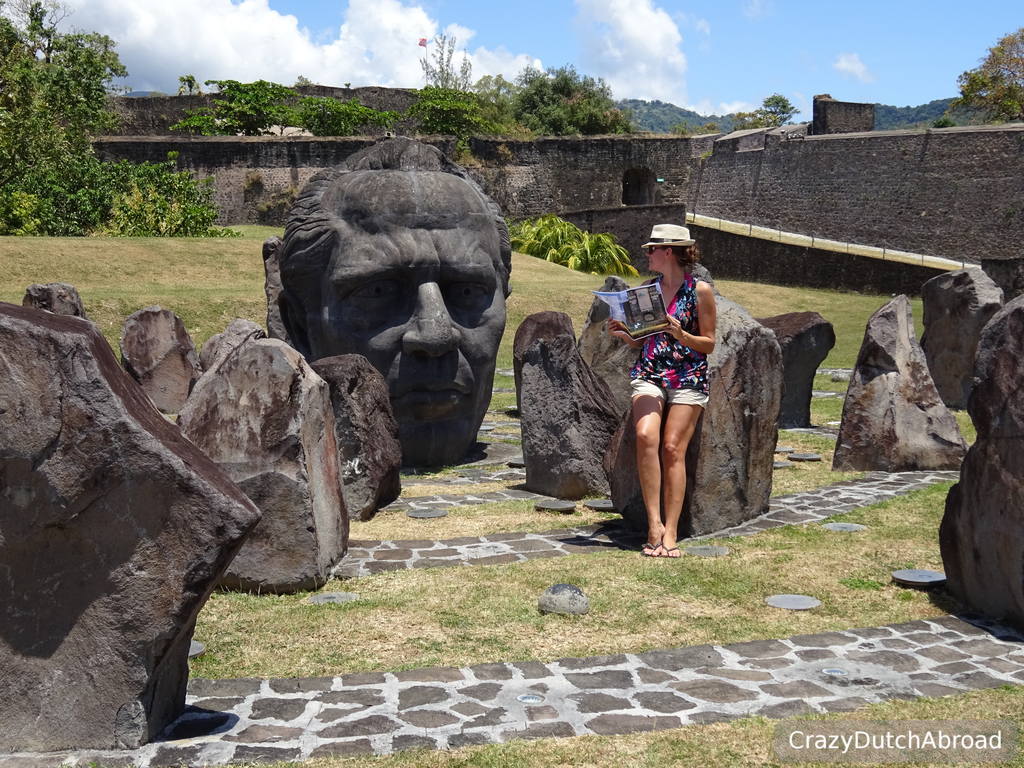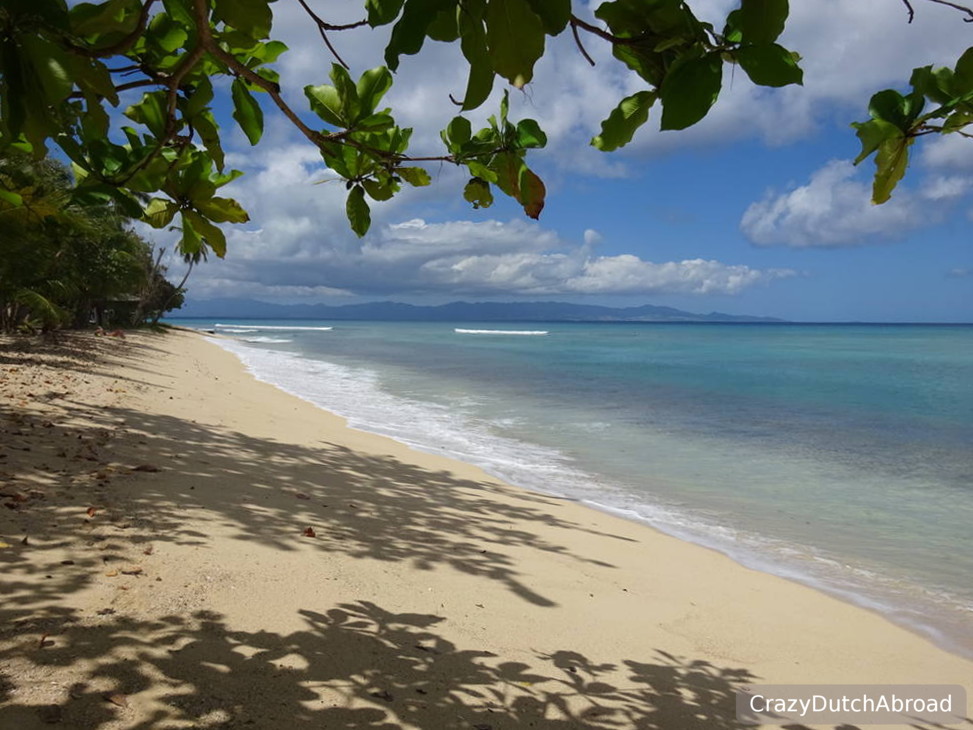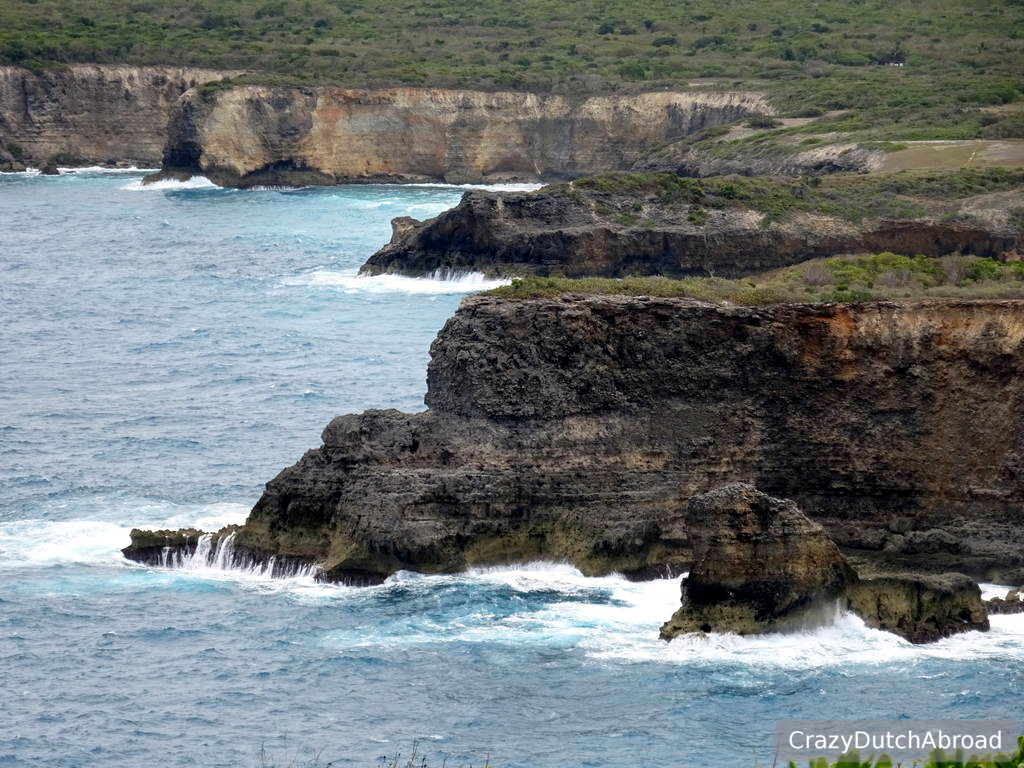 Some highlights of Basse-Terre and Grande-Terre
Les Saintes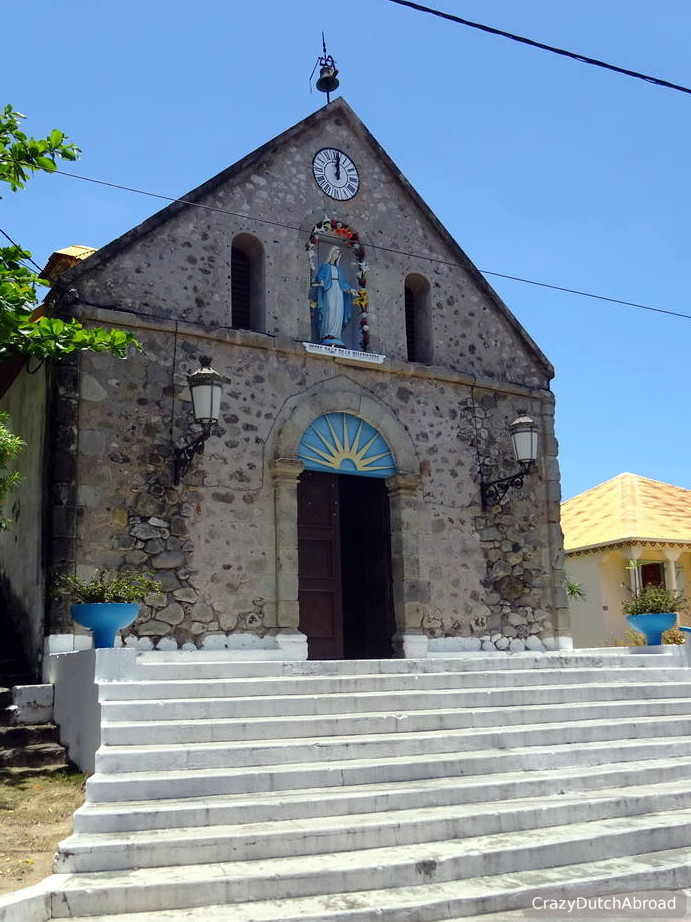 Church / Eglise de Terre-de-Haut
Les Saintes or Îles des Saintes are a few dramatically shaped islands with high hills, very scenic. If you Google Guadeloupe you are likely to see images of the bay of Terre-de-Haut as it is simply breathtaking. There are many sailing boats around and even-though the island is pretty small you can find everything you need for a few days.
It is touristy, you can even rent a golf cart to drive around the island, but the vibe is great and there are many 'private' beaches. In the evenings the day-visitors leave and you can experience the real island life. There are many bars and restaurants around, draft beer is just as easily accessible. :)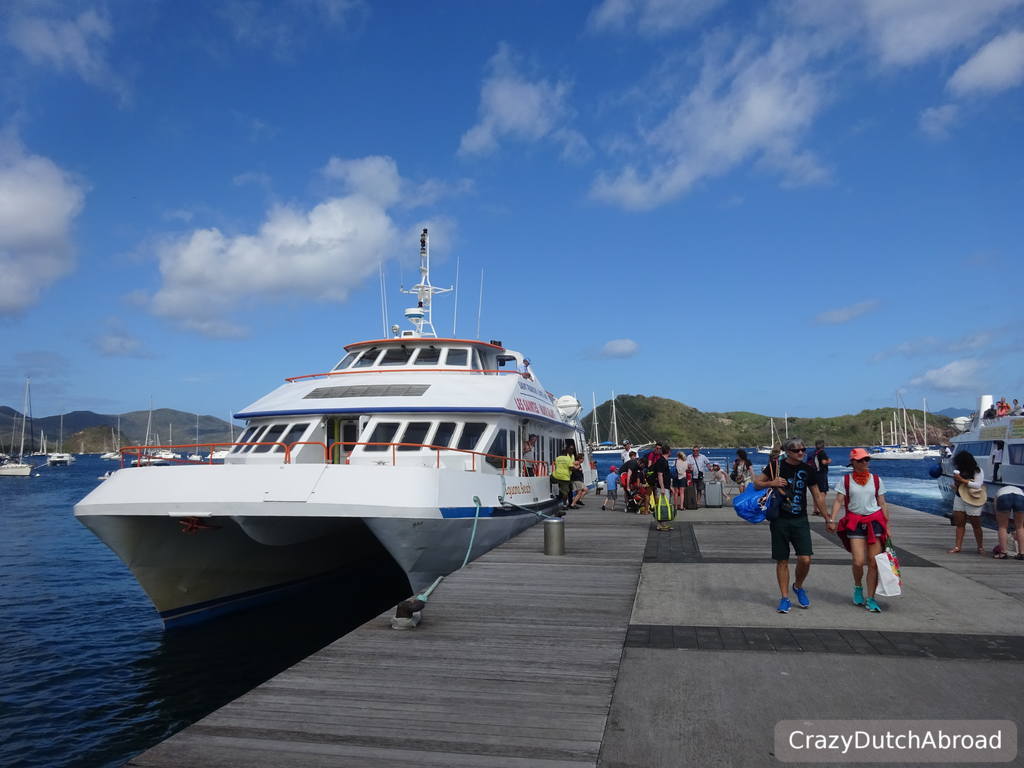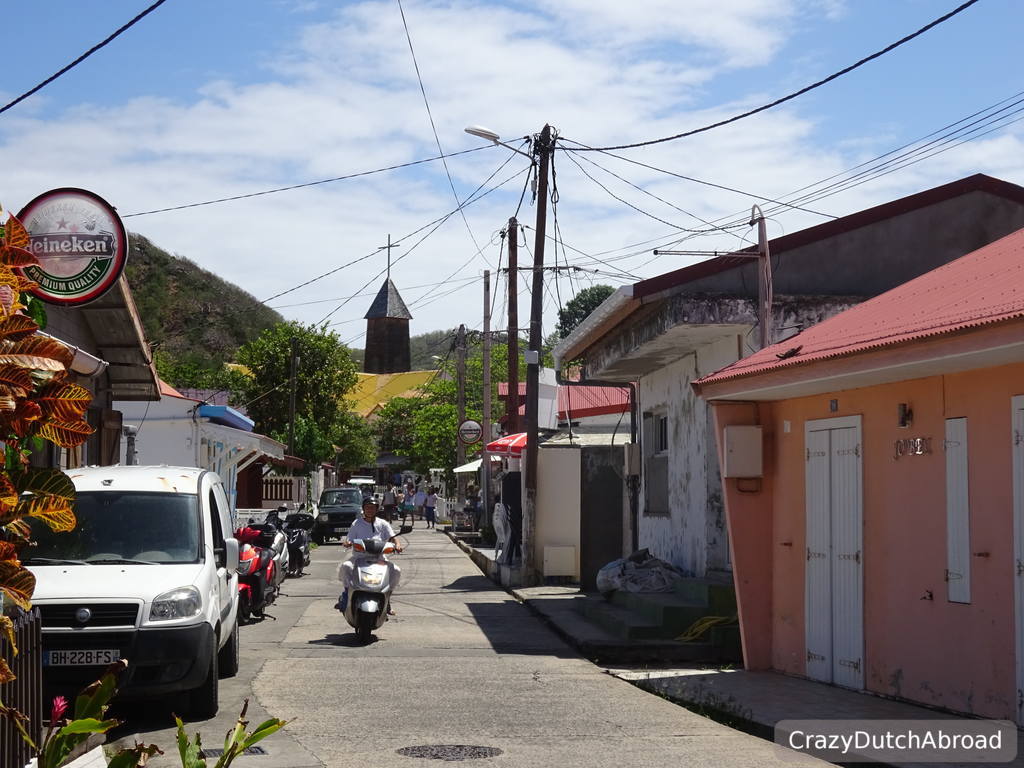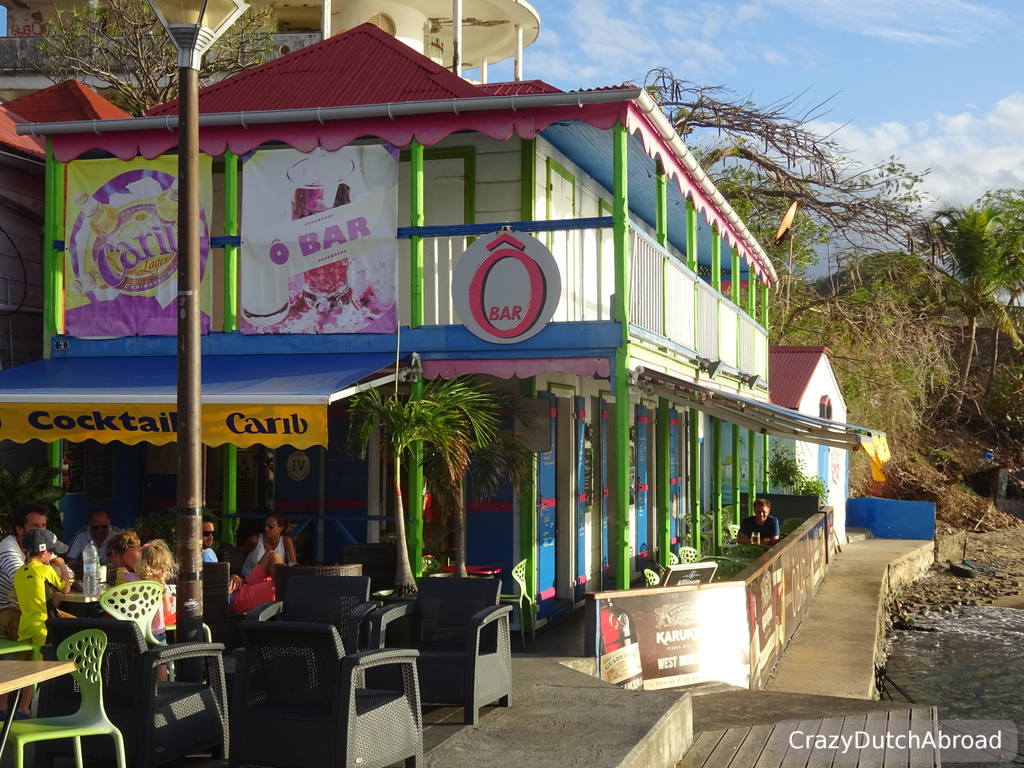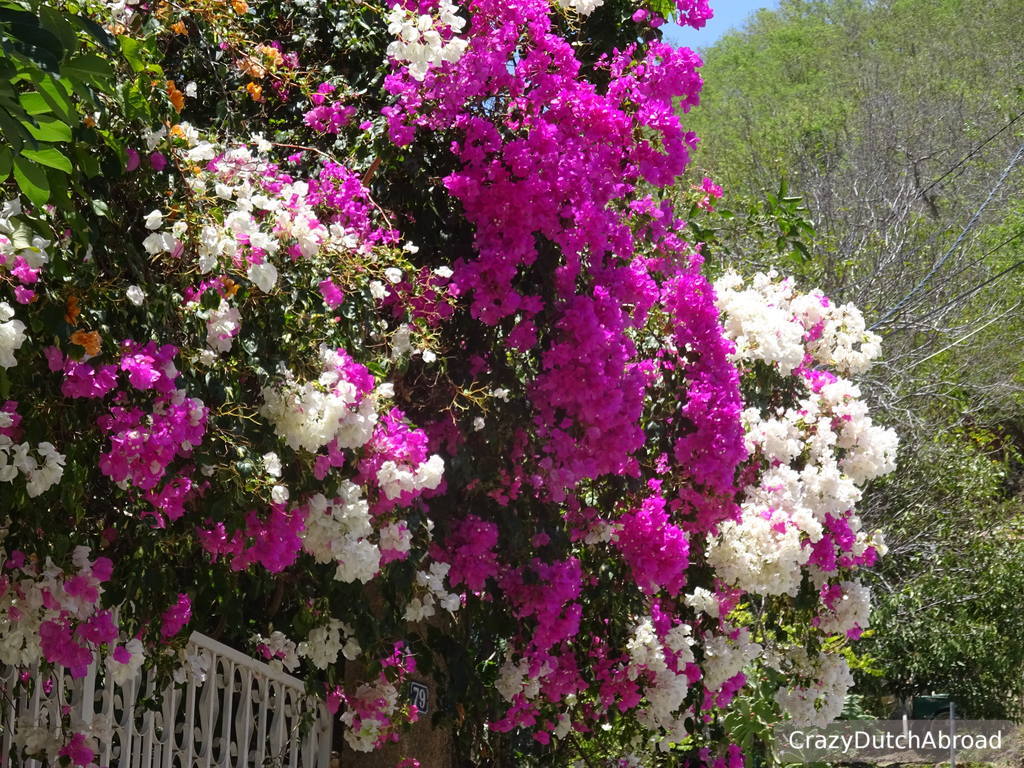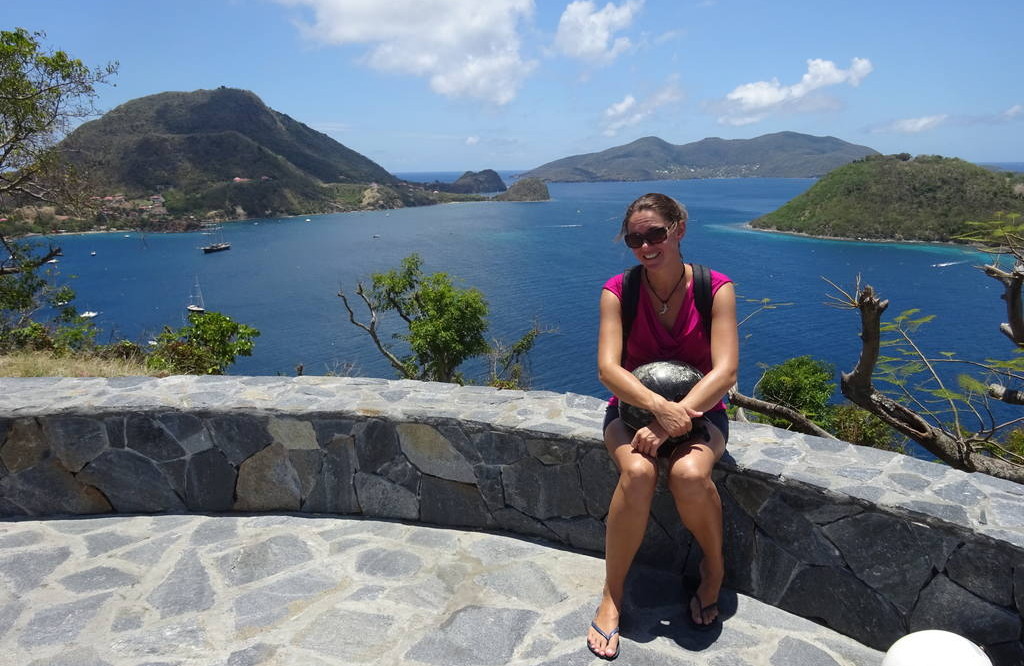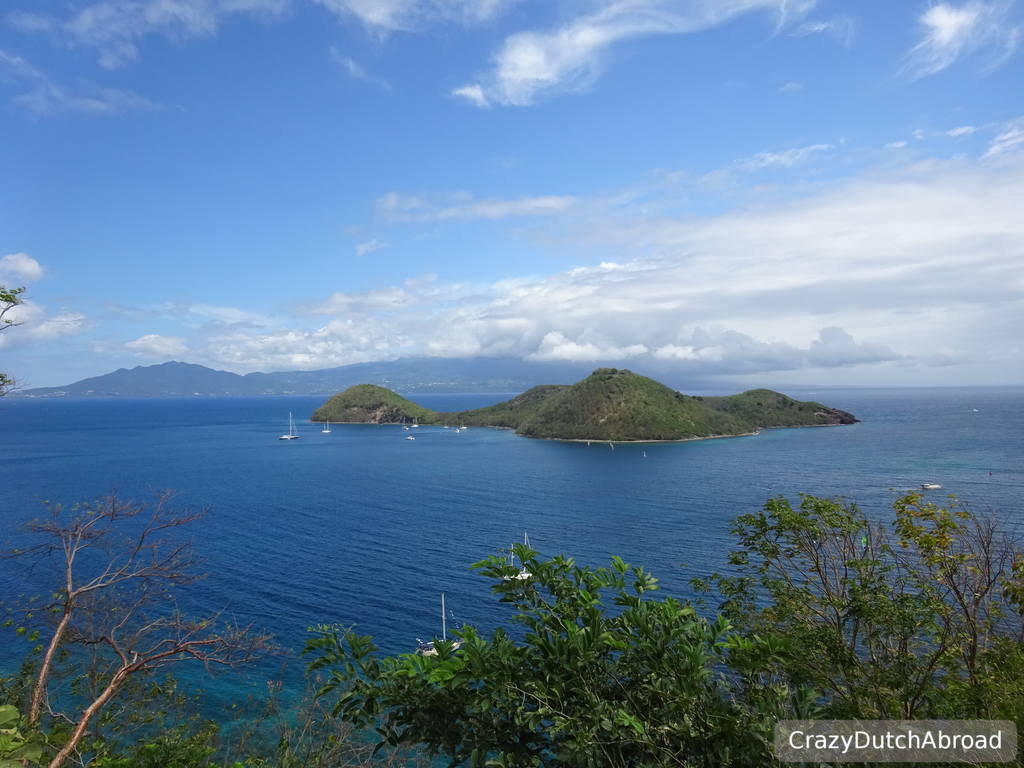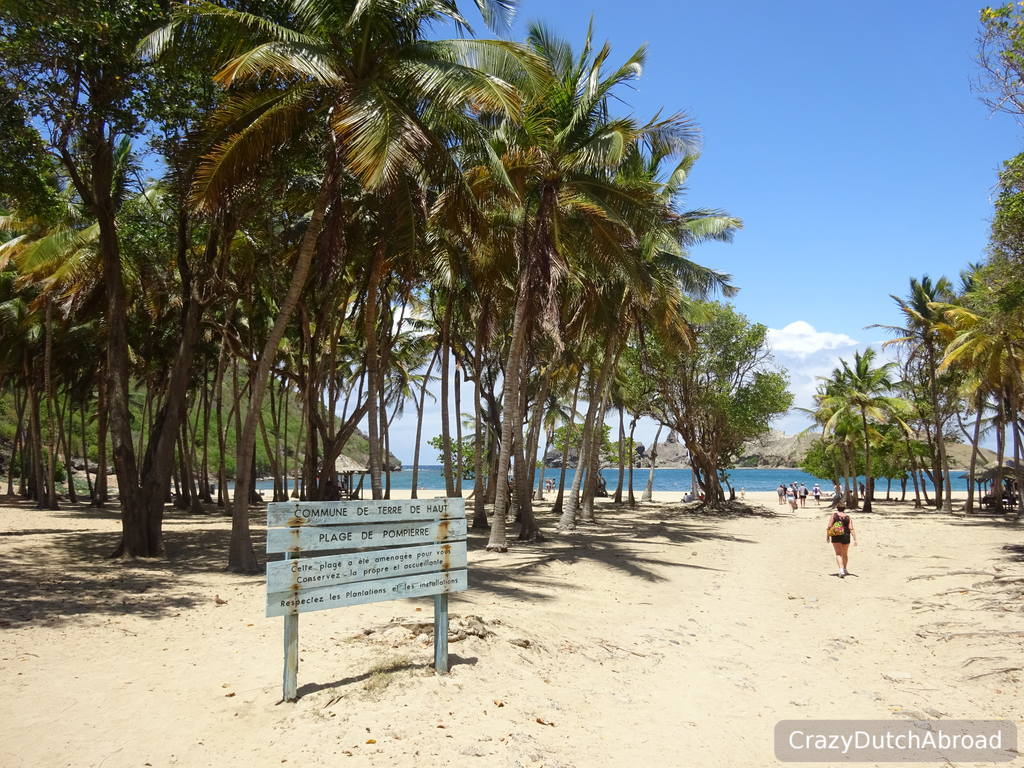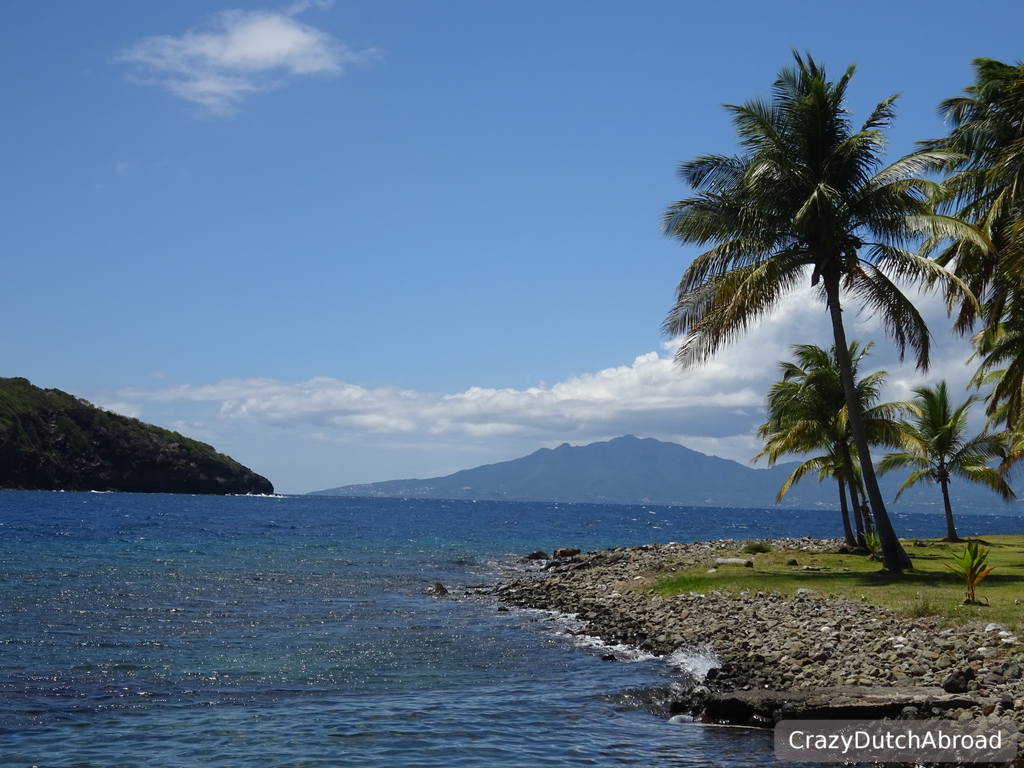 Les Saintes islands, Guadeloupe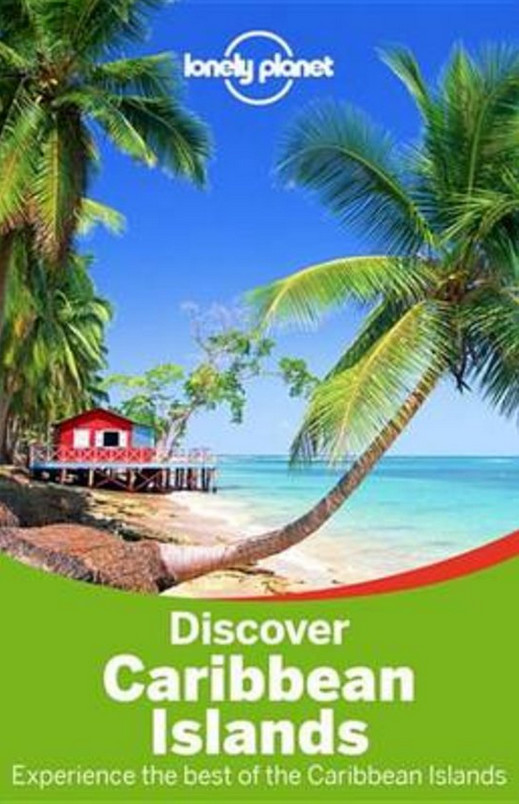 Lonely Planet Discover Caribbean Islands
(Travel Guide)

Get to the heart of the Caribbean Islands and experience the best islands!



Lessons learned in Guadeloupe
The French are punctual when it comes to opening and closing times
The French love to take a long lunch break and most businesses close accordingly. Expect shops to close between noon and 3 PM to open again until about 7 PM. Often they close a bit before closing time too if it is not busy, do not show up late!
Many restaurants in Guadeloupe are really strict about when you can order food and drinks. often they will not take any orders after 2 or 3 PM and do not even think of having an aperitif after 5 o'clock in a restaurant. Most restaurants will offer no service at all before 7 PM. As long as you are aware of this you can work your way around it. When in France, act like the French I guess! There are some bars/restaurants that use this 'time gap', they are always full - pretty smart!
There is NO CASTLE at Castle point / Pointe des Chateaux (Saint Francois)!
Pointe des Chateaux is actually a top rated attraction on Tripadvisor. It is the tip of Basse-Terre, a scenic landmark with even a castle icon on Google Maps. Without properly reading any reviews, just focusing on our nice bicycle ride, we ended up in a dead-end off-road track seeing nothing but a big Christian cross in the distance. No castle, LOL. It was nice to drive all the way there from Saint-François anyway, about 11 km / 7 miles one way with various artisan markets along the way. Not the best weather but still nice.
Castle point / Pointe des Chateaux (Saint Francois)
Car rental drop off!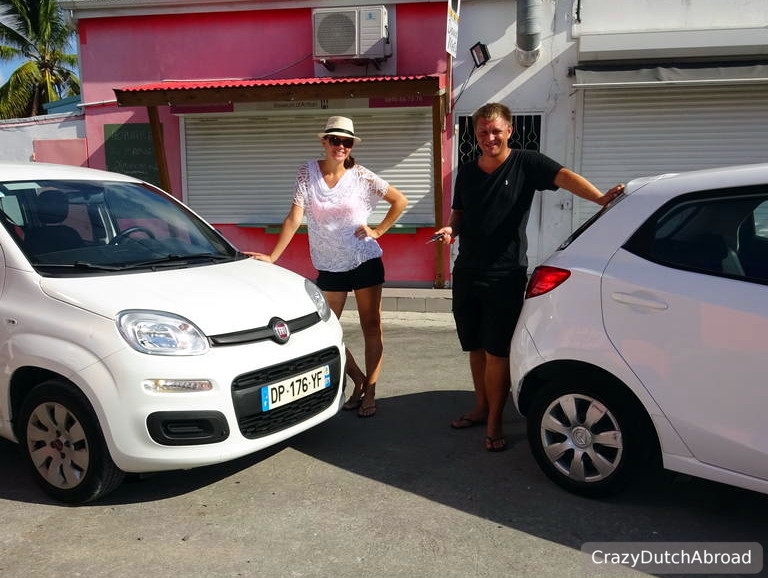 Double trouble!
As mentioned above we went driving around both islands to see where we wanted to stay for at least a week. We found this spot in Saint-François and we still had a car we needed to return to Pointe-a-Pitre. As we have 'normal' working weeks it was too much of a hassle trying to organize a bus trip back from the drop off point. So, we rented a car just to return the other! We should have selected one of the other drop-off points when booking, lessons learned!
Things we skipped but you might love!
Hiking La Sourfriere volcano
La Sourfriere volcano is the highest peak in the Lesser Antilles and a great activity if you like hiking...
Les Bières de la Lézarde
There are a few (micro) breweries on the island. Les Bières de la Lézarde is probably the biggest with the largest variety of brews. We skipped it because it did not fit our schedule and draft beer is widely spread around the island. It must be worth a visit though!
Marie Galante island
We skipped a day or more at Marie Galante because we had not booked anything and last minute prices were high. Les Saintes offered affordable lodging and has a more dramatic beautiful landscape and only a few cars, something really different from the 'mainland'.
The facts!
Visited: April 2017
Bars & Restaurants
Strip with bars
There are so many! Le Gosier, Saint-François and Saint-Anne have a great waterfront / harbour / marina.
Spots we loved
Le Gosier: L'Affirmatif (not in the marina)
Saint-François: Les Pieds dans l'Eau (local), Le Métis Café and Le 8 (next to each other)
Les Saintes: Couleurs du monde and Cafe de la Marine
Beer in a bar
Corsaire or Gwanda, bottle around 2 USD, draft around 3 USD
Glass of wine in a bar
4 USD
Club Sandwich/Pizza Margarita
5 USD / 10 USD
Cup of coffee
1.5 USD
Meal
15-20 USD, about half in local shops (grill and french fries)
Restaurants open
Dinner starts at 7 PM until late, you will have a hard time finding something open all-day. Often closed between lunch and dinner.
Number of restaurants and bars in top-area
50+ restaurants and bars in Le Gosier and Saint-François.
Quality of local food
Great!!! If you are a foody, this is your spot in the Caribbean!
Transportation
| | |
| --- | --- |
| Scooter/car rental | Cars go from 25 USD a day in low season, weekly discounts. We rented with Auto Discount. As mentioned earlier a car is mandatory if you want to do some sightseeing. Fuel is about the same as in Europe, not cheap for the region! |
| Local transport | There are bus routes around the island but they go irregular. |
| Taxi | Taxi's are expensive, about 15 USD from the ferry terminal to Le Gosier (10 minutes) and 40 USD from the marina of Le Gosier to the airport. Prices go up in the evening and such. |
| Uber | Not available |
| Boat | You can take the ferry to Martinique and Dominica, about $70 USD. We took the ferry from Dominica, very easy and comfortable. |
| Flight | You can fly to various Caribbean islands within one hour, prices vary a lot. |
Sleeping
Apartment
We stayed at various places in Guadeloupe through Airbnb. Most nights we stayed at the marina in Saint-François for 25 USD a night. Click here to check the apartment and availability.
If you need more recommendations just send me a message or check my Airbnb reviews.
New to Airbnb? With this link you get FREE travel credit/discount on your first booking!
Nice hotel
Hotel Village Soleil is where we stayed before flying out of Guadeloupe, right in the Marina of Le Gosier.
Resort
Starting from 100 USD a night
Hotel score price-quality
Compared to other Caribbean islands prices were a bit lower and quality a lot higher!
Internet access
| | |
| --- | --- |
| Local SIM card | We bought a local SIM with Digicel for 34 Euro with 2 GB. The internet reception is pretty bad, the worst we experienced in the Caribbean. Orange is a better provider we heard. |
| UMTS | OK in Point-a-Pitre, but terrible everywhere else. This was DigiCell, your mileage may vary with different providers. |
| WIFI Hot spot | Often not offered at bars and restaurants, maybe because of the crappy or expensive connection. Not the best spot in the Caribbean if you work online! |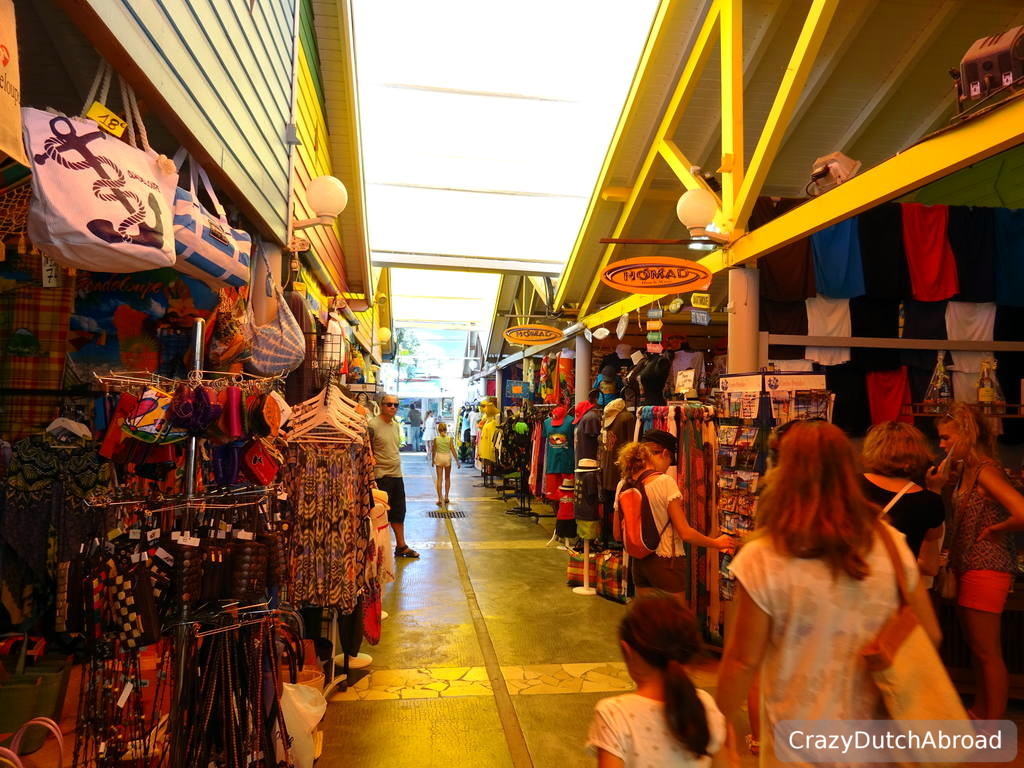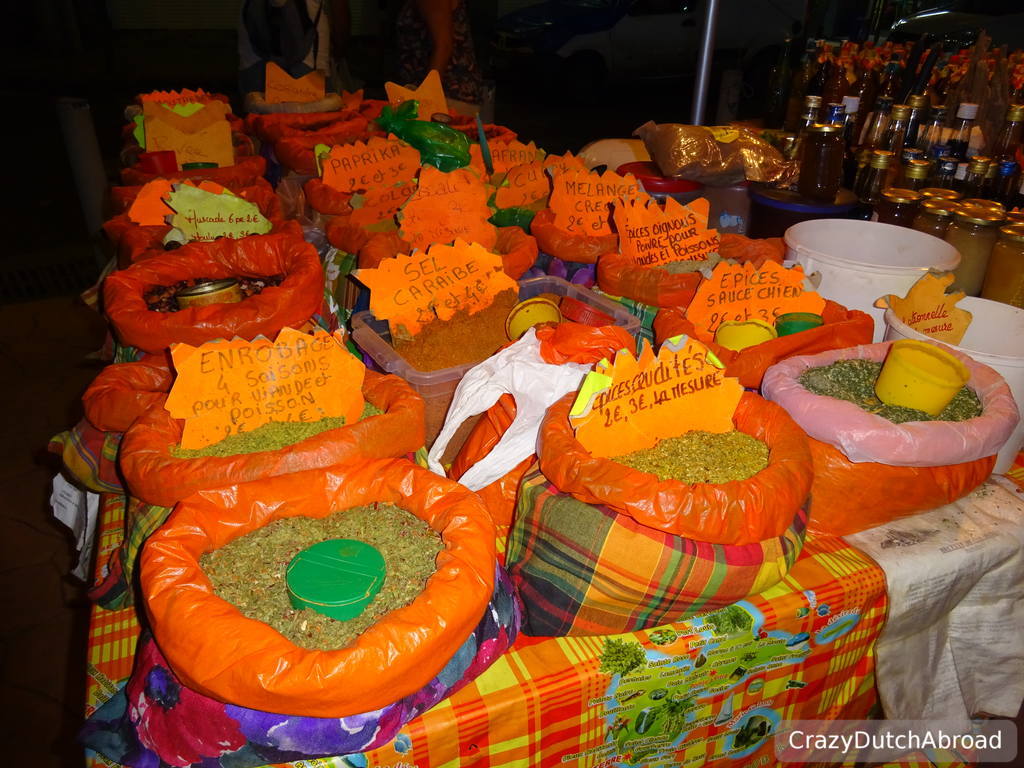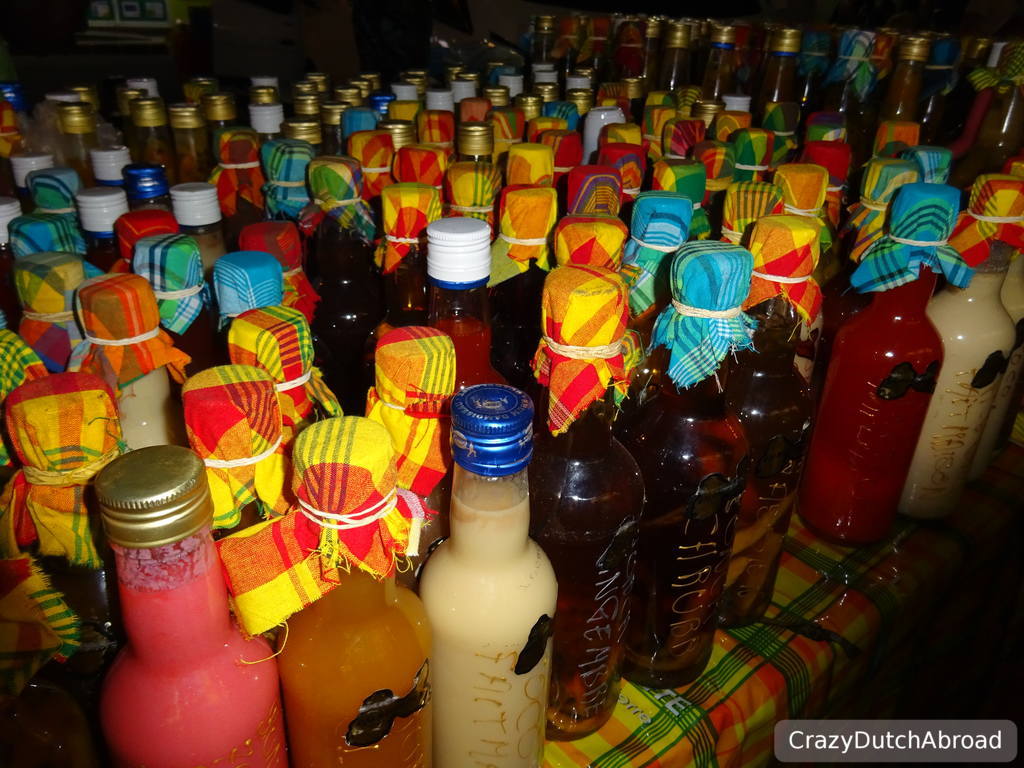 Artisan villages and markets with souvenirs, lots of rum and Creole spices!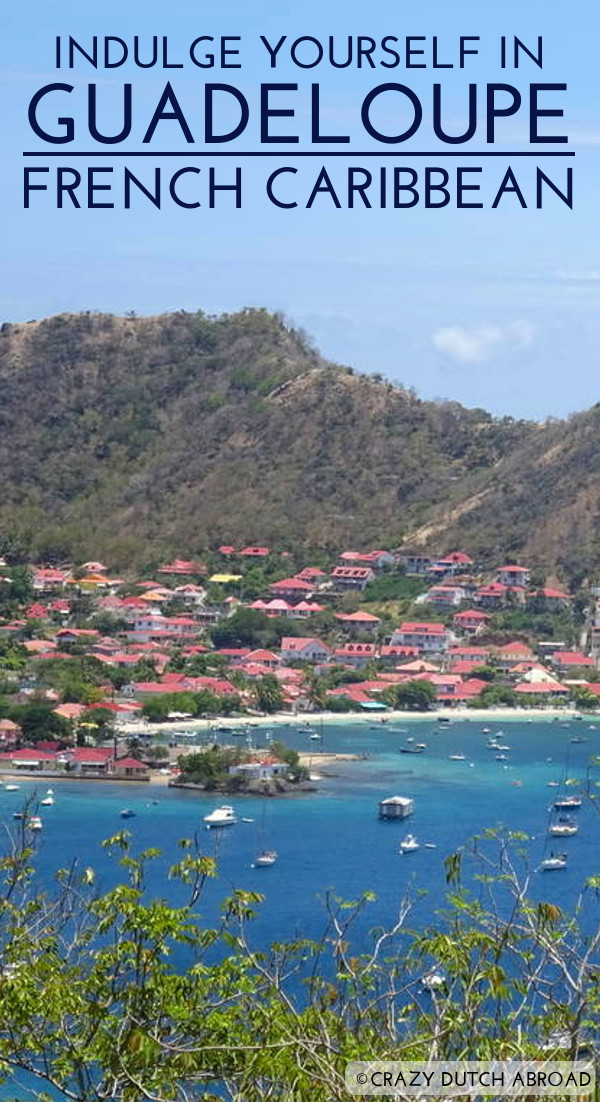 Pin it!
Like a local!
Bokit is a local dish you should try. It is a form of bread / naan which was created by the slaves when baked bread (yeast) was too expensive. The dough is fried in oil and filled with sandwich ingredients like ham, cheese, fish and lettuce/tomato. As you can imagine it is a bit greasy but delicious when fresh and hot!
Another thing to try on Guadeloupe: Coconut ice cream!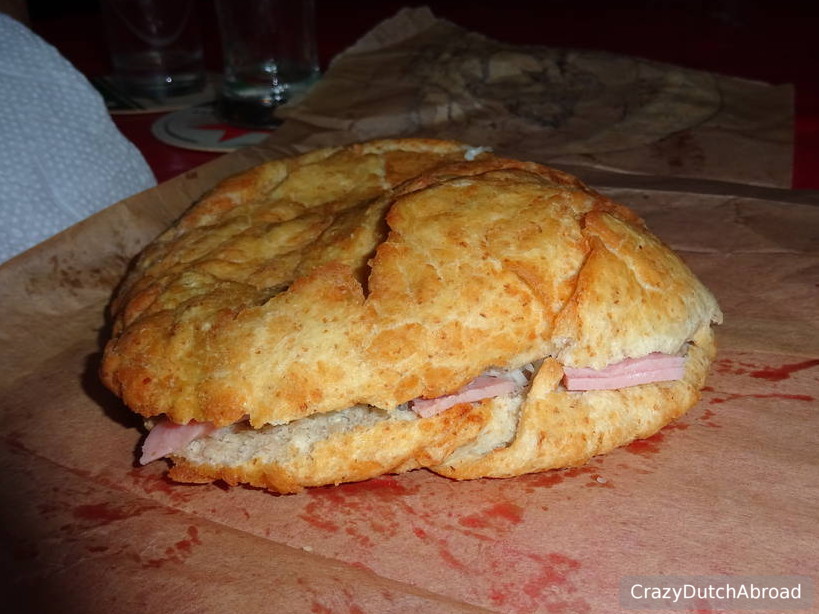 Other islands in the Caribbean to explore:
Dominica
: Discover Dominica, Nature Island of the Caribbean!
Barbados
: Why Barbados really is a Happy Island!
Trinidad
: Carnival, Leatherback turtles and bird watching!
Tobago
: Tropical beaches and mountain views over secluded bays!
Bonaire
: The Dutch Caribbean: Bonaire, Divers Paradise!
Curaçao
: Colonial influences, colorful markets and the turquoise blue water!
If you enjoyed this post, please share it with your friends!
Marlies
Crazy Dutch Abroad
Share this page: